I've been messing around with my iPhoto software lately, and it's always interesting to see photos of yourself from the past. These days it mostly revolves around "aargh I was so much thinner!" because of the baby now and stuff... sigh. But I thought I'd share the visual history of me. The top three photos are from high school era Jen. Actually, I just realized they're out of order. It should be the one in the plaid shirt first (that's freshman year), then the "Just a Girl" t-shirt (hell yeah No Doubt!), and then the black dress with the choker. Whatever.
The end photo on the right is actually a big jump from high school Jen to teacher Jen. I'd say that's about 6 years after the black dress/choker pic. Maybe even seven or eight. There's a section of my life where very few photos exist and I was as heavy then as I am right now. Huh. Was I smarter then to just avoid the camera altogether? I don't know.

The photo on this left end above is when Todd and I first started dating. So that's 2006. The blue hair shot on the right is from 2008, so I'd guess the motorcycle one in the center to be about 2007.
Then below, the top two photos are from right around our wedding, which is June of 2009. In fact, the pink & black striped shirt is from our "mini"-moon in downtown Chicago. We never actually went on a real honeymoon. We were in a horrible real estate situation and had no money to go on one. Now we have Iggy, so I don't know. I've always wanted to go to Hawaii. Todd said for our 5 year anniversary we can go to Vegas and have Elvis remarry us, which is awesome. So there's always that.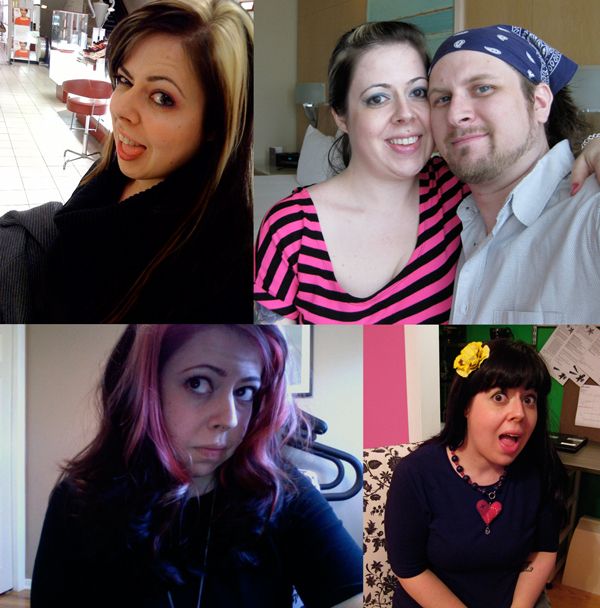 After our wedding, I messed around with coloring my blond streak again, so the picture on the left is from when I dyed it bright red, which of course fades to pinky orange almost immediately. Hence, that was a very short phase. Then I said forget it altogether and just blacked out all of my hair and cut bangs, which was also for a short stint until I decided to bring back the streak and make it purple, which is where I've been with it for over a year now, I think. (Need a more recent photo? Check
Sunday's post
, or my
about
page.)
So, hair is all good. The body is not. I know I'm working on it but it's so easy to get discouraged at the very very slow pace at which things work. Maybe I'm having an off day today. I think I'm starting to get depressed that school starts again so soon. Those back to school ads depress me. I wish the economy didn't suck so hard and I had other options. Sigh.