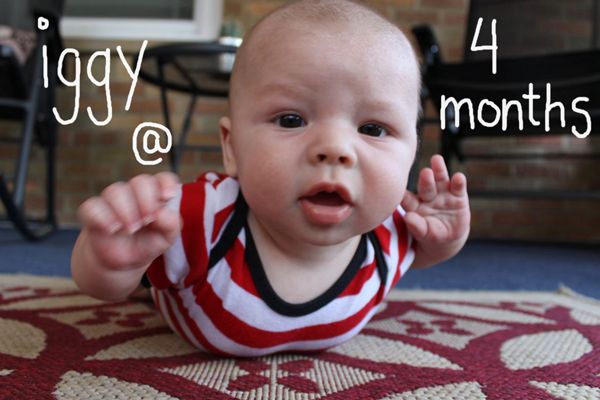 I think I've done a pretty good job of not flooding you with Iggy photos overall, but I haven't done an update since he was 2 months old! So I think I'm due to overwhelm you with some new photos. If you're not the baby type, feel free to skip over this post, because there's a lot of photos below!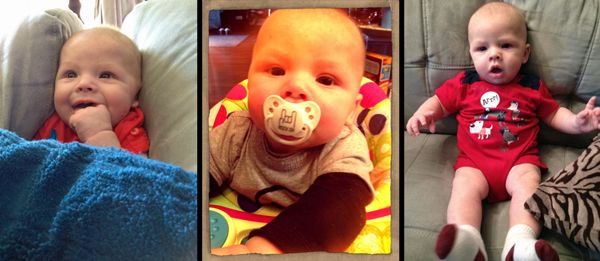 I had so many photos that I ended up putting them into little groups/collages here that I can break up with commentary. I can't believe how fast Iggy is growing up - I feel like he's done so much (from a developmental standpoint) in just 2 months since the last time I've posted about him! In the picture all the way on the left above, you can see our newest fun game, called "Hide the Baby," where we prop Iggy up in the corner of the couch and place the pillow in front of him. If you peek over the top of the pillow, you can see him grinning at us from behind it!
Iggy has a walker (our house is a ranch style) and his feet just touch the ground, tip-toe style. But he loves pressing the buttons and hearing the sounds and seeing the lights. The walker is supposedly a "DJ" style setup, so the photo on the left is especially appropriate.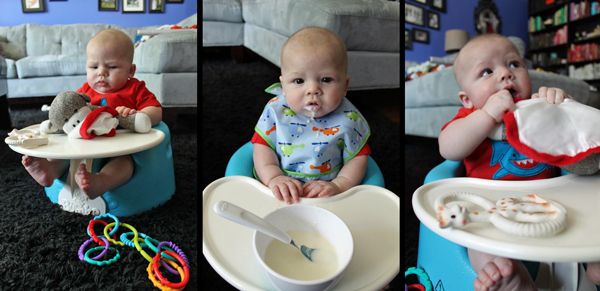 Four months is also a time of FIRSTS! We had cereal for the first time! A big giant mess was had, but I think Iggy's finally getting the hang of it. By the way, I love the photo on the top left where he's scowling, apparently at the ring toy that dared to be on the ground, too far to reach...
And, SWIMMING! Last Sunday we took Iggy in the pool for the first time! We bought a little baby flotation toy with a sunshade, but he ended up enjoying just being held while in the water the best. We slathered him up with baby sunblock, and it was a super fun time. We're going on vacation next week, so it's good to know that Iggy's ok with the water.

Iggy is also all about rolling over in every direction: front to back, back to front - he hardly stays still! That means it probably won't be long until he starts crawling! Watch out!
By the way, don't you love that photo in the middle above? A classic illustration of why I prefer onesies over t-shirts at this age. He kept pulling it up and showing off his little bebe belly! Hilarious.