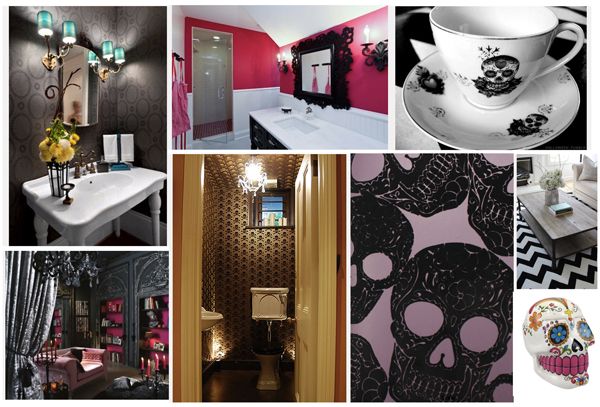 clockwise from upper left: bathroom via luxe finds; pink/black bathroom via houzz; sugar skull teacup via tumblr; rug via tumblr; ceramic sugar skull box via amazon; wallpaper via designyourwall.com; bathroom via mydeco blog; black/pink room via tumblr/source unknown
We have a tiny secondary bathroom in our house. It's right off the front door, and we literally have done NOTHING with it since we moved in over 2 years ago. It's one of the last spaces in the house we haven't plastered over with our ideas. That upsets me, and I don't even like to use that bathroom because of it. There's a creepy shower stall that'll never get used, and it's right next to the toilet so you're really kind of squeezed in (man when I was pregnant I thought I was going to get stuck!). There's also a small sink.
Back in the day, it had cool pink vintage tile, but the previous owner put stick on vinyl tile over the tiny pink tiles. Blasphemy! Also, they've added a more "modern" (read: boring) vanity/sink/toilet/mirror so the originals are long gone.
With small spaces, I think it's less intimidating to do it up really extravagant and fun. I mean, it's small, so you could easily change it up without a whole lotta effort if you decide that you hate it! The above collage is my inspiration for what I think I'd like to do with it design-wise, one day in my imaginary future when I have the time and money to do it. It was all inspired by this
amazing flocked sugar skull wallpaper from DesignYourWall.com
. Oh, it's only $219 a roll, you say? Well then, sign me up!
For our bathroom, I'd probably have to gut it and get rid of the shower stall completely, leaving a lot more room to move! Then, I'd love to cover the walls with the black and plum sugar skull flocked wallpaper seen above. Replace the existing sink mirror with an Rococo-style black or white framed mirror. Tile the floors using black and white tile to mimic the zig-zag rug pictured above. New white sink, maybe some light sconces as seen in the first photo, and then accessorize! I'd love to install some shelves and fill them with a collection of skulls. Not hokey cutesy halloween skulls, but awesome creepy goth heavy metal skulls.

My love for extravagantly decorated tiny bathrooms first began when we lived in our horrible, terrible condo building. We had a tiny bathroom (just a sink/toilet dealie) and Todd decided to paint it RED. Bright red. Then, he made an awesome towel bar from a guitar neck to hang our hand towels. Then we added a giant picture frame with nothing but a big blank white sheet of paper in the middle so that anyone who visited and used the bathroom could make their graffiti mark. He also kept a cassette boom box (all 80's style) and a small cassette collection next to the toilet - you know, in case you needed some tunes. Despite looking relentlessly for a photo of this, I'm not convinced we ever even took a picture. Sad. :(
Another set of tiny bathrooms I've always loved are the bathrooms at
Kumas
. The women's bathroom is wallpapered/collaged with pinup paintings (I'm sure it's just images from calendars or something like that, but it still looks awesome). I considered using this idea for our tiny bathroom, but since it's immediately upon walking in the door, half-naked ladies don't seem like the greatest idea for most of our visitors. (Yet skulls somehow still seem ok. It makes sense in my brain anyway.) The guy's bathroom (I'm told) has tattoo flash collaged on its walls. The only downside of the Kumas bathrooms is that people have written all over the fantastic collages with Sharpies. I think it's something they've just embraced at this point though as part of the design aesthetic. That I'm not so keen on, but hey, to each his own.
Do you have a dream interior design, just waiting for the resources for you to carry it out? Tell me!