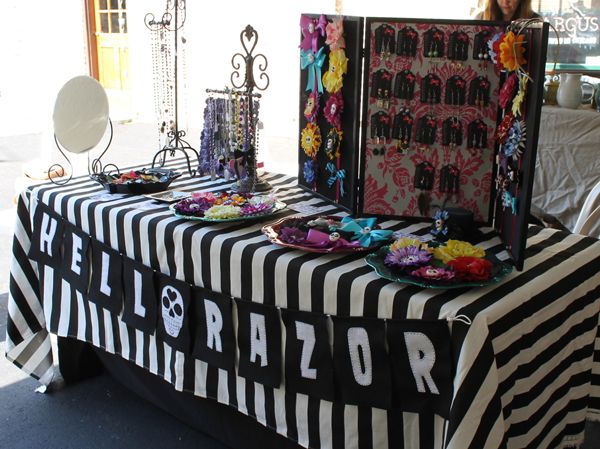 Thank you to everyone who came out to the
Constructor Craft Fair
this weekend! We had tons of fun, we met lots of friends, and made many new ones! I was super excited, of course, because this was my first "official" craft fair. It all went so so well! The day was hot, but thankfully, we were under the shady tent and kept nice and (relatively) cool!
Above - rare recent photos of me at the fair, looking all festive with my overload of Hell Razor flowers in my hair! I felt the need to explain to a few people that you a.) didn't actually HAVE to wear them in your hair, they have a pin back, too, and b.) they don't need to be worn five at a time. I just finally had an excuse to go that route. I love dressing up for stuff. Below, closeups of the Hell Razor booth!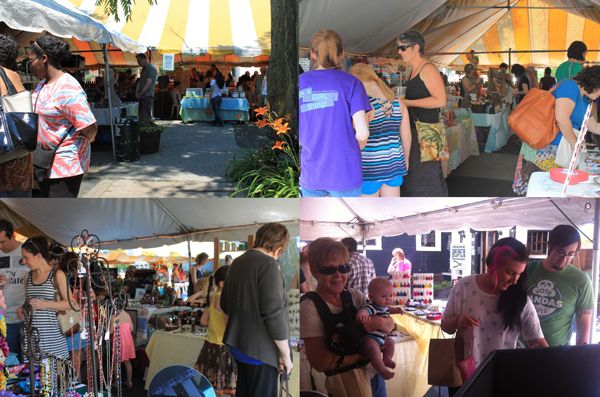 ...and shoppers! Lots of shoppers! In the bottom right hand corner you can see my family (yep, that's my mom carting Iggy around) stopping by for a visit. I had so many friends stop by! I felt very lucky.
Our booth was between two other really talented artists:
Melissa Z. Monroe
, who creates pottery for the home, and
Inkling
, which had super cute cards and prints - many with a Chicago theme to them. Awesome! I could go on and on about all the other cool vendors, but you should go check the links on the
Constructor web site
and see for yourself!
I put the
Etsy Hell Razor shop
on vacation this weekend, but I'm in the process of getting it set back up and re-stocked with goodies! Snatch up a favorite item now though with a special code CRAFTFAIR to receive 15% off!