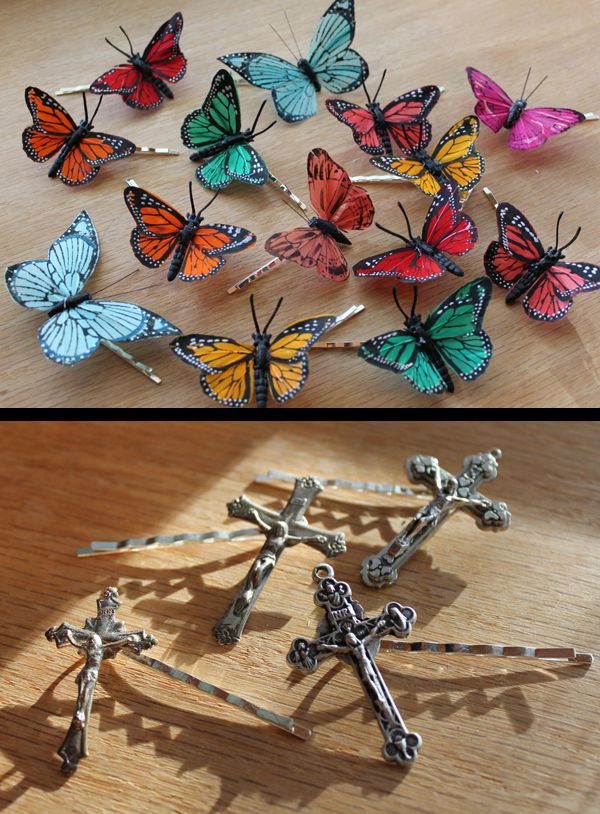 Hello! I've been working really hard at getting new things made for the
Constructor Craft Fair
on June 9th (yeah, by the time it actually rolls around, you'll be sick to death if hearing me talk about it). But I'm posting actual pictures of the things I've made, hopefully to entice you into going (hint, hint). Nothing here is listed on
the etsy shop
, and hopefully it won't stay around long enough to go up after...!!!
Can you spot my new new creations? Crucifix bobby pins! I make so many rosary necklaces that I inevitably end up with many crucifixes and I'm not always sure what to do. I have
made earrings
with some of the past ones, but I'm always looking for NEW ways to use them. Enter the bobby pin. I used special metal jewelry glue to adhere these crucifixes to bobby pin blanks. I was inspired by
an instagram photo of Kat Von D wearing something similar
, and I had one of those "lightbulb moments." The kind she was wearing probably cost quite a bit... but mine are for the everyman - er, woman? Hey, whatever floats your boat. I make them for whomever wants them. And I'm affordable.
Here are some new necklaces! Necklaces are fun to make because although they're not a ton of work (depending on the type), each one is unique and has its own special style. Different sizes and colors of beads demand different pendants. Some necklaces are long enough to pull over, where others are shorties and need a clasp. I like trying them on in the mirror before I decide that I'm finished.
Do you like the baby buggy necklace? It's not a rosary necklace, but I made it using leftover rosary beads and parts. Upcycled!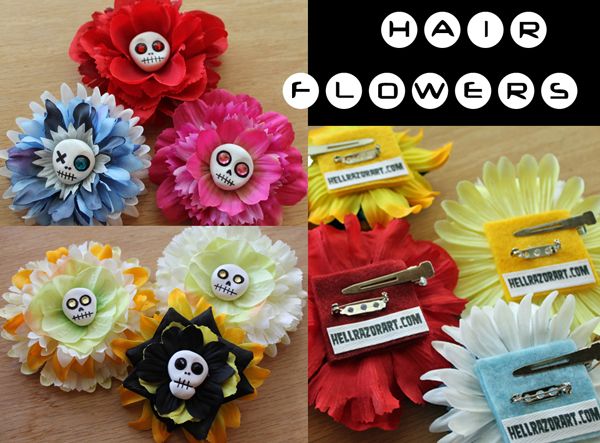 My flower hair clips/pins aren't exactly "new," but here's six totally brand new ones I made just this last weekend. Check out the new tags on the backs! Now, if someone buys a flower clip, it's easy to remember where to go back for more!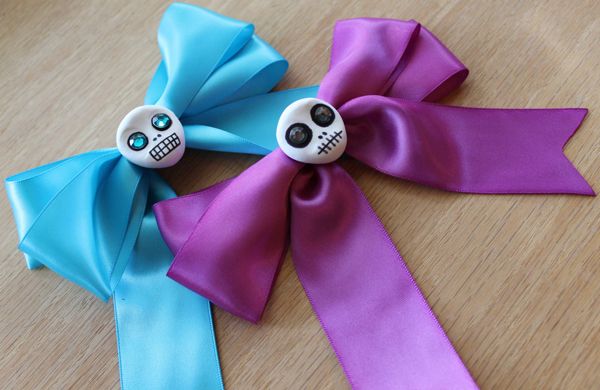 Lastly, here's a little work in progress. I'm dreaming up some biggie satin bows with skully accents. I learned a new trick: did you know that you can keep satin ribbon from fraying by quickly running it past a flame (as in, a lighter or match)? It totally works - I was amazed!
What kinds of projects are you working on lately?