I made a cutlery caddy for knives, spoons, and forks using three tin cans. There isn't much in the way of directions for this DIY. It's that simple, it's kind of "duh." But it's sooo useful for the summertime, or any time you've got a bunch of people over to eat. The cans you see here are the bigger 28 oz size, like you get for crushed tomatoes. But you could easily adapt this to smaller soup cans or even smaller veggie cans, depending on what you want your caddy to hold. I could see this design being really useful for art supplies or paperclips, rubber bands, and push pins and junk like that.
My original idea came from seeing actual cutlery holders for sale at the store, but it seemed like a waste of money when I figured it probably wouldn't be too hard to make something just as functional at home. Since I work at a school and have access to nifty things, I had my friend (who also happens to be the shop teacher) use pop rivets to attach the three cans together at the top into a triangle shape, which makes the overall form sturdy so that it won't blow over at an outdoor picnic or barbecue (see detail in the photo above).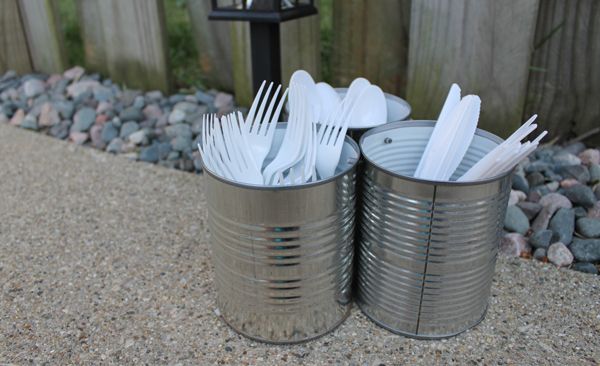 Here it is in action, undecorated. Now, there's lots of stuff you can do from here. You could paint/spraypaint the cans (might wanna add a clear coat for durability) - but I left mine au natural for an industrial chic look. You could wrap each can with festive paper or contact paper. And definitely you can add ribbon/raffia/other decorative band to suit your occasion. See below for an example using satin ribbon. Reminds me of a baby or wedding shower.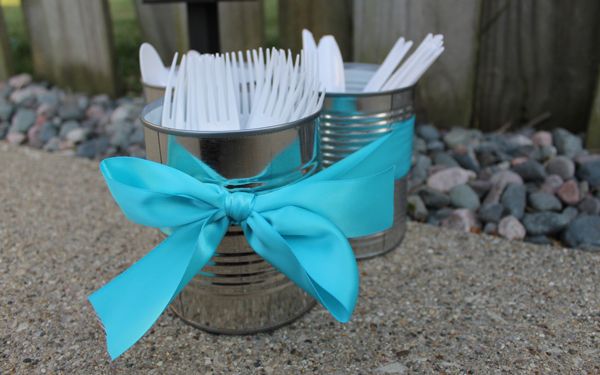 So I had this other thought, for those of you without a shop teacher friend and lacking in metal rivets to attach cans to each other. How about using one of these stainless steel clamps? They're found in the plumbing section of you friendly hardware store. I think I'm gonna go get one for mine, because it would be that perfect industrial touch to the overall piece. And because they were priced around $2 when I looked them up online. Heck yeah - a smart little DIY cutlery caddy for only $2! Impress your friends!
So far I thought of cutlery, pens/pencils, and other office supply storage. How about standard can size in the bathroom for toothbrushes and makeup brushes? Can you think of any other uses?