My husband loves his iPhone. He especially loves to take photos and manipulate them using iPhone photo apps, often layering and applying several effects to create one final image. If you're interested in seeing some of his work, you may want to follow his
Tumblr
or
Instagram feed
, as he posts many of his finished images there (he often names the photos after songs, too - search hashtag "
pictune
"). One of his current projects is photographing star symbols whenever he sees them, but sometimes he creates them, too (hashtag "
starpix
"...)
One of the things he has been experimenting with is iPhone lenses. Have you ever been to the
Photojojo store
? It's really cool to do some fun photo-related shopping there, they have all kinds of accessories and toys and gifts for the photographer(s) in your life! Anyway, Todd purchased the
wide angle/macro lens set
for the iPhone and he's been having tons of fun with it. I thought I'd share some of the results with you here.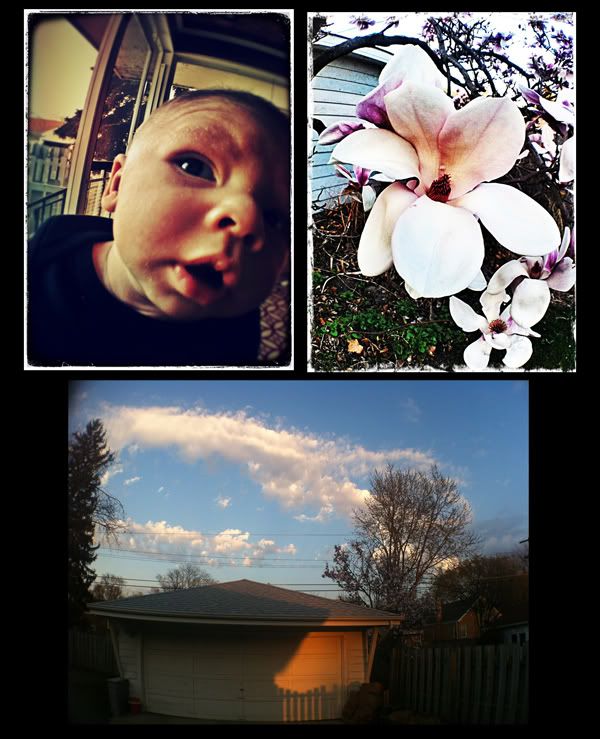 The photos above were taken using the wide angle lens from Photojojo. It's pretty incredible how it functions - when you buy the lens, you are also sent an assortment of very thin metal rings that are adhesive (there's a variety of sizes to fit many different models of cell phones). The lens themselves are magnetic, so it's easy to stick them to your phone (and switch them out), once you attach the thin metal ring. The ring is thin enough to accommodate your cell phone case, which is a necessity.
Photos above include a candid Iggy shot, the flowering tree in the neighbor's backyard, and our view from our back stoop towards the garage.
The macro lens allows you to take super super super up close photos with incredible clarity! The photos above (clockwise from upper left) include an extreme shot of my eye, a pencil and graphite, the up close center of a flower (see flowering tree in the previous set), and a stray pine needle on our porch carpet.
The best part is that these lenses were only $20! Not bad for such a fun new toy. Have you ever used anything like this?