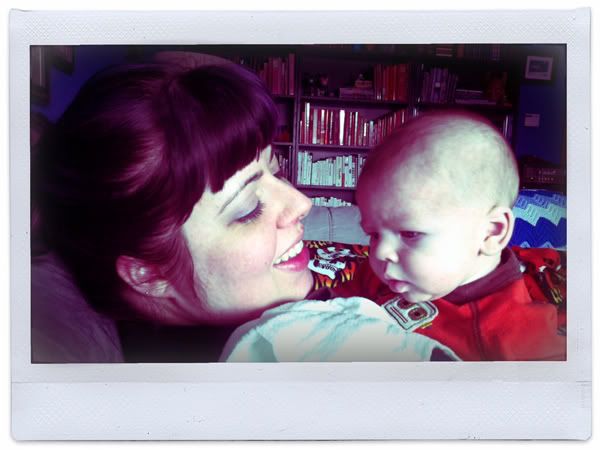 At the risk of overwhelming you with pictures of my child, I thought I'd do a little 2 month check-in on Iggy and how he's doing. As you know from yesterday, I went back to work this week. It was extremely hard. I cried when I went to sleep Sunday night, I cried when I left my house with him, and I cried when I dropped him off at my mom's. Did I mention I was sad?
Iggy had his two month checkup last week. He's about 11 1/2 pounds, and super cute. Everyone always asks if he's sleeping through the night (is he supposed to be at 2 months?), and no, he is not. He does sometimes sleep for 4 or 5 hours at once, and that's always nice when that happens. But sometimes he sleeps for 2 hour cycles without fail and demands to eat. That's pretty tiring.
Iggy smiles on a regular basis now, and focuses on faces and objects. He's more interactive than ever, so it's pretty fun to sit and try to get him to make noises and "talk" to you. He's just discovering his hands, which means that if his hands show up in front of his face, he sucks on them. He enjoys having "tummy time" in short bursts, and arches his back so his front and back ends curl up from the floor - it's pretty funny.
Above are a couple of my favorite shots of him. Even though he's still so little, he can sit in the Bumbo chair (if you don't know what this is, it's a molded little seat that perfectly puts him into an upright sitting position, see picture on the left) and it always makes me giggle to see him sitting like a little man. The photo on the right is from tummy time a few days ago. I love to lay on the floor and talk to him; his wrinkly little forehead just kills me.
So, now you probably understand why I'm so sad to go back to work. Could you stand to leave this little guy?