One of the things I love to look for on Pinterest is ideas for projects and things to make. I loved the look of this particular idea: "How to Prevent Earbud Tangles with Old School Friendship Bracelet Knotting" – details are found on the
Contemporary Farmgirl
website:
http://contemporaryfarmgirl.blogspot.com/2012/01/how-to-prevent-earbud-tangles-with-old.html
…so I won't do a full DIY tutorial here (you can use her blog post instead, she's done a really complete job of explaining all of the steps).
But I was really happy with how my earbuds turned out in the end, so I thought I'd share some photos with you here: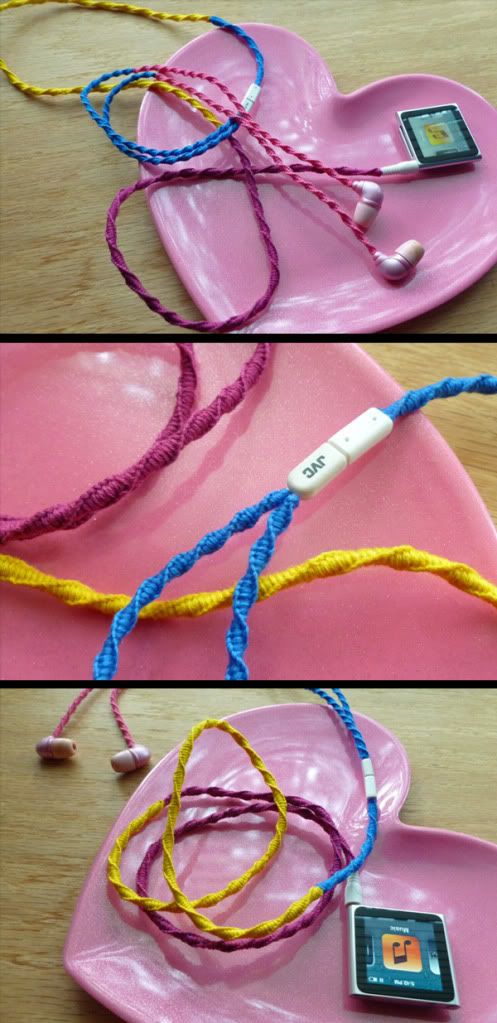 I learned a few things in this process. My earbud cords were longer than the traditional "free" pair that you get with your Apple products; therefore I needed more embroidery floss than suggested in the tutorial. Also, I neglected to read carefully and should have knotted the two sections with the earbuds starting from the actual earbud down – I, instead, worked from the "Y" split to the earbud, and it was a little tricky at the end trying to knot around a floppy earbud end… but not impossible.
What do you think? This took me a weekend and one additional evening's worth of work to complete this. Do you think you'd have the patience? At least in the end you have some pretty spiffy earbuds!