Last week, I went vintage shopping with Stephanie (aka
Calamity Layne
, you've heard me talk about her a ton before...) and I scored a couple of neat little guys I'm going to share with you here. I had read
her blog post about vintage shopping
, and told her she needed to take me out to visit some of the shops that she had written about.
We stopped at both Very Best Vintage and Vintage Underground stores (which she discusses in her post), and I thought they were both great. Unfortunately, seeing as I'm 5 weeks postpardum, there's about a 0% chance I'm going to find any actual clothing that will fit me right now, but hey, a girl can dream... it was fun to window shop, in any case.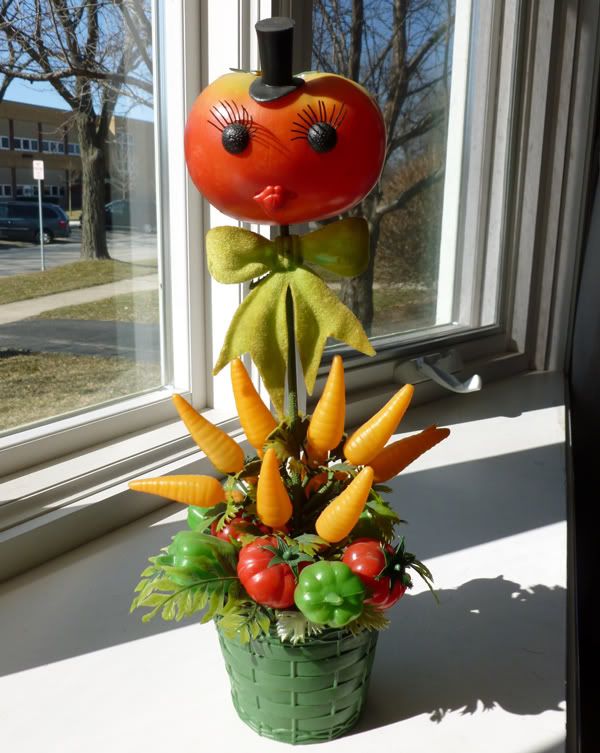 There's a really strange story connected to this plastic tomato plant sculpture... I actually spotted one early in the day at Very Best Vintage, and pointed it out to Stephanie, like "oh, isn't that a funny decorative piece?" And then, at Jackson Square, I spotted this one, a SECOND EXACT SAME tomato man sculpture... how bizarre... I knew it was destined to go home with me. Plus, this second one is in even better condition than the first one we spotted, so SCORE!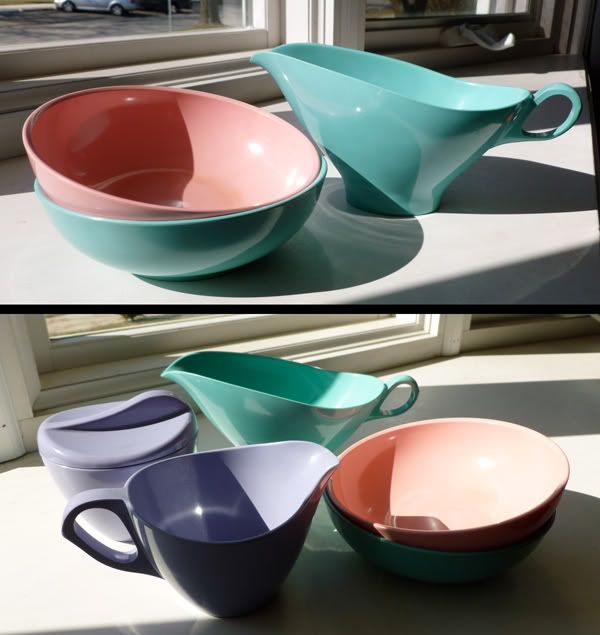 I'm also in the process of assembling a collection of Melmac/Melamine dishes for us, now that we have the baby. I realized that all of our dishes were so very breakable right now! So these fun 50's-60's dishes are perfect for using with kids. The best part is that you can find them in many fun pastel retro colors, but the styles are fairly consistent. So instead of collecting all of one color, I've decided to rainbow my own custom set. On my hunt with Stephanie, I bought the pink & aqua pieces (a gravy boat and two small bowls), but you can see in the bottom photo how well it coordinates with my lilac sugar and creamer pieces I bought over the summer. It's just not as fun to buy all the dishes together at one time. I like to hunt them down and assemble the set myself. Would you agree?