Early this week, Todd and I went on a Spring Break field trip to the
Chicago Tattoo Company
. We've been coming here for a while now, and our favorite tattooer, Josh Howard, works here. The plan was to get tattoos for Iggy. I've had my idea for a long time, but had to wait until Iggy was here to actually have it done...
We showed up right at noon when the shop opened, and since it was a weekday, it wasn't crowded. We were able to get in and out by 3:15ish. Not bad!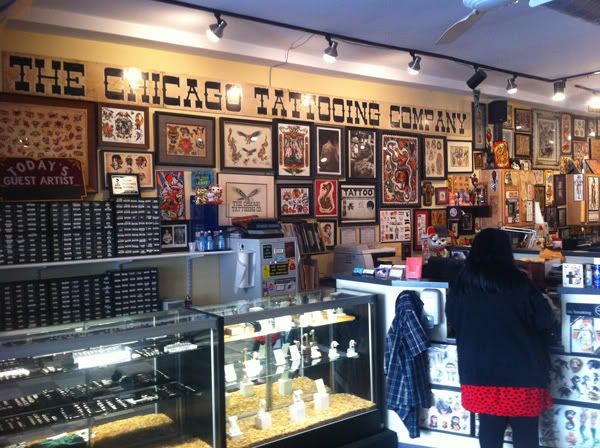 Here's an interior shot of the shop. That's me standing by the counter. (This blog post's photos are mostly courtesy of Todd.) Below is us waiting, along with a peek at the snazzy checkered floor. I want to do this in black and white in my house one day. All the stuff on the walls definitely inspired me when I decorated
my own art studio
at home.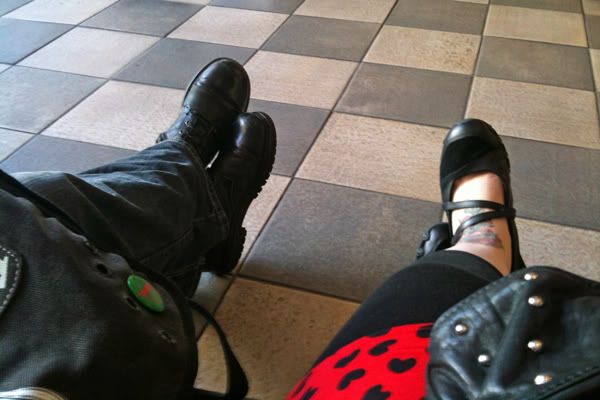 Todd has his own plans for an Iggy tattoo, but he has decided to wait until this upcoming summer to carry it out. Instead, he chose a portrait of
Motorhead, our dog
, in a bowler hat. That's because sometimes Motor sits with his front legs crossed one over the other, and we call him "proper gentleman." Therefore, the gentlemanly bowler hat. This is located on his right upper bicep.
I really wanted an old school heart with a name banner (you know, the kind that usually says "Mom"), but instead with Iggy's name and I wanted to add spiderwebs. The spiderwebs make it just a little more custom for me (a nod to all things goth), and although spiderwebs in themselves are still a common theme in tattoos, the combination of the two was appealing to me, and I still feel like it has an overall old school look to it. You can't tell from the photo, but it's located on the back of my right lower arm.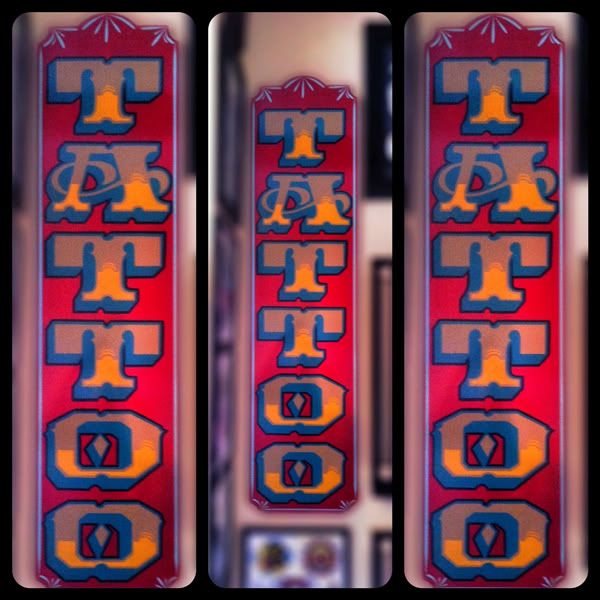 It had been
a year since I'd last gotten a tattoo
, and it's always an experience to feel the sensation all over again! No matter how much it might hurt at first, it's always worth it in the end, and I'm always blown away by Josh's awesome work. He always manages to exceed my expectations.
Do you have a favorite tattoo shop or artist? Got tattoo pictures to share? Post links below!