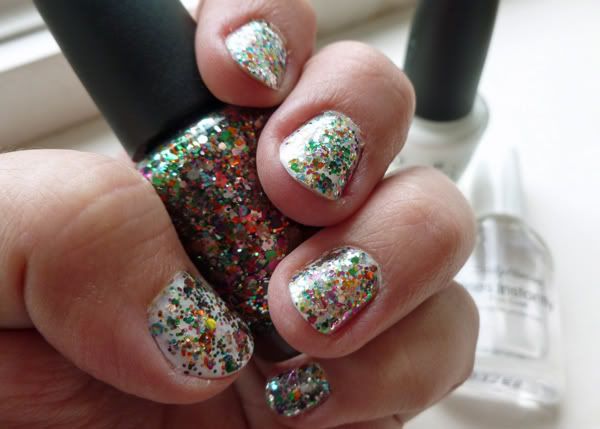 This is the first time since Iggy was born that I've had the energy and motivation to do my nails. The fun part is that I got to use my new OPI "Rainbow Connection" glitter nail polish, which was part of the Muppets collection. I tried to find it in stores when it came out, and asked for it for Christmas, but no luck on either front. I ended up buying it off of eBay for about $15... yeah, slightly more than retail, but I think it was worth it... ooh... sparkly!
The other motivation for using glitter nail polish was to try a new removal technique I discovered via Pinterest on the
Pink Sith blog
. I love the look of glitter polish, but hate taking it off - what a pain! So
this foil technique
looks very promising. The idea is new to me, although seems like it's been around the internet for awhile now...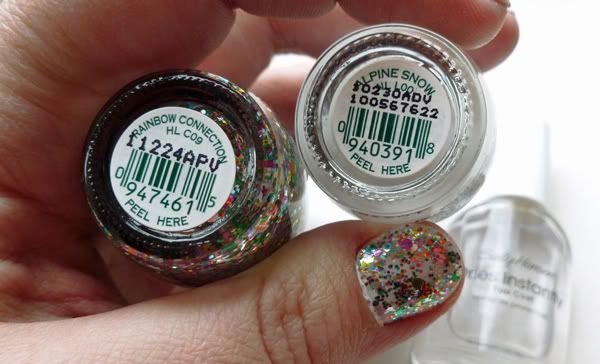 Because the glitter in "Rainbow Connection" floats in a clear base, I used OPI "Alpine Snow" white nail polish as a first (base) coat of only one layer. It was streaky, but covered up by the glitter, which is used three coats before slapping on a layer of Sally Hansen Dries Instantly top coat.
I think next time I use "Rainbow Connection," I'll try a light pink underneath. The glitter to me looks mostly blue and green, so maybe a pink under layer will help to bring out those colors and balance it out.
So, in the spirit of last post, where I traveled back in time, I'm going to once again look back to earlier this winter and the Christmas holiday to show you some of the things I was gifted. The first is this awesome Tokidoki Skate Deck Palette from my brother and sister-in-law, which is an eyeshadow set that's packaged in a carboard box shaped like a long, rounded skateboard deck:
Typically, large eyeshadow sets are not something I'm drawn to because they're bulky and don't fit in my makeup case. Also, I usually have many similar colors, so they tend to be repetitive. Surprisingly, I really love this set and have been using it almost daily. I reorganized my bathroom cabinet earlier in the season, so my makeup is pretty neat and accessible, so the size issue with the palette isn't really a problem at all. In fact, it's easier to grab and use this set in the morning because it's all in one place.
The other good part of this set is the usefulness of the colors. I'd say that I regularly use 10 out of the 12 colors in this set, which is a pretty good percentage! I'm not a huge fan of brown tones, but I have used the beige and gold-ish colors with some pretty good success. This is one of those sets that I probably wouldn't have purchased on my own, but now that I have it, I'm really happy with it and glad I have it!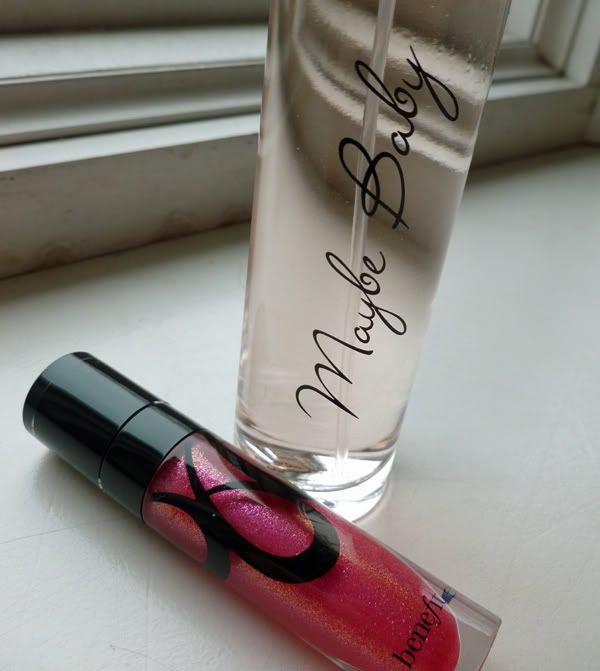 My friend Stephanie from
Calamity Layne
bought me a whole bunch of goodies from Benefit! Here's a couple of my favorites: "Maybe Baby" fragrance, and glittery hot pink lipgloss with the best name ever - "Back to the Fuchsia!!!" I've been wearing this lipgloss all day, and despite it's bring hot pink color in the tube, it's actually very toned down and pretty in a subtle way when you apply it. Me - I'd wear it either way - but that was a nice surprise, and I think it will have mass appeal for many wearers.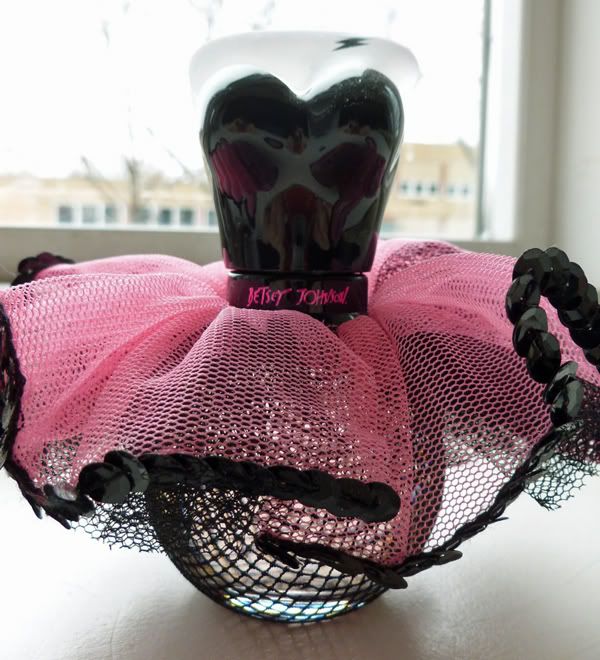 In our family grab bag, I was given the new Betsey Johnson "Too Too" fragrance! I was skeptical about a new Betsey fragrance when I first heard about it earlier in the fall, but I sampled it at my nearby Sephora when it first launched. Happily, it is a very pretty scent (I was worried it might be too heavy and overwhelming, but no) and it comes in this outrageous torso bottle with a giant pink tutu. The bottle design makes applying the scent a little awkward (I have to scrunch up the tutu in my palm so the fragrance hits my skin as opposed to the tulle), but worth the hassle. Plus, it looks pretty on the counter with the rest of my fragrances.
Having a baby means not having so much "fun" money to buy myself new makeup and beauty items as before, but I still like to treat myself every so often. There's a new Urban Decay black eyeliner pencil (
Perversion - blackest black matte
!) I'm really looking forward to trying, and I am in need of some new Make Up For Ever primer, so that's what's in my immediate plans for cosmetic purchases.
How about you? Got anything new and exciting to try or share?
Man Against Machine - Evile