Just this morning I got the chance to sit down and renew a bunch of
Hell Razor etsy
listings that had expired, so the shop is more well-stocked than before... I also thought I'd show you some of the new things I've been up to. Technically, everything pictured here was all done just before Iggy's arrival, but he's hanging out with me in the Lair today, so hopefully there will be some productivity happening. Yayy!
I made a whole mess of flower pins/hair clips to take with me to
Rock Razor Scissors
when I went for my appointment in early January. I hadn't brought presents for them in a long time, so it seemed appropriate. I also made a special pink and black bow for
Stephanie
to wear to work at Benefit, since their colors are black and pink. I paired it up with the pink and black flower, shown above, to give as a (belated) Christmas gift.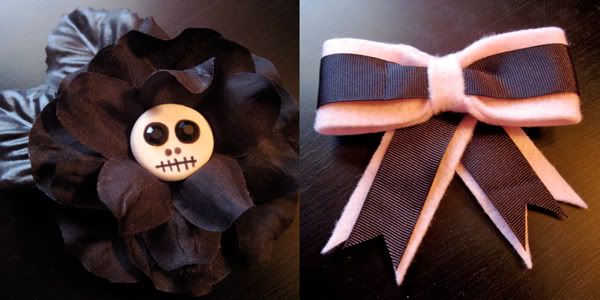 This past holiday season, I also made a custom pair of scrabble tile earrings! I made a similar pair once before, and the person I made it for loved them so much, she commissioned a second pair for her daughter to give as a gift. I chose the vintage yellow sparkle beads since yellow was her favorite color. Pardon the blurry photo, I think I took it with my iPhone...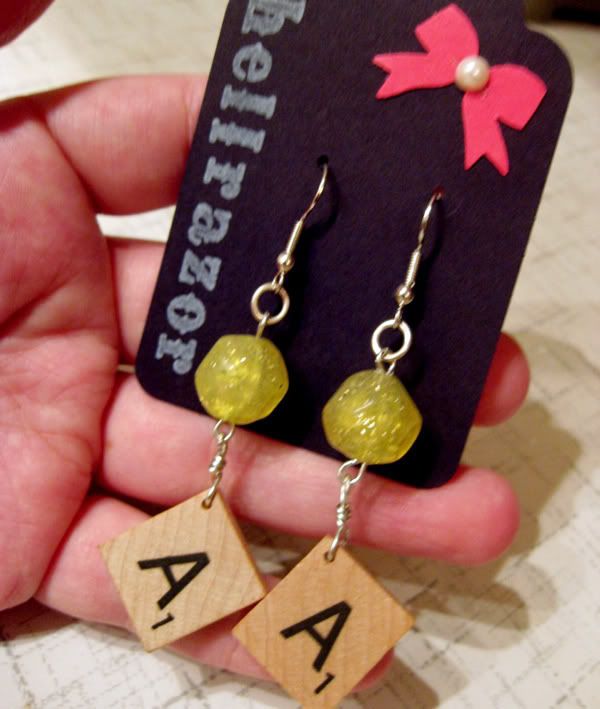 Something new I've been doing on all of my Hell Razor pieces is to add a cute custom printed ribbon tag on the back with the website! I
had these made
in late November/early December, and finally got around to adding them to my finished creations. This way, if a wearer gets stopped and asked about her flower or bow, it's easy to look and remember where it came from - and to direct new friends to the site! Fancy!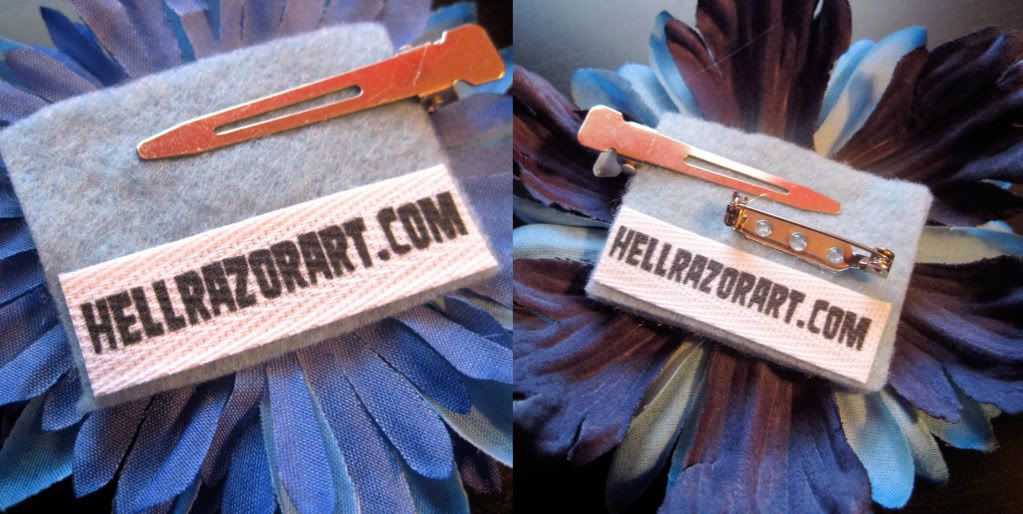 In honor of the arrival of Iggy, and in the name of clearing out some older stock to make room for new, I'm offering a 15% discount at the
Hell Razor etsy shop
if you enter code OHBABYBABY at checkout! Sweet!