For Christmas just this past year, I surprised Todd with tickets to
Gigantour
. The show was on Friday, February 10th at the
Aragon Ballroom in Chicago
. At the time I purchased the tickets, I figured that the baby would be 2-3 weeks old already, and I'd be feeling good to go. Little did I know that baby Iggy had other plans for me!
Even though Iggy was born only 10 days ago, I decided to go ahead and go anyway. After securing my mom as a sitter for the evening and putting on my most comfortable (albeit ugly) gym shoes, we were ready to go. Gigantour has four bands on the bill: Lacuna Coil, Volbeat, Motorhead, and Megadeth. I like three out of the four bands on the bill, so that's a pretty good reason to go - plus, Lacuna Coil was playing first. We decided to just show up late to enjoy the other three. Awesome.
Of course, after an unseasonably mild winter, Mother Nature decided to bombard us with some snow earlier in the day and into the night... the one day we decide to venture out! But we sucked it up and sat patiently through traffic, even paying $20 to park directly across from the venue, as opposed to driving around to find a side street in the snow.
We got there just in time for Volbeat to start their set. It's hard to say who I enjoyed the most out of the three bands, but I do love Volbeat a whole lot. They're a metal/rockabilly band... an unusual combination, but it's two of my favorite genres, so it's right up my alley! We saw Volbeat perform once before,
when we went to the House of Blues to see The Damned Things
, so we knew we were in for a good set. We were right.
By the way, these shots are from Todd's iPhone... it's hard to get good concert shots, and his camera is slightly nicer than mine (he has a 4G, as opposed to my 3Gs) so I let him do the photo work, while I just tried to find a spot where I could see between the shoulders of the people in front of me. It sucks to be 5'1" at general admission shows. Boo.
After Volbeat was Motorhead - who we have also seen perform once before, also at the House of Blues. I always bring earplugs to concerts, but it's extra important at a Motorhead show. See that wall of Marshalls? Yeah, that's why! FYI - Lemmy is the shadowy figure under the spotlights in the picture above...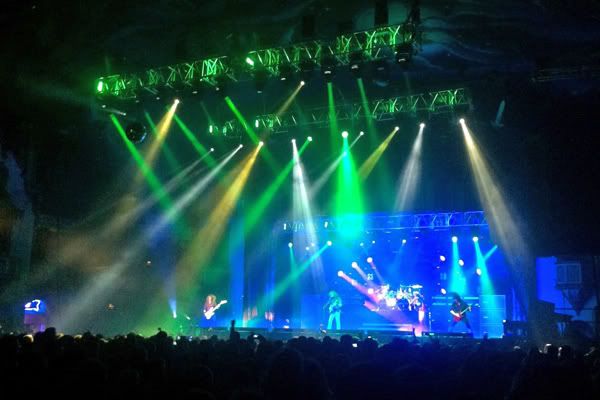 Lastly was Megadeth! Todd had not seen a Megadeth show before, but I have seen them once before, long ago. I was in college and it was during the Cryptic Writings tour - coincidentally, also at the Aragon. I was really excited to see them again, and to see Todd's reaction to the show. Dave Mustaine puts on a good show. I was thinking before the show about what songs I'd like to hear during the set, and my #1 pick was Trust off of Cryptic Writings. They opened their set with it! Woo hoo!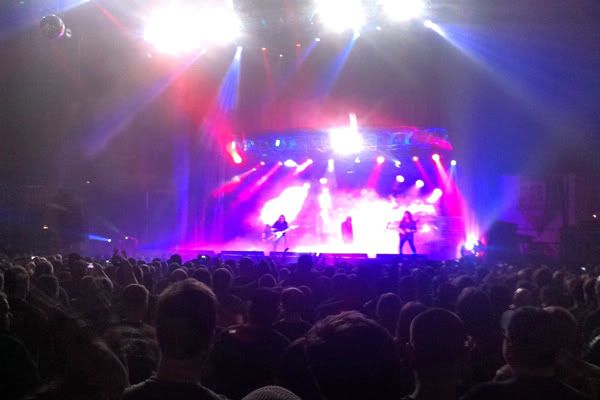 Then, during Peace Sells, Vic Rattlehead walked out onto the stage! I probably would have missed it completely, except that Todd's a good foot taller than me and saw him walking out and immediately pointed him out to me. If you look carefully, you can see him center stage in the photo above.
Megadeth has such a huge catalog of incredible songs that they have some songs they have to put into the set, like
Hangar 18, Symphony of Destruction
, and songs off the new album,
Thirteen
. It pushes the odds of hearing your other favorites back a bit. I was a little sad to not hear
Sweating Bullets
or
The Right to Go Insane
, but the show was great regardless. You can see the full set list on the
Gigantour page here
.
I think Megadeth might be in my top bands I've ever seen live. If you get the chance, go!
À Tout le Monde - Megadeth