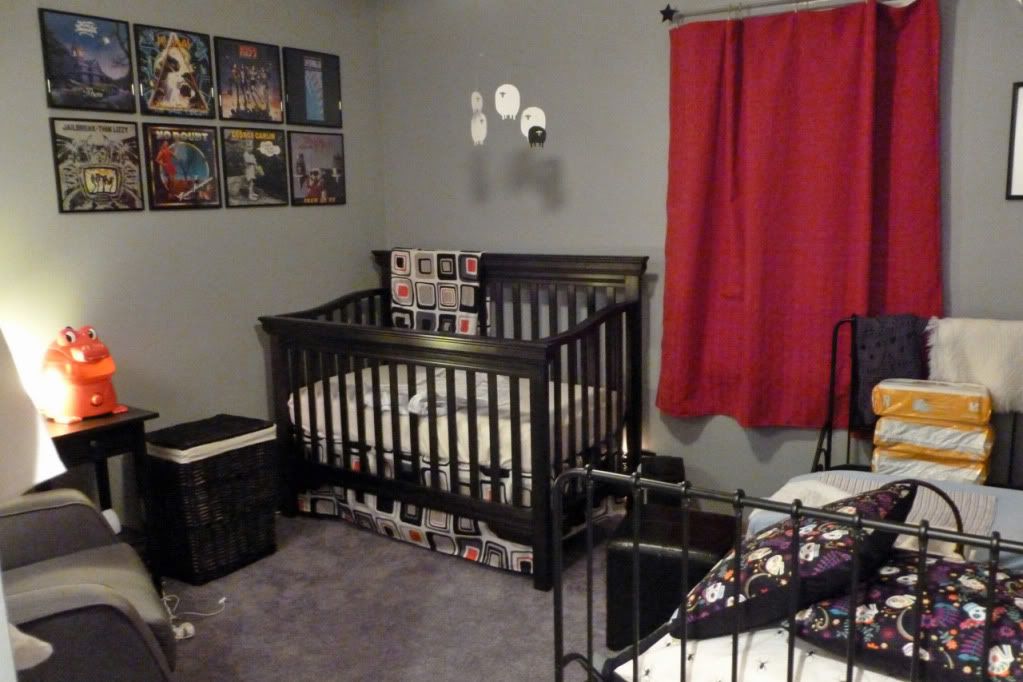 Tomorrow is our 1-month appointment at the doctor's office for Iggy. Can you believe it? We've made it through a whole month! So, in honor of this momentous occasion, I bring you the tour of Iggy's baby room... over 9 months in the making! Our "theme" for the room is black, white, red, and gray. Good luck trying to find anything at the baby store in those colors!!! Seriously, why was it so hard to find anything in that scheme? I searched for hours online before finding the crib set, which is called "Neutron" and made by
Sweet Potato by Glenna Jean
.
Our design solution was to combine traditional "baby" items with other not-so-traditional decorations to complete the room. One of our very first ideas was to create a record album wall, using some of our favorite LPs as art. I also spent serious time online before choosing the perfect mobile - it's by
Flensted
. I was tickled to find out that our black and white sheep mobile is also a MOMA item. How appropriate for the art teacher parents.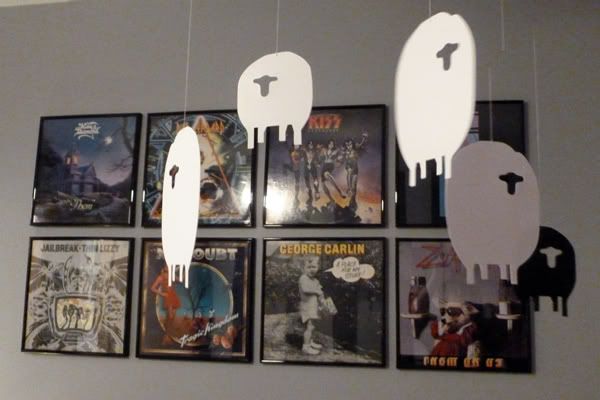 Three of our walls are painted a light gray color, and the fourth wall I striped! I've been wanting to have a striped wall in my house somewhere for what seems like forever. The baby room was the perfect opportunity to try this out in my favorite two colors - black and white!
We kept a twin-sized daybed in the room (which was there before when the room was a spare/guest bedroom) which now operates as our changing table... I did not stage the room before taking photos... you can see our setup in its full working glory! I need the small faux leather ottoman to sit on while I change Iggy. My back and legs are still not at 100%...
Another essential item in the room is an old-school style wall-hanging clock, which helps me in the early morning/late evening hours determine how long I've been up, and when Iggy's been last fed. Also, we installed a shelf on the striped wall to hold all of the stuffed creatures that used to live on the twin bed, and to keep them out of reach of Motorhead... he likes to eat them...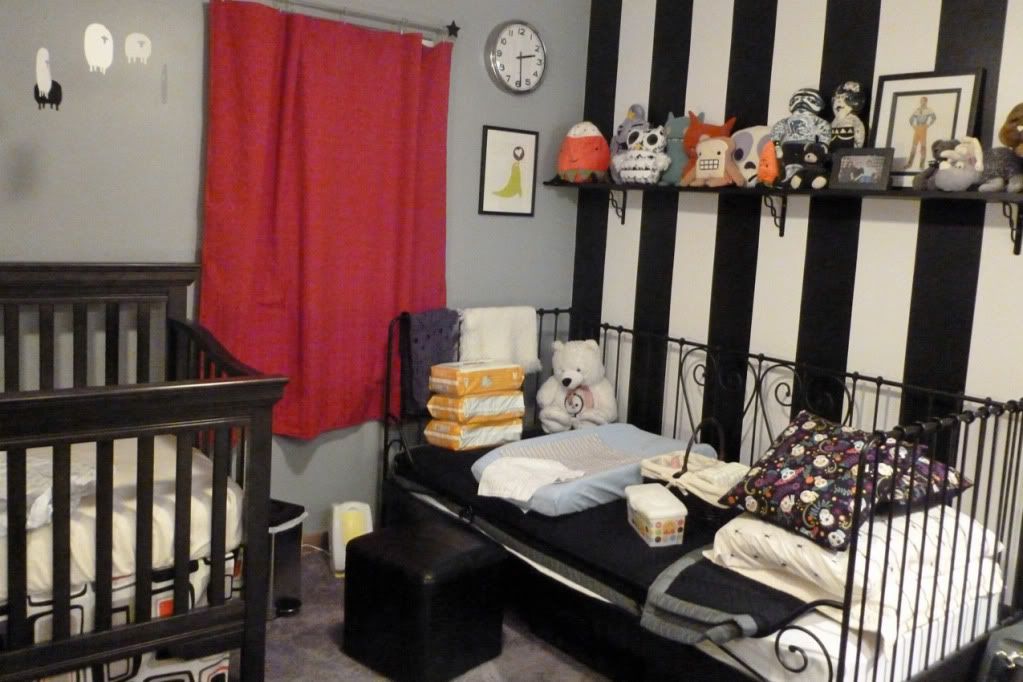 The white paint from the striped wall was also used inside the closet (see below), where we removed the doors to make more room for storage. We were then able to put the dresser in the closet nook, and we added more shelves (since baby boy clothes don't really require hanging by a rod the way little girl dresses might...). This also created space in the corner of the room for a
small La-Z-Boy recliner
in gray - I was very excited to not only find one with such clean lines and a modern shape, but when we went to the store, it was on sale!
Next to the recliner, we purchased a small nightstand from IKEA to house our other baby room essentials: a small night light/table lamp, a humidifier, the baby monitor, and some kleenex. When I'm up feeding the baby, the side table comes in very handy as a resting place for my cell phone, a water bottle, or Iggy's bottle while I burp him.
I'm very proud of the curtains in the room! I didn't have much red in the room after the crib set, so I was excited to find red fabric (in the discount bin!) at the fabric store that has a small tone-on-tone rounded corner square pattern that vaguely echoes the pattern on the crib bedding. The curtain rods have clips on them, so my sewing knowledge only had to go so far as to hem a giant rectangle. That, I can do!
Here are some close-ups of the room: our closet shelving filled with baskets and toys, our awesome
Crane adorable dragon humidifier
(also ordered via the internet), and another pic of my homemade curtains!
Above, even closer details: our robot dresser decal (purchased via Etsy and applied to an IKEA dresser), dragon smirk, nautical star curtain finial, and handmade sugar skull pillows (a shower gift from my friend Beth).