Yeah, I'm lame for not posting more frequently... but have mercy on me. I have been recently diagnosed with pregnancy-induced carpal tunnel in my right hand. Um, yeah, I'm right-handed... staring down a whole bunch of baby shower thank-yous and holiday cards to be written and sent... sometime soon? Typing isn't very helpful to the situation, either.
It hurts so freaking bad.
But I'm going to share a little post about a fun ladies night a little over a week ago. One of my really good friends (you know, Stephanie of
Calamity Layne Vintage
) works at the
Benefit Boutique
in Evanston. A group of three of us decided to go visit her at her store and have a Beauty Bash! During a Beauty Bash, you get to choose from a few different services (along with a makeup application - yayy!) and I chose the eyelash tint!
An eyelash tinting is relatively simple. A vegetable dye is applied to your top and bottom lashes, and left on for about 15 minutes. You have to keep your eyes closed. That's the hardest part. They put little sticky protective pads on your eyes to keep from staining your upper & lower lids. But when it's all done and rinsed, you look like you have mascara on all the time because your eyelashes are dyed darker! It stays for about 2-4 weeks, depending on what kind of eye makeup remover you use.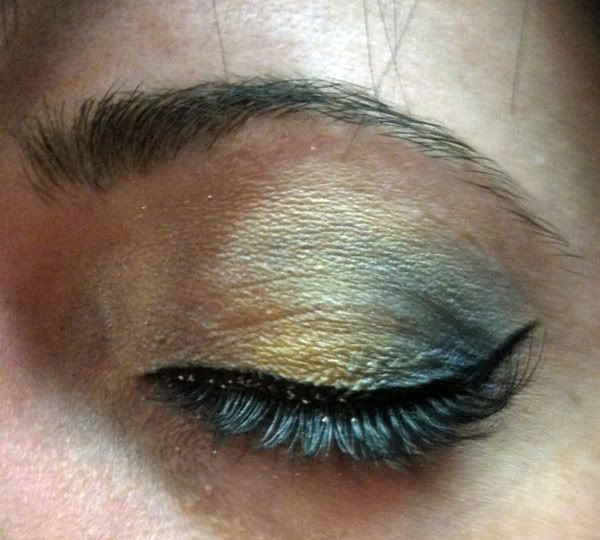 Okay, full disclosure: these are NOT photos from my eyelash tint, or the makeup application I received. I actually completely flaked out and forgot (!!!) to take photos. Boo to me. These are actually older photos of me, from earlier in the year, but I was pretty proud of my eye makeup job that day, and it went along with the story, so... yeah.
The store is super cute and the girls were really friendly. I had to practice some extreme self-restraint in order not to buy a whole bunch more, but it's time to save up for Christmas gifts for everyone!
Coming soon to the Hell Razor blog: an awesome preview of our baby nursery! We've been really busy getting everything set up, and I can't wait to show you all! We'll see how my hand is feeling over the next few days though...
Curl of the Burl - Mastodon