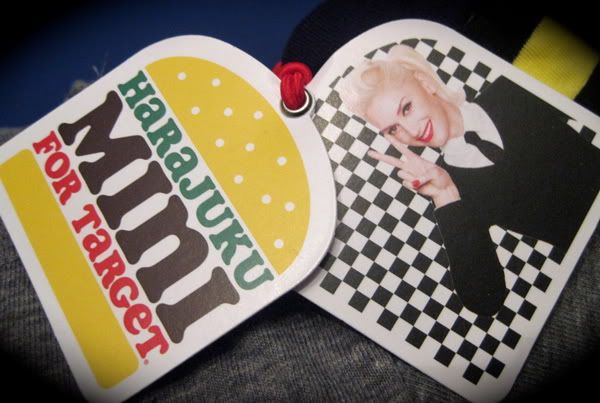 Last Sunday was the release of Harajuku Mini for Target! I scored a whole bunch of gear for the baby-to-be! My mom and I had a baby shower to attend (not mine, for a different friend) earlier in the day, but I warned her ahead of time that we had a MISSION to attend to right after! She's a good sport about all things baby (ok, I think she's even more excited than me!), and always up for an adventure. I was prepared to go to several stores if need be, but we lucked out at our first stop!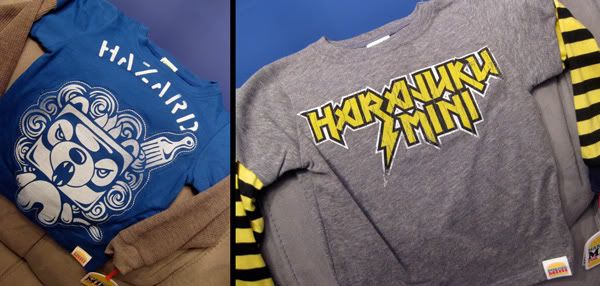 I bought items that I know the baby won't even be big enough to wear for a long long time. These two t-shirts will probably be stored away (they're a size small, but for toddlers) for quite a bit, but I can't wait to see the little guy in these super sweet t-shirts! The gray one with the long stripey sleeves is my favorite out of the two. Todd said that he likes it because it has an Iron Maiden font.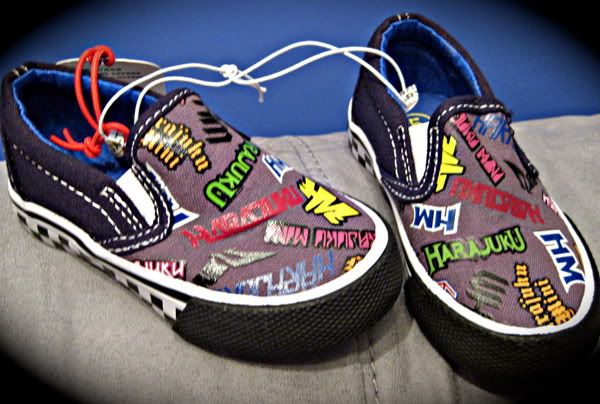 Like most everything else from the collection... these shoes were too cute to pass up! Apologies for the photo, the original was a little blurry, so the result you see is a bit over-processed... but you get the idea.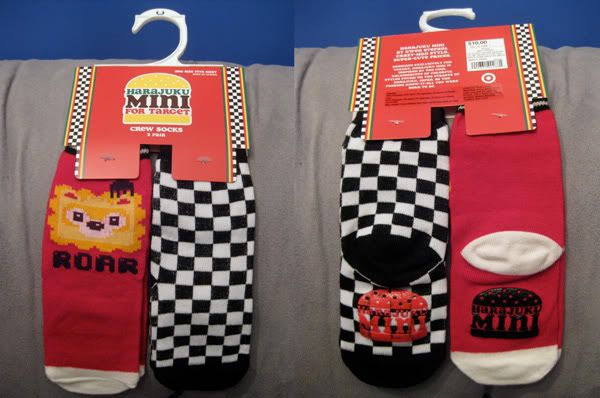 Did I need to buy mini socks? No. Did I not have enough money to buy groceries this week because of this shopping spree? Um, yeah... but come on! Checkerboard print and a lion with a hair pick!!!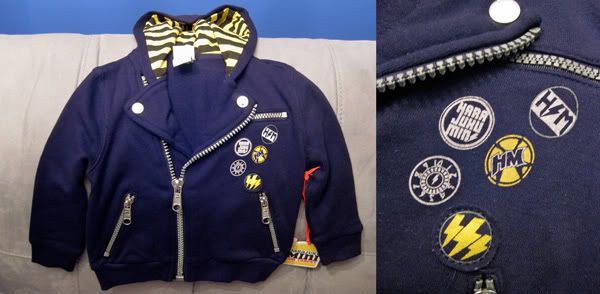 This hoodie is my absolute favorite piece of everything that I purchased. It has the same yellow and black stripes as the long-sleeve shirt that I love, but tiny little faux buttons! And it looks like a biker jacket! The plaid hat (shown below) was another guilty indulgence. Don't even know if the little guy will allow me to put a hat on his head, but I'm going to give it a shot... even if just for a picture.
And last but not least, a onesie outfit that I can actually use relatively soon! It has several of my favorite things: bright colors, stripes, and a character that reminds me of vinyl toys from
Rotofugi
. Just thinking about cute little baby butt with the lion on it is just too much...!
I have 10 weeks left to go, and the third trimester is officially kicking my butt, hardcore. My joints ache, I have pregnancy-induced carpal tunnel that makes my right hand either fall asleep or tingle like needles and pins 90% of the day...
Plantar fasciitis
in both feet... a horrible pulling/pinching pain in my left hip that randomly will not allow me to bear any weight on that side... but don't worry - I went to the doctor yesterday and she assured me that ALL of it is a totally normal side affect of pregnancy...
Just keep telling myself that it'll all be worth it in the end...!!!
Home Sweet Home - Motley Crue