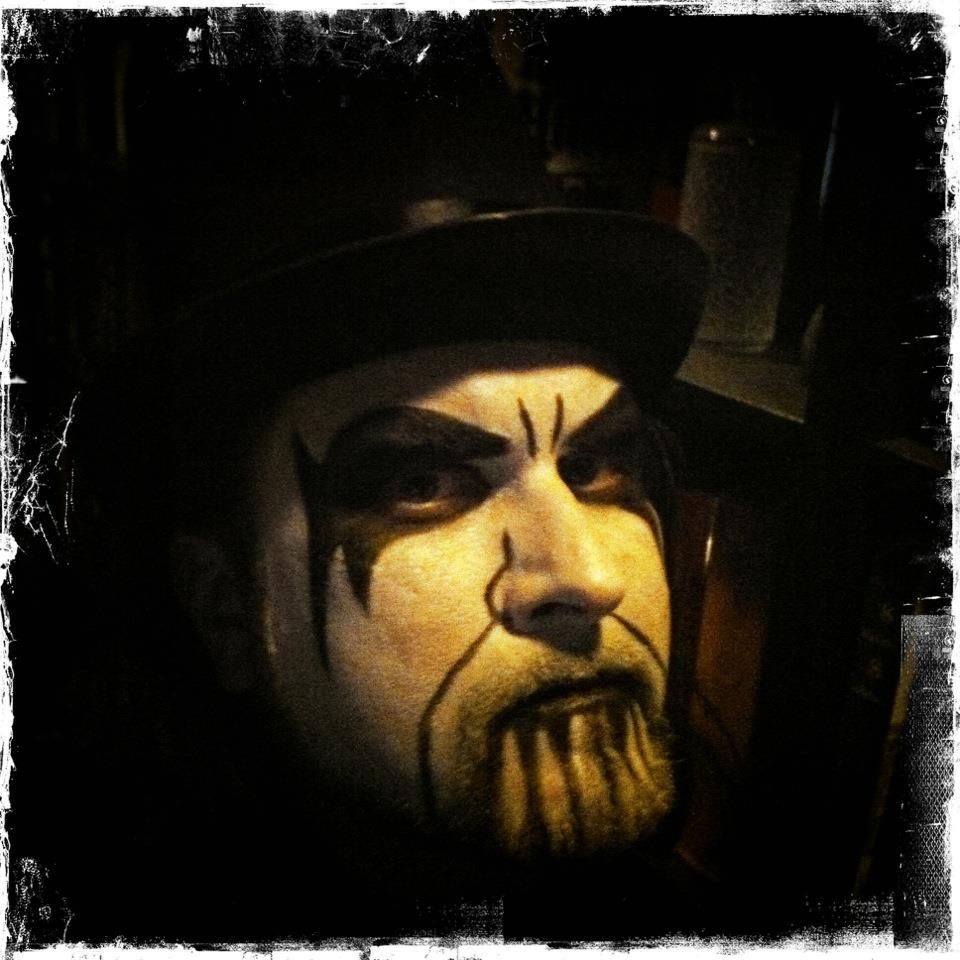 This is Todd in his Halloween costume. He was King Diamond! If you don't know who King Diamond is,
check out his Wikipedia entry here
, or
a post I did on the King Diamond album, Them
. I even made Todd a cross out of fake bones, just like King Diamond's microphone in concert. Todd was such a trooper, sitting for quite a while as I perfected his corpsepaint look. I was most proud of his costume!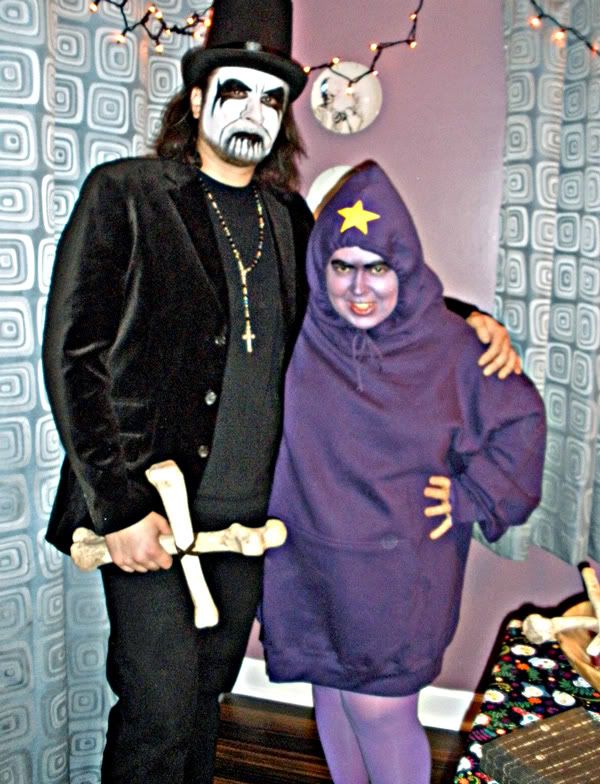 ...and here's our couples shot. I'm dressed as
Lumpy Space Princess
from
Adventure Time
. She's a purple cloud... My apologies, the original photo was blurry, so I artistically altered it via Photoshop so you could enjoy my giant purple pregnant-ness. My brother decided to call me Grimace all night, which sucked, since I already had been struggling with makeup difficulty (the purple cream face paint was WAY too runny and absorbed into my face, so I applied purple eyeshadow all over on top of the face paint), and my supposedly cartoon-like eyebrows kind of overpowered my face. I don't think I've ever done a "non-pretty" Halloween costume like this before. It was an interesting experience, especially when I'm already feeling blah with the pregnancy... but weird self-confidence issues aside, the party was a blast!
Check out all the costumes that stopped by our house!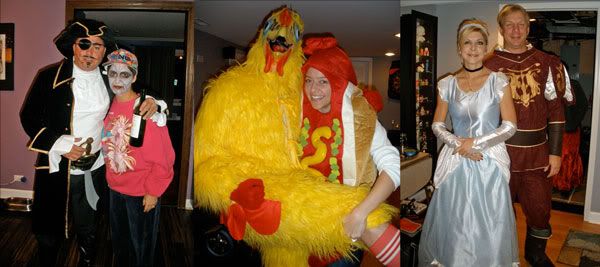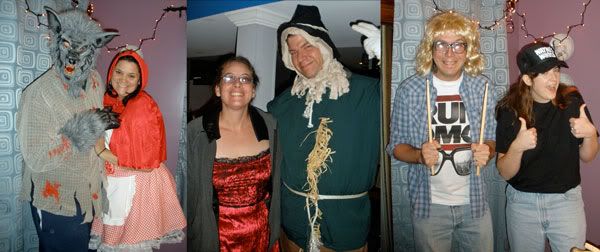 Above, (bottom row, center) you can see my mom (pirate) and my mother-in-law (hockey player) who also came and hung out! They were big time help, supplying treats and clean-up assistance when needed. I'm so lucky to have them. In fact, most of these photos are courtesy of my mom, who actually remembered to bring her camera and photograph everyone!

One of the most entertaining moments of the night was when an impromptu Rock Band performance broke out in the middle of the party. It was like a bizarre Halloween Village People: the scarecrow, the pirate, the death metal guy, and prince charming: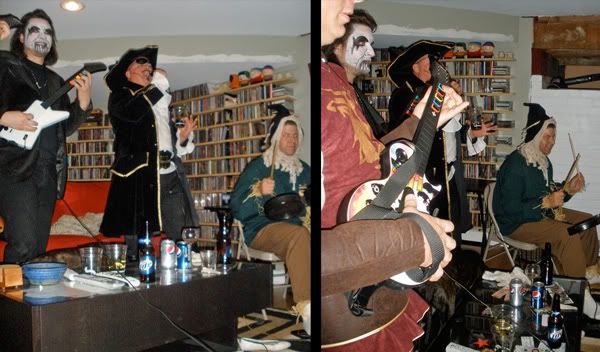 The guys had so much fun, it was hilarious to just sit and watch them! Ha ha - pardon all of our beverage party garbage lying around... that's how you know it was a good party, right?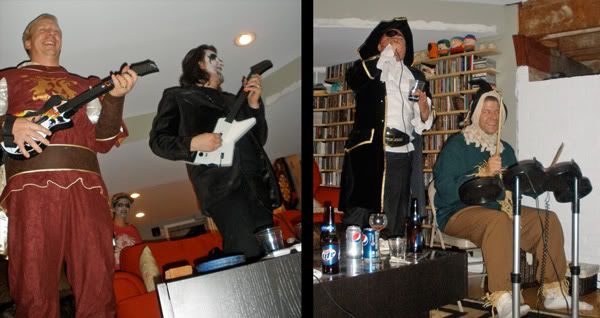 I didn't get any shots of the food, which is a shame since I did spend a lot of time on getting the spread to look just right. I did, however, get a quick shot of one of the appetizers I made: mozzarella eyeballs! They were really easy to make, but labor-intensive. I used pre-marinated mozzarella balls (found 'em at Target), green olives, and black olives. I chopped the butt ends off of the green olives to make the iris, and used a drinking straw to punch out a hole for the pupil. The drinking straw was then used to punch out a little circle of black olive to fill in the hole as the pupil. I bought frilly toothpicks to hold all of the final eyes together. The one you see below is my trial run, but looks just as good!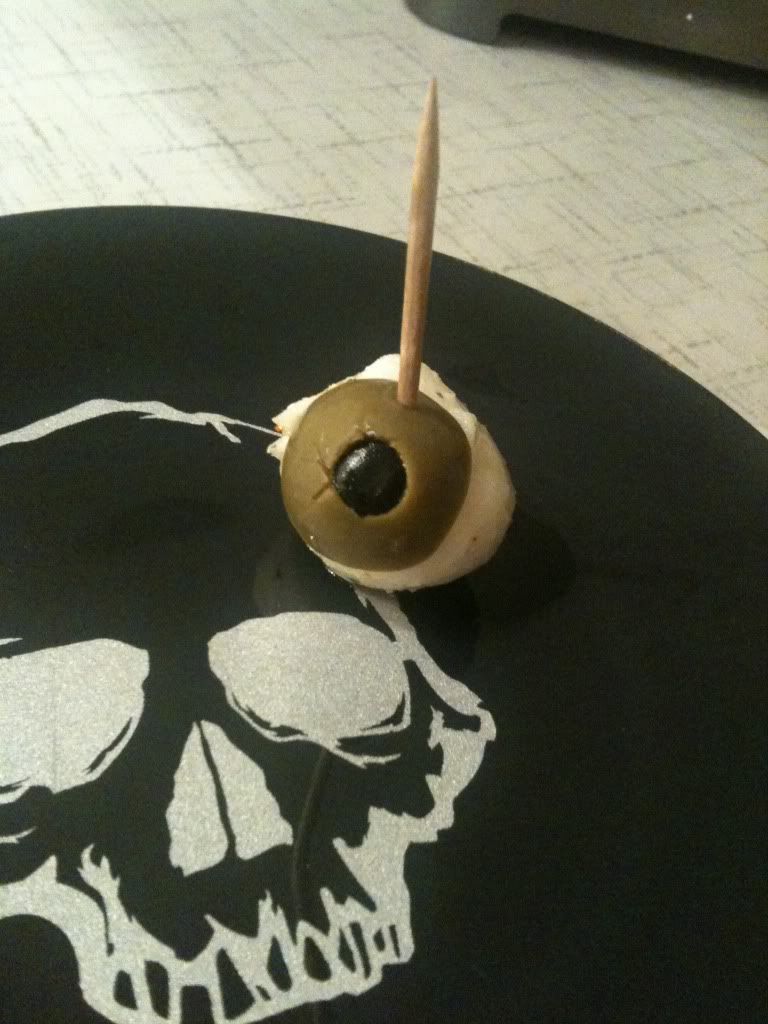 I've had so much fun internet-stalking all the Halloween costumes from the rest of my blogger friends, so hopefully I've reciprocated and given you some fun treats in return! Happy Halloween!
Party Hard - Andrew W. K.
I Get Wet