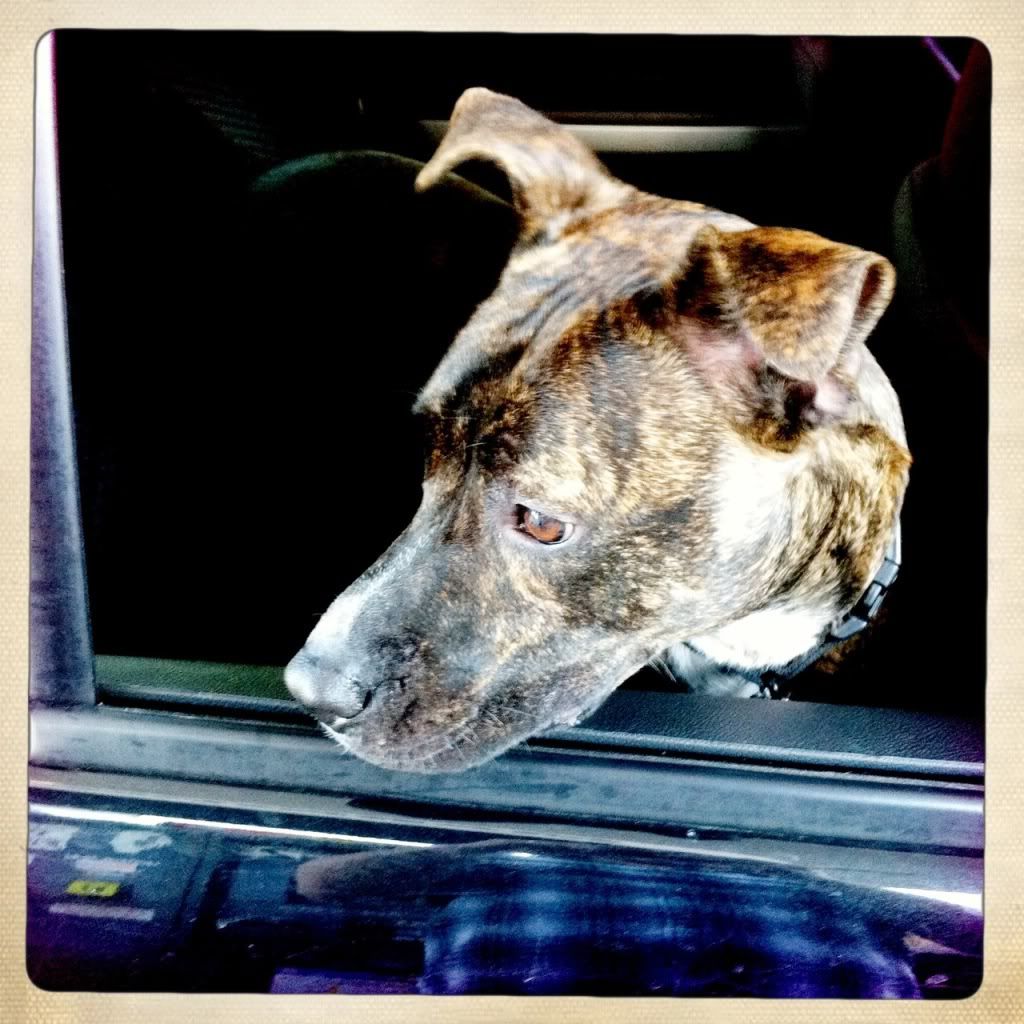 Over Columbus Day weekend, Todd and I decided to take a family vacation. For real, a FAMILY vacation. We stuffed Motorhead into the car along with us and a suitcase, and drove up to Milwaukee for a couple of nights. Our plan was to visit the
Milwaukee Art Museum
, and to relax. We'd figure out the rest once we got there.
We did a little research beforehand and found a hotel that was pet-friendly. Apparently, it was a pretty busy weekend for traveling, and our first couple of choices were booked. But I was very happy with the
Best Western Inn Towne Hotel
. The receptionist at the front desk decided that she loved Motorhead, and would give him a doggie treat every time we brought him into the building. So he liked that part. Thankfully there was a little office building park plaza across the street so we could take him out to potty (yes, our little blue bags in hand). Otherwise, he hung out in the hotel room when we went out to explore for a few hours at the museum. He's a good dog.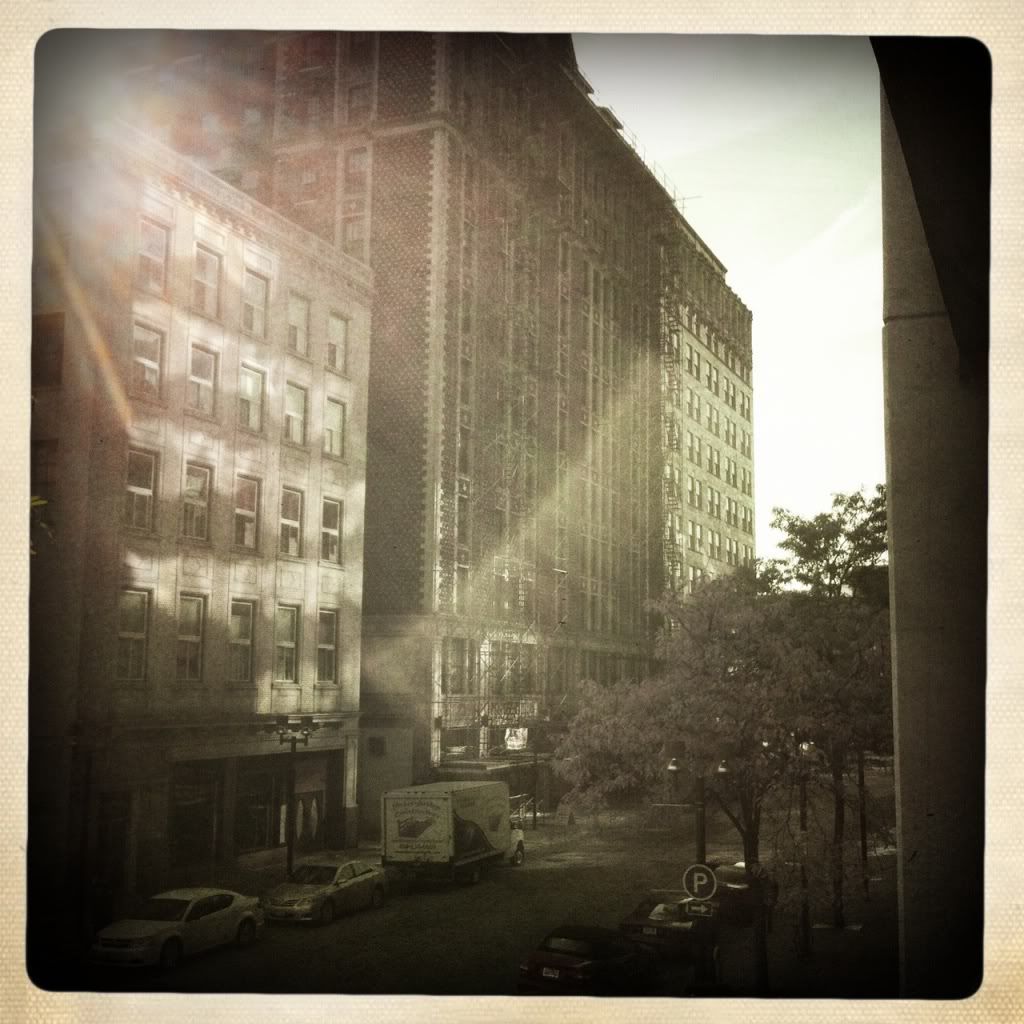 See? There he is, hanging out on the bed. I think that was his most favorite part of the trip. We don't allow him on the bed at home, but the beds at the hotel were lower than ours at home. He jumped up right away. The first night he tried to sleep IN the bed with us, but on the second night he wisened up and took over the second bed, all to himself.
Here we are at the actual museum. The roof of the Milwaukee Art Museum opens up, and we got there just in time to see it happen. It was neat-o. Below, some collages Todd assembled from the rest of the museum trip...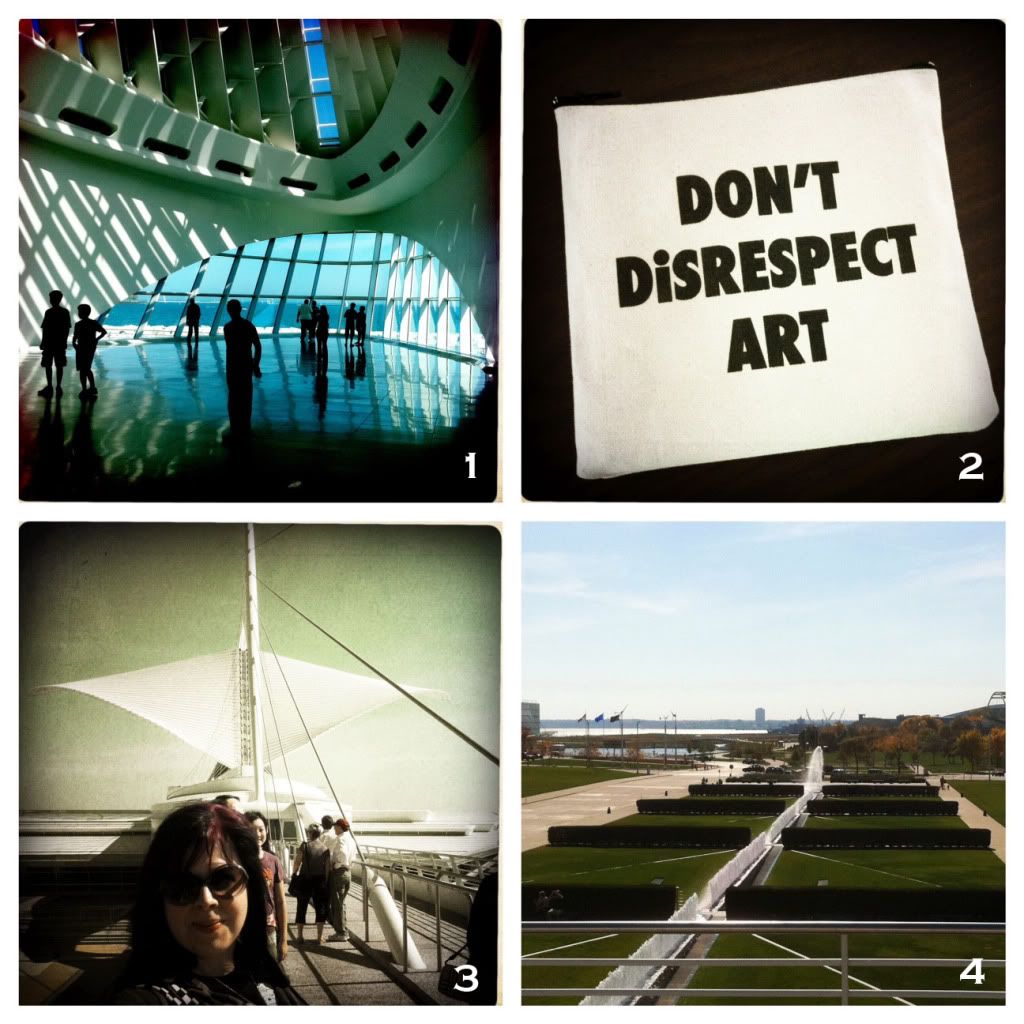 1. The lobby of the museum.
2. We bought matching pencil bags at the gift shop.
3. Me on the bridge. The "sails" of the building are now open in the background.
4. A view of the courtyard from the bridge.
5. Chinese Contemporary Warriors by artist Yue Minjun.
6. Here, I'm scolding a Cy Twombly. If my students saw this, they would try to pass something like this off in class as a finished work, and I'd have to explain to them that they are NOT Cy Twombly.
7. Andy Warhol
8. Roy Lichtenstein
9. "St. Dionysus" by Kehinde Wiley
10. Shadow box by Martha Glowacki
11. A cool sculpture but I forget the artist.
12. "Refrigerator Pies" by Wayne Thiebaud
The House is Rockin' (With Domestic Problems) - Kyle Kinane