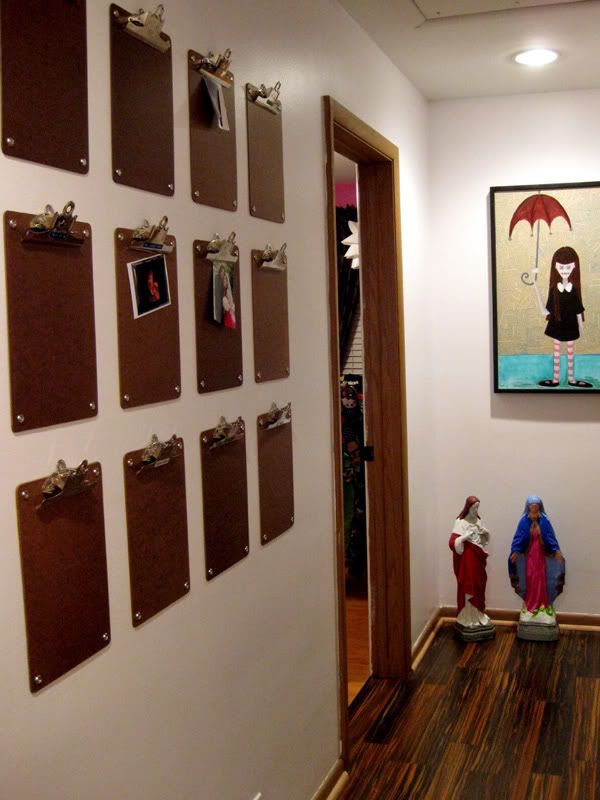 This is a DIY that Todd and I would enjoy whether or not we were having a baby... but we got into a discussion one night about childrens' artwork and photos and how we're going to want more display space soon..
We have a long hallway that was somewhat dark, and we never got around to putting up any artwork or decorations on the one large wall. This sparked an idea: how about a wall of clipboards that we could use to easily rotate display items? Immediately, we knew this was the right answer!
The first step was to re-paint the hallway a lighter color. We chose an almost imperceptible gray, called "Igloo." It looks white, but I assure you it's not. I think I'm idealistically opposed to any walls being pure white... or off-white, for that matter. This is possibly the closest you'll ever see my walls to white. But it helped a lot to brighten up the space!
We then collected twelve clipboards (they're surprisingly inexpensive for the standard wood-and-metal kind) that were identical, but I could also see this design idea easily being used with a random collection of clipboards collected from thrift stores, resale shops, and garage sales as well. Clipboards come in about a zillion different colors and materials now, so the options are pretty open here.
Above, you can see our choice in wall fasteners. Todd used four screws on each clipboard, one on each corner. Wood screws were prettied up with decorative metal washers... I think it gave the final look a more industrial chic touch! The choice to screw the boards in (as opposed to hanging them on single nails by the supplied hanging clip) was to keep the boards steady and secure in the case of a kid running down the hallway! Another option (besides either our method or the hanging clips) would be to adhere the boards with foam tape.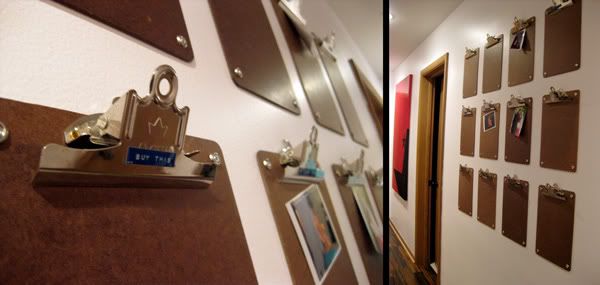 We chose a pattern of three rows of four, but depending on your wall space, I could also see this being done with three rows of three, or three rows of five, or even four rows of four... I could go on and on...
The best part is decorating when you're all done! Enjoy! Every time I walk by, it makes me smile.