Today, I received an email from
Weardrobe
that said "If you would like to download your photos from Weardrobe, please do so before October 14th. At that time, Weardrobe will be replaced with
Google Product Search
."
...hmm... that's kind of sad. Before I started this blog (from Nov. 2009 to March 2010, to be exact), I played around a little with a Weardrobe account. I was really shy about sharing my outfit shots, but I figured the anonymity and virtual unknown-ness of Weardrobe amongst my friends, family, and coworkers made it okay for me to try it out in relative safety. I had a lot of fun trying to take my own photos using a tripod and self-timer (for the most part). It was tricky to take some of these shots at work without someone looking at me like I was a lunatic, but the settings often paid off in the form of some fun and interesting backgrounds and angles.
Since my old Weardrobe account will be gone for good, I thought it'd be fun to get all nostalgic and check out my photos from back in the day...
In my first photos, the pink/blond hair was actually a faded experiment with red, but I had had a blond streak long before that (I even got married with a bright blond streak). Then I went all the way to the other side of the spectrum and went all over near-black with blunt bangs, a look I still really love today, only I've since added my purple to it.
Pardon my lack of nice Photoshop collage-making skills. Some of these photos had a white border, some didn't... I was kind of lazy in my assembly here...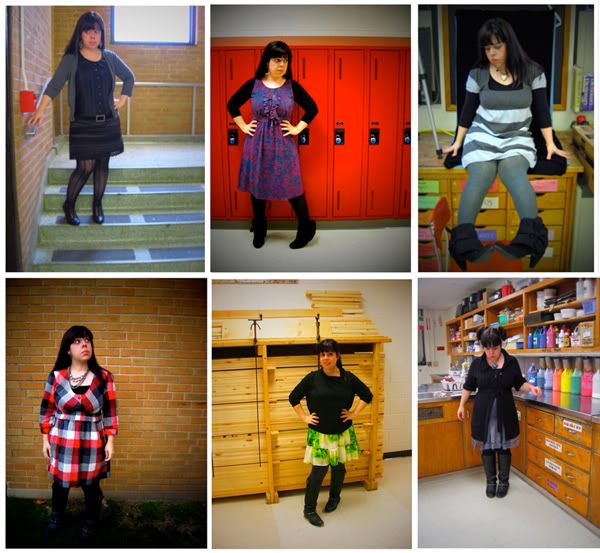 The shot with the red lockers is one of my favorites. I used to take my photo using my regular digital camera, then email it to me on my iPhone. I'd use
TiltShift Generator
to vignette and boost the color, and then
Photogene
to add a white border around the final photo. That was my favorite way of processing the photos, but some of these are just standard shots, too.
When taking photos got to be a major process, I would cut corners and shoot at home. We were living in a horrible condo situation (not even worthy of words here) but I used the spare bedroom as a backdrop (hence the white closet doors/full length mirror shots), with the exception of the middle photo on the bottom row. That photo was the last one I ever posted to Weardrobe, and was taken in a spare bedroom at my mom's house when we briefly stayed with her for a couple of months before moving into our home now.
Mostly right now, these photos make me sad, because I'm not cute and little like I was in these shots. I feel huge and unattractive. Being pregnant is taking a toll on my self-esteem, I won't lie. I have a plan in place to get myself back together once the baby comes, but in the meantime, I'm still over three months away. It's hard. I have trouble sleeping. I'm uncomfortable a LOT. I know some women absolutely love being pregnant (and it does have some good points, don't get me wrong, mostly the little guy we'll get in the end!), but it's really kind of messing with my brain and my self-image.
So, look at these pictures and think of me as cute and little for now, ok? Thanks.
Yoshimi Battles the Pink Robots pt. 1, The Flaming Lips
Yoshimi Battles the Pink Robots