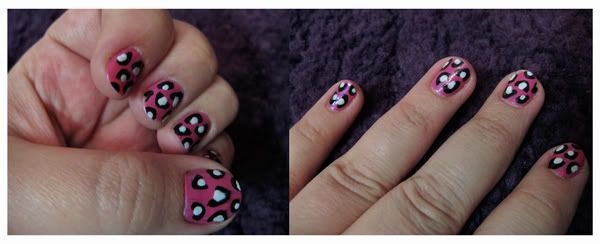 This week's "Manicure Monday" is actually last week's nails... got real busy last week, sorry 'bout that. The incredible thing is that this polish has actually held up the best of all my recent looks so far. These two top shots are from today - 1 week after I actually applied the polish. Yeah, if you look closely, you can see how my nails have started to grow, and you can see some chipping at the tops, but not bad, huh?
Below are some shots from earlier in the week - I've been really enjoying the Hipstamatic iPhone app for photos, so I took these shots using my phone: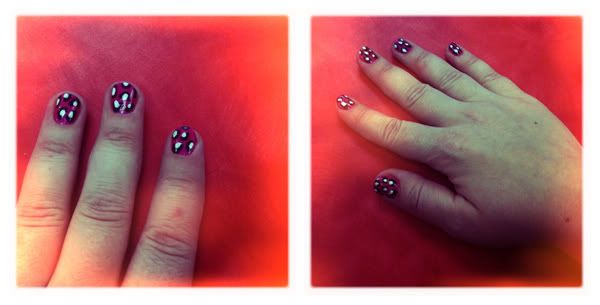 The look was surprisingly easy to achieve. Now that I've mastered the concept of using a tiny brush (see
flower tree nails
), this was pretty simple:
Two coats of OPI in La Paz-itively Hot (or any bright pink color, really!)
Use the tiny brush to draw amoeba-like U and V shapes with your black polish (Rimmel Lasting Finish Pro 430 Black Satin).
Clean the tiny brush, then to make dots of white inside the U and V shapes (OPI in Alpine Snow).
After polish has dried, apply your favorite clear topcoat for durability!
Show off your awesome new nails.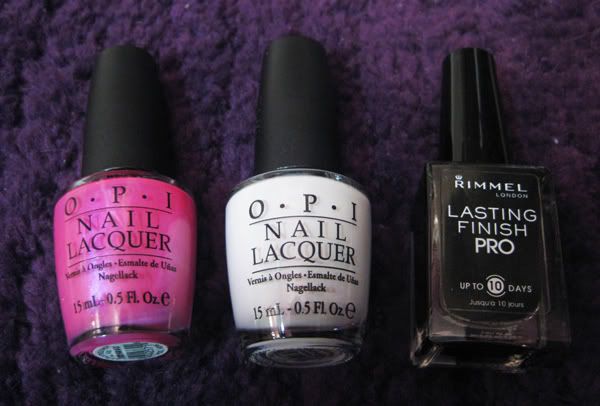 Friday Night (Going Down in Flames) - The Damned Things