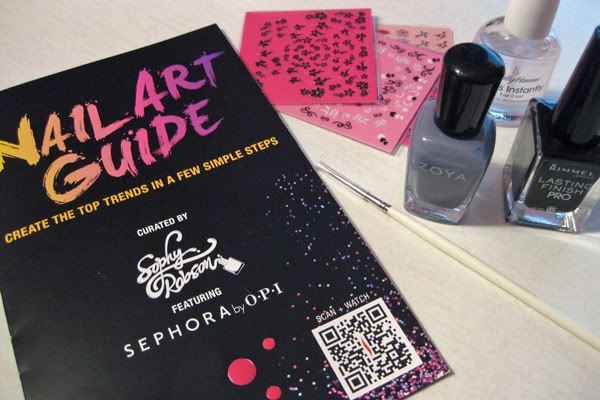 This week, I decided to try something really new... maybe something more advanced. So I took out this brochure I had picked up at Sephora over the summer, and was browsing for ideas using stuff I already had at home. I found a little how-to for embellished nails using crystal flowers, and I thought to myself, "hmm... I can do something like this..."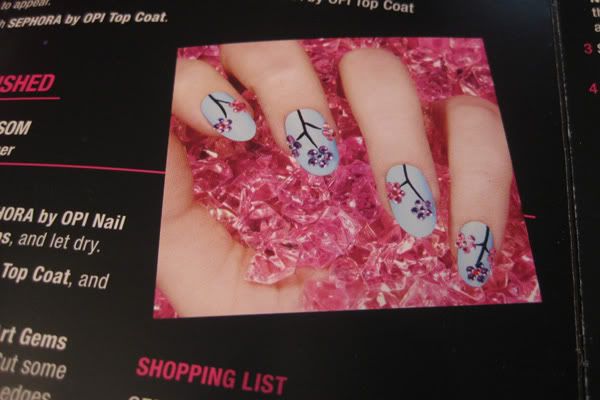 I would need a teeny tiny brush for the lines, and since I have a TON of art supplies in the studio, I was able to pretty quickly dig around and find a ridiculously small brush. But I didn't have any crystal flower gemstones/embellishments... but I DID have some leftover flowery decal stickers that
my friend Beth gave me
for my birthday earlier in the year...
I was having my hair re-dyed purple the next day, so I knew my base coat had to be purplish, since my nails get tinted in the shower when I wash my hair if they're painted anything "light." So, here's what I came up with: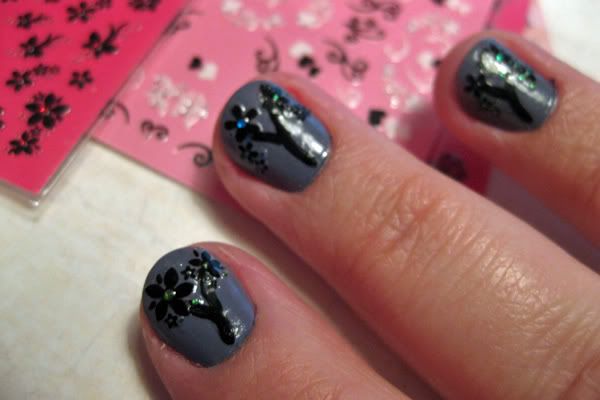 I was a little shocked at how my ridiculously tiny brush still produced somewhat thick lines on my nails. Maybe I just need to practice more? Or thin out my polish with a little remover? Or water? Can you do that? The decals worked out better than I imagined, although I doubt they'll last the week, with all the hand-washing I do in the sink at school.
Here's the details:
Zoya polish in "Caitlin" - 2 coats
Rimmel Lasting Finish Pro in "430 Black Satin" - 1 coat using tiny brush to create branches
Sally Hansen clear polish topcoat - 1 coat, touched up two days later with another coat
Random nail decal stickers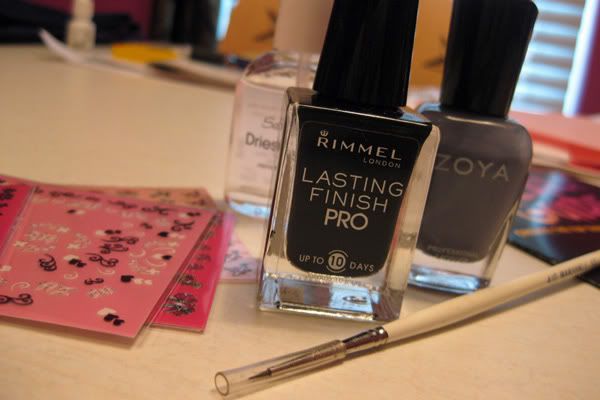 If you're interested in my super teeny brush, I think it's from way back when I took a darkroom photo class and we had to buy these teeny brushes for touching up photos (I don't think I ever even used it). It's even smaller than a size 00 paintbrush...
But now that I've mastered the idea of tiny brush decorating, I have bigger, better ideas for next week. So watch out. By the way, sorry I've been kinda slacker on the blog. This Monday post is rather late in the evening, and I seem to only squeeze out a couple of posts a week. It's better than nothing, right? So thanks for hanging in there with me.
Smells Like Teen Spirit - Nirvana