My number one most favorite beauty product would have to be hair powder. It's a relatively new trend in hair products, but I'm not sure how I lived without it before! My first purchase was an
Oscar Blandi dry shampoo/powder
from Sephora a couple of years ago... I was trying to find a solution for my oily hair that needed washing every single day. Although it wasn't bad, it didn't solve my problem. I then resorted to using regular baby powder in my hair for awhile, but it made my hair look gray. I think it was also clogging my hair follicles... anyway, my hairdresser used to scold me for that.
Here are two other options I've tried: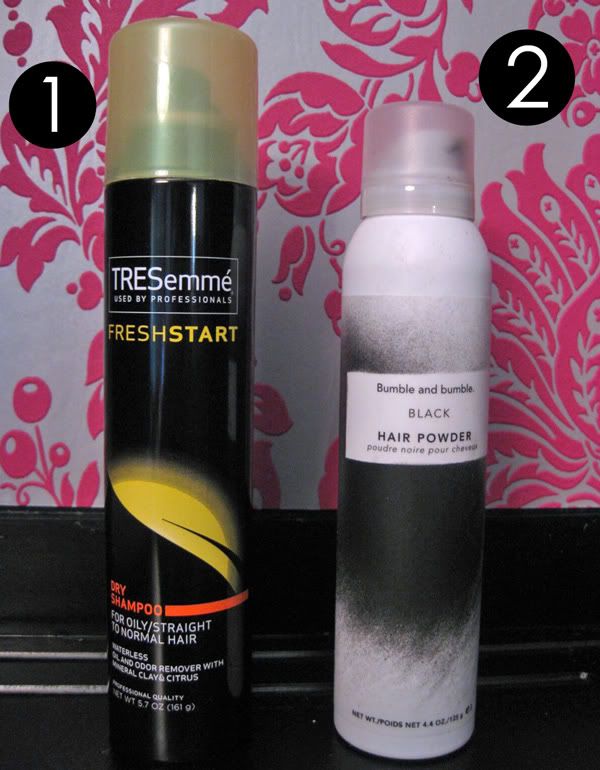 #1 -
Tresemme FreshStart Dry Shampoo
- I still use this spray-on style hair powder to dry out my bangs between shampoos when they feel oily. I spray the underside of the bangs, let it sit a little to absorb, and then brush it out. Usually does the job for light applications.
#2 -
Bumble & Bumble Hair Powder (black)
- This powder was recommended to me when I was going through my baby powder phase and was turning my hair whitish-gray. This spray powder reminded me of the colored hair spray you can buy at Halloween to make your hair mildly orange or fluorescent pink or green... if I touched my hair after spraying it on, my hands got powdery black. It flaked onto my clothes, and you can't rest your head against pretty much anything if you use this. I wasn't a fan.
When I first started going to
Rock Razor Scissors
, Megan introduced me to the small, shake-on containers of hair powder... otherwise known as HAIR CRACK. Once I tried this, I knew there was no going back. My all-time favorite (and still up at the top of the list!) was
Schwarzkopf OSIS+ Dust-It Powder
, but the downside is that you have to buy it from a salon (it'll run you around $20 for a small bottle, unless you buy it from Amazon, possibly in a multi-pack).
Last week, I ran out of my favorite Schwarzkopf powder... but luckily, I had an appointment at the salon, and Megan turned me on to my NEW favorite hair powder: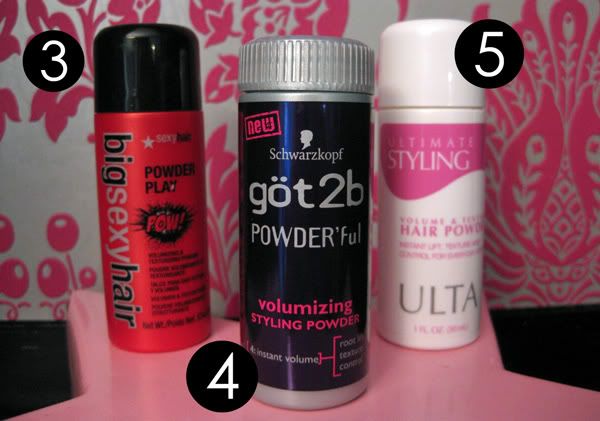 #4 -
Got 2b Powderful Volumizing Styling Powder
! - Look closely at the package... it's made by Schwarzkopf! And it's only around $5 for a bottle, and I bought it at Walgreens! Woo hoo! You've GOT to try this, I absolutely love this product. I use it after washing and drying my hair, and I can go two days (sometimes three...) without having to wash again. This is a blessing for girls with purple (or other colorful dye shades) like me, because every time I wash my hair, more color washes away.
Here's how I use the shake-on powders: I part my hair down the center and shake powder along the part. I then create two additional parts on both the left and right sides, in equal sections, and shake powder on those parts. I then pull my bangs back, and comb a tiny line of hair forward... shake powder along this horizontal "part," and then use my hands all over my head to shake and massage it all in! Give yer hair a quick brush, and you've got two days of goodness ahead of you!
Here's a quick overview of the other two powders pictured:
#3 -
Big Sexy Hair Powder Play POW
- is a volumizing and texturizing powder, similar to other hair powders, but I just felt like it was too weak for me. I keep it around for back-up when I run out of the good stuff. It usually only gets me a day's worth of good hair though... doesn't have the staying power I prefer.
#5 -
Ulta Ultimate Styling Volume & Texture Hair Powder
- This product was one that I picked up, hoping that it might be a little stronger than the Big Sexy Hair product listed above. It ended up being about the same... so not so bad, but not so fantastic, either.
So, in conclusion, I consider myself to be kind of a connoisseur of hair powders, seeing as I've tried a whole mess of them! Hopefully, my advice has inspired you to try a new product and maybe even develop a new addiction of your own!
Delivering The Goods - Judas Priest