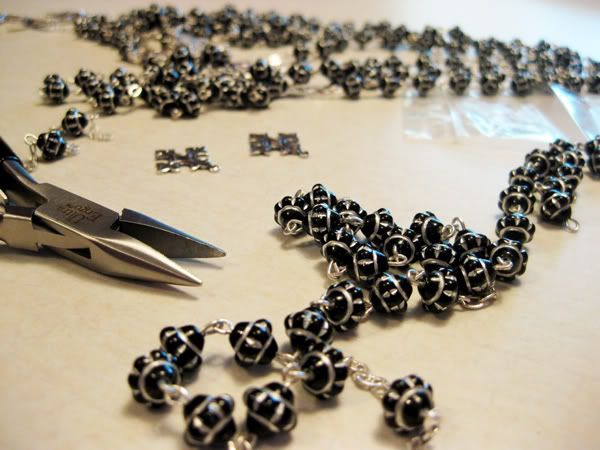 About a month ago, my aunt contacted me about making her some custom jewelry. She wanted eight identical bracelets to give to her female friends who had been her support "circle" during her successful fight against cancer. Yesterday, she had a remission party for family and friends to celebrate. I was honored to get to be a part of this, and that she would ask me to be the creator of her very special thank-you gifts.
Our timeline between the idea and the party was short, and I would have to special order supplies in order to make eight identical items. We decided on using rosary beads for the main bracelet, and I found some cool beads in black and silver from my favorite rosary source. Then, we needed to decide on the perfect charm to finish it off.
The women whom these bracelets were going to are a variety of ages ranging from 30 to late 50s. We thought that a simple but elegant cross would be both meaningful and beautiful to wear. I found two different sellers on Etsy that were both selling the same charm design, and snatched them up right away in order to have enough for all the bracelets! I also wanted to make sure the charm size was right for a bracelet (as opposed to a larger necklace charm).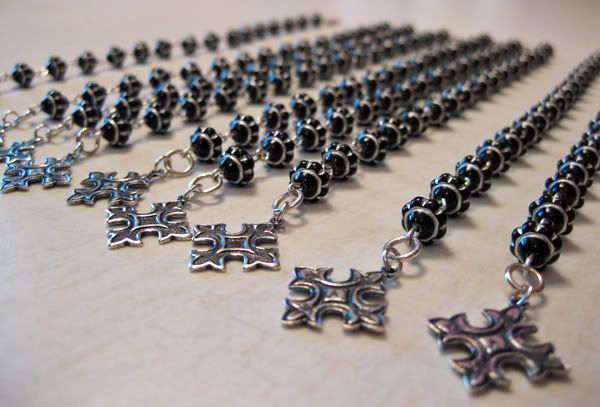 I'm quite proud of the finished design, and can't wait to see how the gift recipients like their custom matching "friendship" bracelets!
Help I'm Alive - Metric
Fantasies