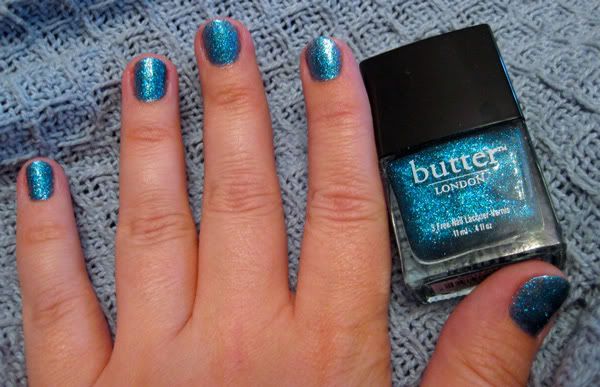 I was really excited to try Butter London polish. When the girl came up to me at Ulta and was all, "Can I help you?" I asked her if she had tried this brand, and she told me yes. She said it was really good, and that I only needed one coat. I picked up this bottle of blue glitter polish ("Henley Regatta" is this color's name), and asked if it had a clear base to it, or if it was good all on it's own. She reassured me that I wouldn't need another color as a base coat.
WRONG!
What you see here is about 4 coats, minimum, with a clearcoat top. I wish I had used a base coat and just used the Butter London on top. But I'll do that next time. Here's the kicker: this looks really cool, and I received a lot of compliments (oh yeah, this is actually last week's polish...). But after only about 3 days, it started chipping off in large sheets! I became obsessive-compulsive with picking away at the rest, and I was amazed at how easily it chipped away from my nails.
That's sad. Especially considering you'll pay $12 to $15 for a bottle of this, compared to $5 - $8 for some OPI or something along those lines. It sucks, because Butter London has some amazing colors I've been drooling after for awhile now. But based off of this one experience, I just can't recommend it. Maybe the solid colors are different... at least, let's hope so.
Anyone else here have experience with this brand?
Let's Get Rocked - Def Leppard
Adrenalize