Last week, I went with my brothers and their significant others to
DMK Burger Bar
in Lombard, IL. I had heard excellent things about the Chicago location, and had been dying to try it. When I heard that they had opened a location nearby in the 'burbs, I was even more excited. (I hate driving and trying to find parking in the city. Ick.)
Being that I am pregnant, I couldn't sample any of their tasty-sounding
beer menu
(they even had my favorite,
Allagash White
!), but I was able to have a yummy Blood Orange House Made Soda! Okay, okay, I actually had
two
of those... they were good.
For food,
the menu at DMK
sounds absolutely delish. I chose fried okra and dill pickles as an appetizer. I had never had a fried pickle, and I was dying to try. Someone should have warned me that the innards of fried pickles are scorchingly hot!!! Yeah, I bit into it, all over-zealous and excited to try. Ouch.
As a main course, I had burger #12, which is a house-made veggie and grain patty (aka a veggie burger patty) with aged cheddar, eggplant, tomato, and pesto mayo. All burgers come on fluffy fresh baked buns. I also ordered sea salt and black pepper fries, with "house ketchup." House ketchup is a concoction consisting of ketchup and spicy salsa (I'm guessing) mixed together. It was freakin' spicy - and I like spicy foods, but it was almost too much for even me.
The burger patty was quite good, but I didn't even notice the pesto mayo... the burger overall seemed dry, which was kind of disappointing. The bun, although tasty, was really squishy, and just can't compare to
my favorite burgers at Kuma's
that come on PRETZEL BUNS!
So, overall, it was good - I'd go back again and probably try something different. But it didn't meet my expectations that I originally had after reading the totally yummy-sounding menu. In conclusion, here are some gratuitous photos of my family at the table at DMK:
(I challenge you to take a photo of Sam where he's NOT flicking off the camera. Take that, Sam! You get a heart on your face!)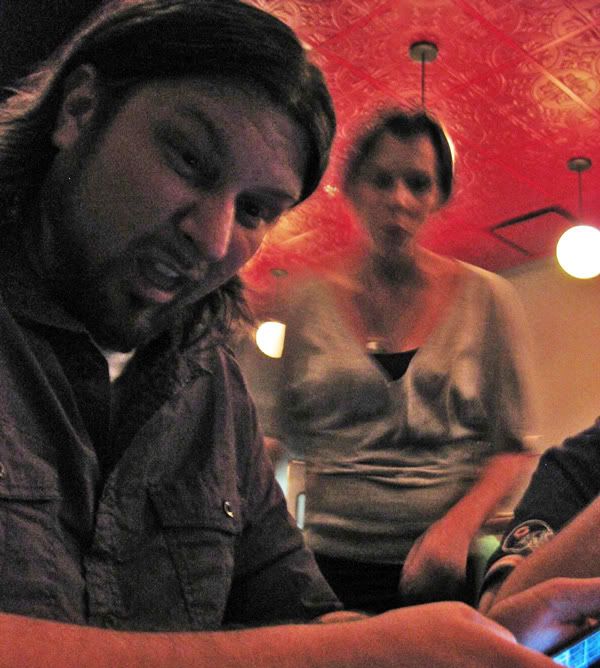 (Yep, that's the waitress coming up on Todd as he makes a total "derp" face for the camera. Nice work, honey.)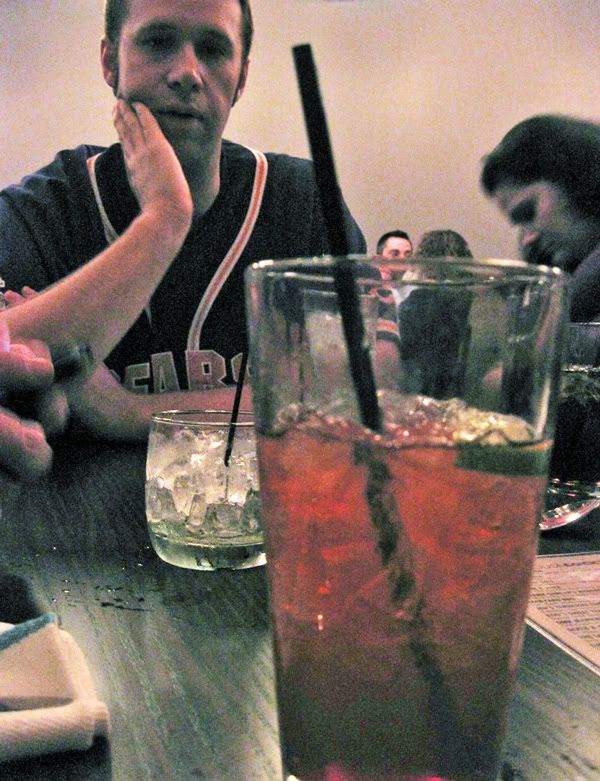 My brother's girlfriend, Annie (you may have seen her before
here
), taught me how to turn my cloth napkin into a bunny. Score!
For more info on DMK Burger Bar, they're at 2370 Fountain Square Drive in Lombard, IL (it's kind of unassuming, tucked between Starbucks and a Jared jewelry store). Telephone: 630-705-9020.