It's nearing the end of September, which means that I'm dreaming of Halloween! Last year was pretty fun. It was our first year with Motorhead, and our first Halloween at our house.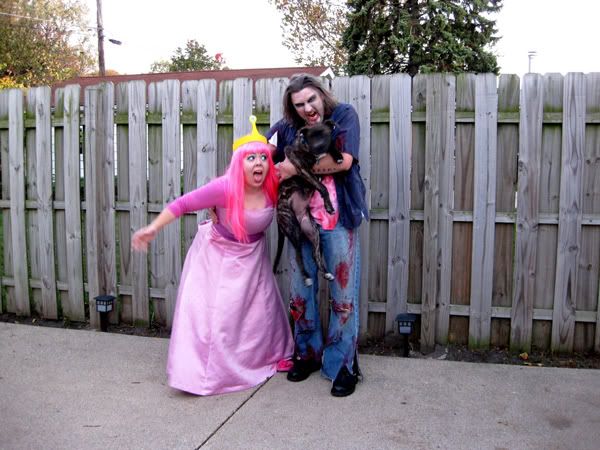 I was really excited about my Princess Bubblegum costume (from
Adventure Time
, if you weren't sure). I bought a sample bridesmaids dress from Goodwill and dyed it pink. You can't even see it all pinned up under the belt sash - I'm so short, and that was the easiest way to get it to the right length! I wore a long-sleeved pink shirt underneath too, since I wasn't comfortable (or warm enough) to go strapless. But I made my own crown, and custom cut my long-haired pink wig!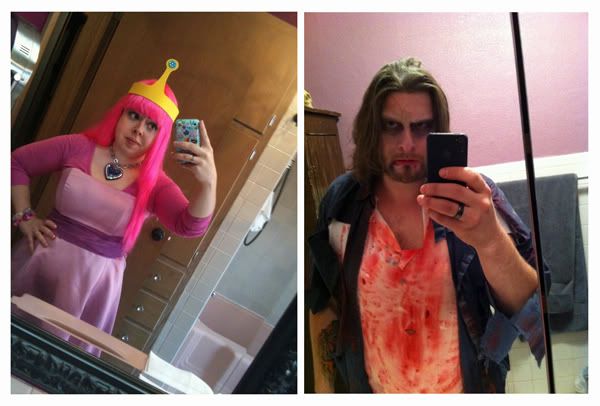 Todd never seems to plan his costumes ahead of time, and then lo and behold, we get an invite to a party, and he needs a costume... the previous year he wore a gorilla suit, but this last year he needed something different, so...viola! Instant zombie!
We spent less than $5 on his incredible costume, for some white makeup for his face. Everything else (jeans, white shirt, button-down shirt) was old work/painting clothes he already had that I splattered, cut, ripped, and painted with red paint and red food coloring to make it look like it had been through several zombie attacks.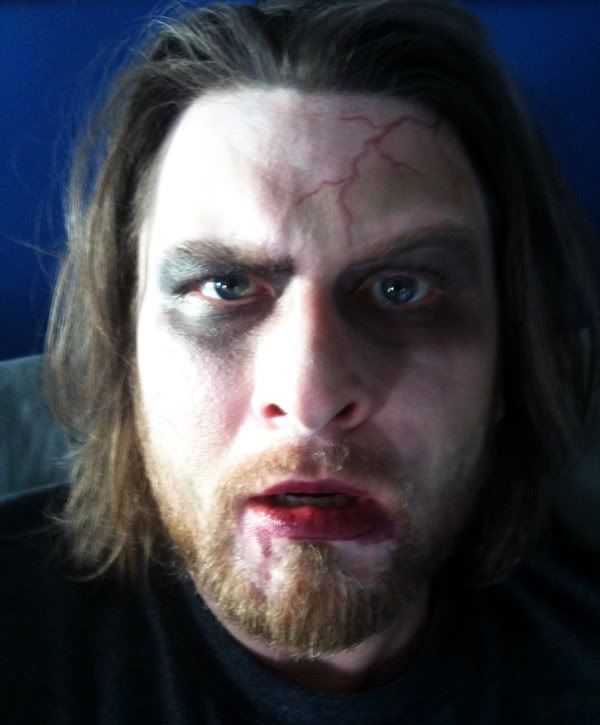 I was most proud, though, of the makeup job he let me apply. All over white paint (not too heavy... he had to look pale and dead, not clown-like), some black eyeshadow around the eyes to look hollow and sunken in. I smeared red lipstick over his lips to look like he'd been chewing on some brains, and then I used some dark pink/reddish eyeliner to draw veins across his forehead. That part was my favorite!
Once he gets into costume, though, Todd's all about playing the character. Look how tiny Motorhead was! You get eaten, dog!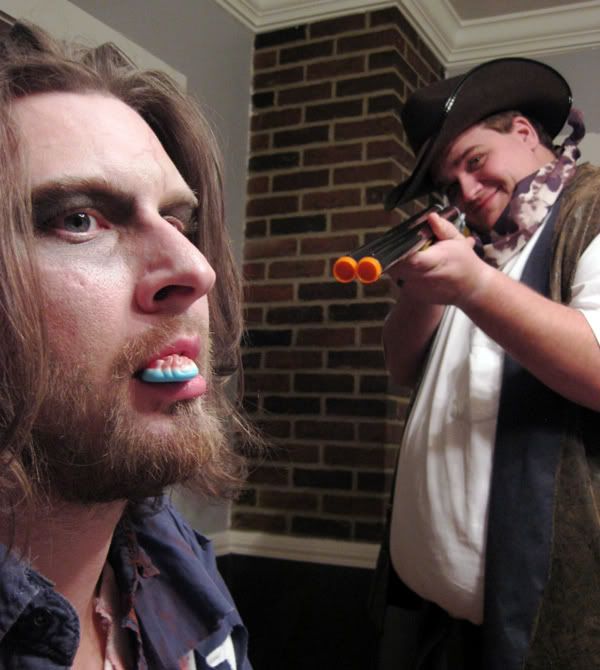 Todd won scariest costume at the party we attended. His prize was - how appropriate? Gummy BRAINS!!! That's my cowboy coworker about to slay the zombie, mid-snack.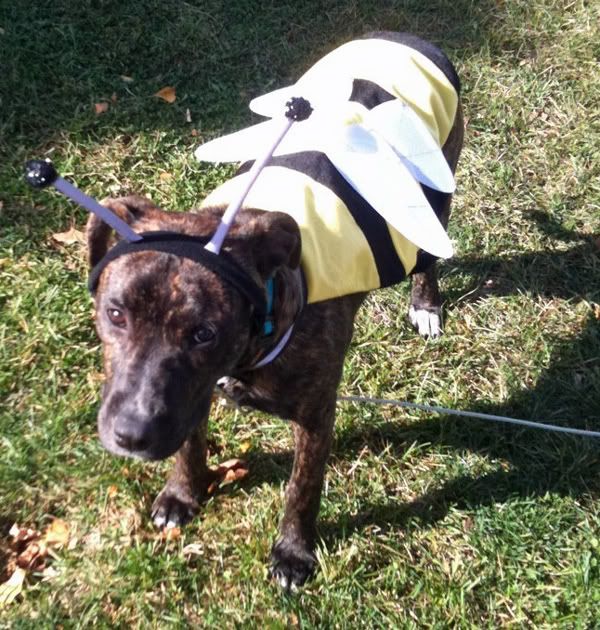 Don't worry, we didn't forget about Motor. He was a bumblebee... although I don't think he enjoyed it nearly as much as I did!
So by now, you're probably wondering if I'm going to reveal this year's costumes. Well, I'm working to gather my supplies, but since I have a huge pregnant belly, my plan was to go as Lumpy Space Princess (also from Adventure Time... if you haven't guessed, I love that show), but I need to acquire a big bright purple hoodie sweatshirt, preferably long enough to wear as a dress... So I'm still working out the details in my head. I like to make or assemble my own costumes if I can... it's usually less expensive, and I know that no one else will have the exact same costume as me, even if we go as the same character.
I can't reveal Todd's costume, since it's his secret to give away, but it's another pretty good one with not much preparation behind it. We're thinking about having a party this year at our house, so it should be major fun to plan for this year's holiday!!! I'll let you know as things unfold...
Tori Amos - Little Earthquakes