This is a project I've been wanting to do for a while now. The hardest part of making your own awesome art smock is finding just the right rock/metal t-shirt for this project. I had originally set my sights on a Dio t-shirt, but was unable to find just the right design (and price) for something I was going to cut up. This Motley Crue "Shout at the Devil" t-shirt was obtained from a garage sale in Michigan for only $1 this summer, and I knew I had found the perfect match.
The decoration on the front of the shirt was just fine, but the shirt itself was small, and quite worn. Just the right type of t-shirt to make a HEAVY METAL ART SMOCK! Here's what you'll need:
vintage (or new, your choice) band t-shirt
solid color smock - mine is made of denim.
a good pair of scissors
straight pins
sewing machine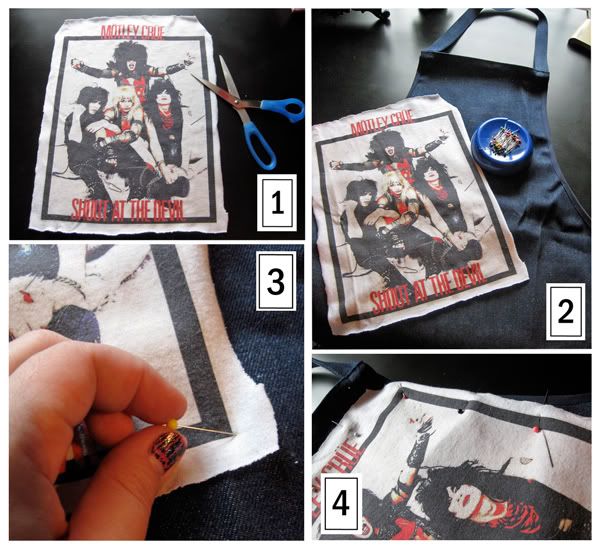 First, you'll need to cut out your t-shirt design. I had to angle the top left and right corners due to the black t-shirt sleeves, but it ended up fitting the shape of the smock nicely anyways. Then, layout your design on your smock. Plan carefully for placement, and trim if necessary. Then, using the straight pins, pin your t-shirt design on to the front of the smock. Every few inches is good, because you don't want the design to shift on you.
Next, take your design to the sewing machine. You'll notice my machine is NOT fancy at all. I use it to straight stitch, mostly. Hemming curtains or sewing a pillow... that's about all I'm good for. So don't be intimidated. Stitch all the way around your design, and be sure to go back and forth over your start/stop point, so it doesn't unravel. Then remove your pins (well, you could also do this step as you go around).
If you have a lot of extra fabric hanging off (like I kinda did), give it a careful trim with your scissors. The cool part is that this is supposed to look DIY and raggedy edges, so it's ok if your cuts are jagged. That just means it's more metal.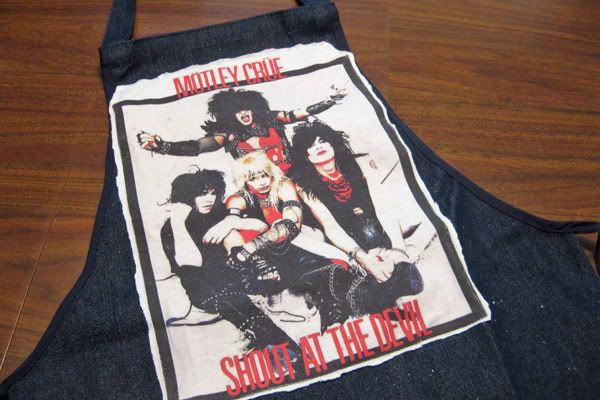 Finally, admire your work. Wear your art smock as a kitchen apron, if you like, or for painting, or for teaching art to middle schoolers, like me. Plus, I get to give a sweet bonus lesson on 80's hair metal! Oh yeah.
Looks That Kill - Motley Crue