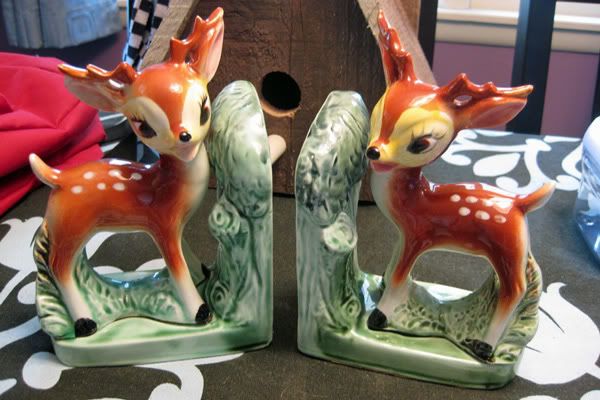 When I was in Michigan with my mom, we bought so much stuff that we couldn't haul it all back on the bus. So, we packed up a big box and had it shipped back to us here in the 'burbs! The box arrived earlier this week, and I'm reminded of all the fun we had garage-saling and vintage/antique shopping.
The first fun find was this pair of deer bookends! Although they were marked "Bambi," I like to think of them as a more generic deer design (eh, I'm not a huge Disney fan, to put it lightly...). I thought they were super cute and I haven't decided where they'll call home just yet. Could be the bookshelves in the living room, could be a spot in the new baby's room... oh, but the baby room plans are for another post!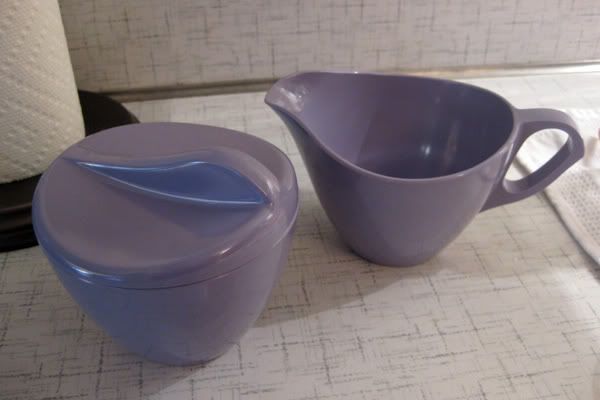 I have always been in love with these plastic dishes, called Melmac. Now that we're expecting a baby, it seems like the perfect time to start a collection of plastic dishes for our home. I began with this sugar and creamer set in a beautiful pastel purple. I used to admire sets of these dishes from afar, not knowing which color I would eventually like to have in my home one day. I've decided to build my own set out of a variety of colors, creating my own rainbow-set of plastic Melmac dishes! Then I can make our set as large as we need, and I can take the time to build it up over time, enjoying the hunt for new colorful pieces!
Here's the Melmac stamp in the bottom of the dishes. I love that pretty much all Melmac dishes are the same shapes and sizes, just different colors. This will allow me to have all kinds of fun mixing & matching! I love starting a new collection, and I'm very excited about this one!
Dream Warriors - Dokken
Back for the Attack