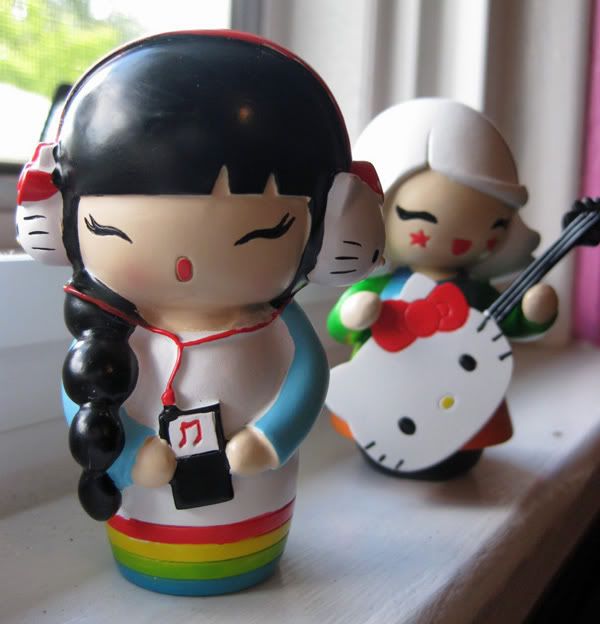 These dolls are part of a design collaboration between
Momiji and Hello Kitty
. Momiji dolls are small collectible dolls that have an opening in the bottom to write secret notes! There are six dolls designed in the Hello Kitty collection, and I chose to buy the
Gigi
and
Astrid
dolls.
I first heard about Momiji dolls in an article about Gwen Stefani's Harajuku-themed tea party fundraiser to benefit earthquake and tsunami aid efforts in Japan. Although I do love heavy metal, I'm also a huge Gwen Stefani/No Doubt fan (yeah, weird mix, I know). The style of these Momiji dolls remind me of the Harajuku Lovers cartoon characters. When I saw that Hello Kitty had a collaboration with Momiji, I was sold!
By the way, have you heard about the
Harajuku Mini for Target
line that Gwen is collaborating on? I'm so excited for this, and I hope that it includes little boy baby clothes, especially because Gwen is a mom of little boys - give us something cool too, please! It's set to launch in stores early November, but you can find the school supplies and backpacks right now. Trying to decide if I can afford to buy one for this school year for me...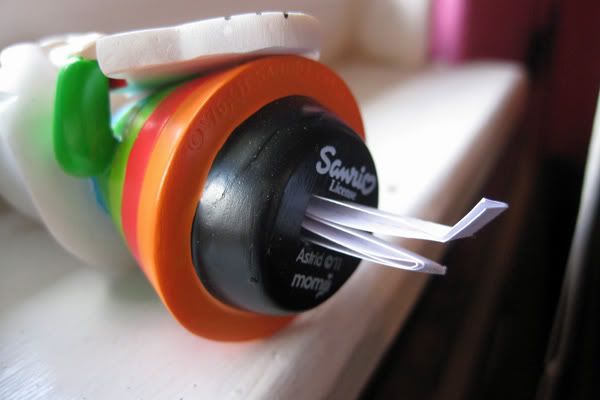 Oh, but I got off track there. Here's a close-up of the secret message spot on the bottom of the Momiji dolls. I can't bear to write anything on the paper though... I just want to keep them nice on display!
What You Waiting For? - Gwen Stefani
Love Angel Music Baby