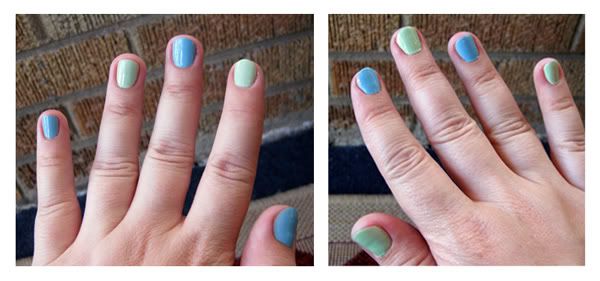 Okay, nerdy art-teacher trivia for you: all of the colors featured in this post are considered "cool" colors (as in, not "warm" and on the same side of the color wheel). Hence the post title, and not just because I like these colors and therefore I consider them to be cool. Although that is also true. But anyway...
I used my two favorite shades on my fingernails: light blue and minty green. They're OPI "What's With The Cat-itude?" (light blue) and OPI "Gargantuan Green Grape" (minty green). All topped off with Sally Hansen clear coat (you know, the usual). Lately, I've been having trouble deciding what colors to use, so I choose multiple and just go for it. It's fun.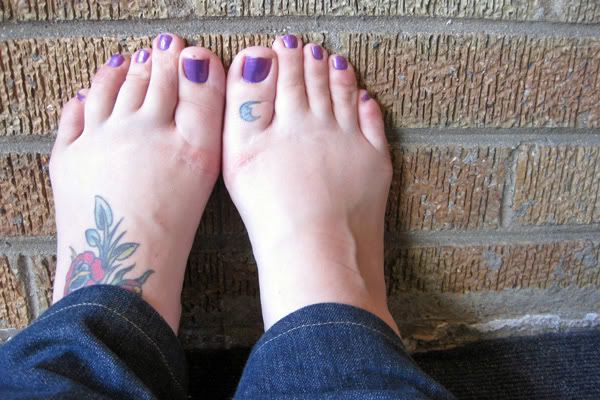 BONUS NAILS! I gave myself a pedicure! Even though my mom told me I have terribly ugly feet (thanks mom), I took a photo of them anyway. I used OPI "Purple With A Purpose" for my toes. I've found that although I like to have fun with color choices in nail polish, the wrong color on my toes just makes them look sickly. Darker bold colors tend to work better, so I usually stick to bright pinks and reds. I've been known to do a deep metallic blue, so I tried out this purple. I like it. For our wedding, I actually had a pedicure with black nail polish on my toes!
Crazy Train - Ozzy Osbourne
Blizzard of Ozz