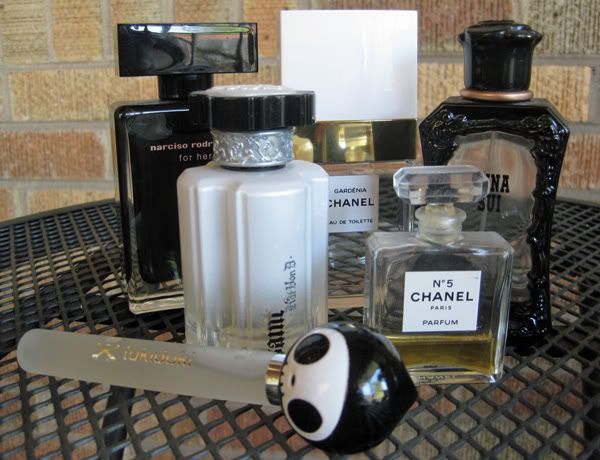 Today is the first day of school. I decided to schedule this post in order to ease up my stress for the start of a new school year, and talk about something fun and enjoyable: perfume!
I picked out my favorite fragrances and photographed them in groups. It's also a bit of a timeline, an evolution of my fragrance tastes over time. Let's start with a classic: Chanel!
I will always always always love
Chanel No. 5
- It's the signature scent of both my mother and my grandmother, and I always feel super fancy when I wear it. It's also probably the most expensive of all of my fragrances, and why it isn't my everyday choice! A second Chanel fragrance that I love is a limited edition scent, called
Chanel Gardenia
. It used to be available only every 5 years, but to my surprise, I did a search for it, and apparently you can purchase it from the
Chanel website
, but boy, is it expensive! I remember paying something like $55 for the bottle you see above, and I've saved it for YEARS. Probably not a good idea, as I wonder how strong it is anymore...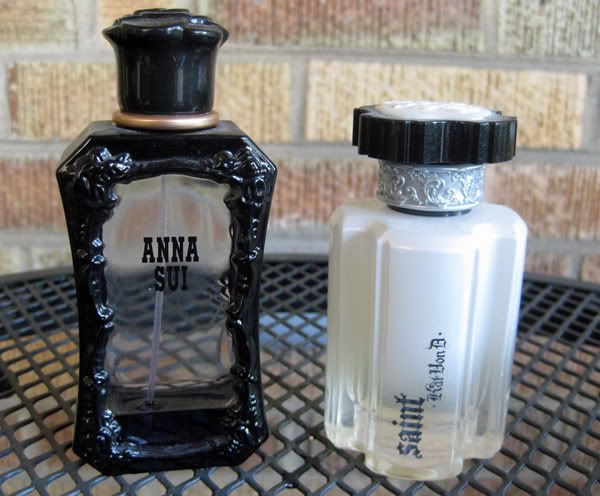 Oh how I love
Anna Sui fragrance
! If you look closely, you can see that my bottle is starting to run out! Oh no! I'm going to have to order it online, as I haven't seen it in any stores around here lately. (Sidenote: the
Anna Sui website
is really frustrating, as it shows me all of these fabulous things, but I haven't found any physical stores in the Chicagoland area where I can purchase them! Nor does she sell her fashion via her website. I really want to see her items in person to touch the fabrics and try things on! Any thoughts?)
The second bottle is "Saint" by
Kat Von D for Sephora
. I bought this when her first two fragrances came out, and although I liked the "Sinner" packaging better, I liked the smell of "Saint" and therefore decided to purchase this one. Since that time, she's also come out with two additional scents: "Adora," and "Poetica," both of which I can't really report on since I haven't sniffed 'em.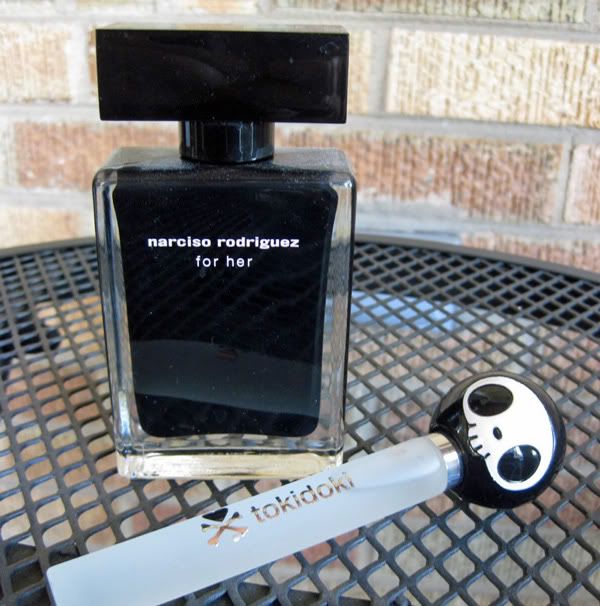 Okay, now here are my two current favorite and most everyday fragrances. Number one is
Narciso Rodriguez
. Every single time I wear this fragrance, I get compliments! I've been in stores shopping, and the salesgirls will say "oh something smells really good over here!" and I've learned to say, "Oh, it's me," even though it seems conceited... because it's true! The salesgirl then walks over and sniffs me and says "yeah that's it!"
It's actually happened to me several times. I think that's a pretty good testament to the success of this one, right? The only problem is that finding it in the store (typically Sephora) is a toss up. But you can order it
online
.
The last fragrance is my latest acquisition: Tokidoki! Tokidoki has released a whole series of small roll-on fragrances inspired by their cartoon characters - and they're only $18 each! Super affordable! These are perfect for the little girl in your life, since they're roll-ons and can't really be over-applied (as opposed to a spray). I chose to buy
Adios
- a light, citrusy scent. There are six to choose from, and if you check the
listings on Sephora
, they give a short description of each on the website. I've been wearing it every day this week so far, and although I don't get the overwhelming complements that Narciso grants me, I still love it!
What's your favorite scent?
The Devil You Know - Anthrax
Worship Music