Whoops, sorry guys, guess I was away a little longer than I intended here! I tried to do some Wardrobe Wednesday shots for today but I wasn't feeling the pregnancy look today... hopefully soon. It is my goal to let you see my roly-poly self sooner or later, just gotta get the motivation together. And probably some help from Todd - my self-portraits tend to totally suck it.
But here! To redeem myself, I am providing you with FINISHED photos of the back porch! I first
wrote about the plans to do this
back at the beginning of summer, and even gave you some of the inspiration, idea, and supplies I had gathered. Ta da! Here are the final results: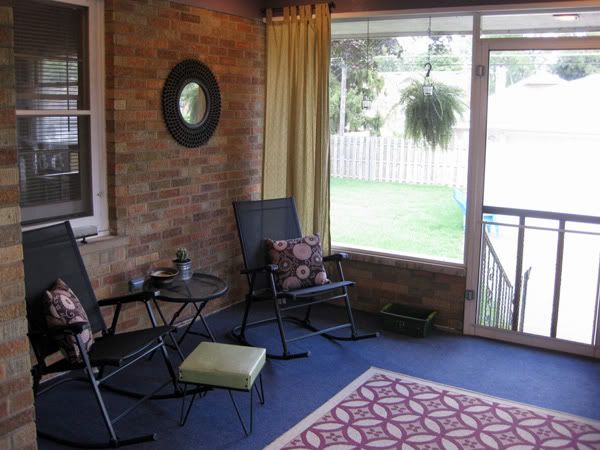 It doesn't even feel like you're outside when you're in here! We used blue indoor/outdoor carpeting on the concrete slab, and then I layered a patterned outdoor rug in khaki and dark red to break up the space. The blue carpeting contrasts well with the orangey brick of the house, but the red in the carpet goes along with the warm tones in other areas.
The biggest warm toned area is the ceiling, check this out!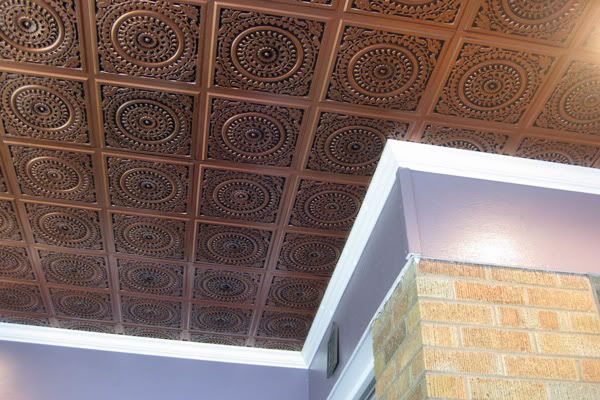 Our porch ceiling was originally painted and horribly peeling plywood. Todd scraped it, primed it, and we then used adhesive to attach these lightweight faux-tin ceiling tiles to the existing plywood. I selected an antiqued copper finish, although the tiles come in (what seemed to me to be) a zillion colors and a variety of different patterns and textures. It was probably the biggest expense of the project, but I love the final effect so so so so so much. It's totally worth it. (If you're really interested, I ended up ordering these tiles from
this website
.) Just yesterday evening, Todd and our friend Dylan added the crown molding to finish off the edges of the ceiling and walls.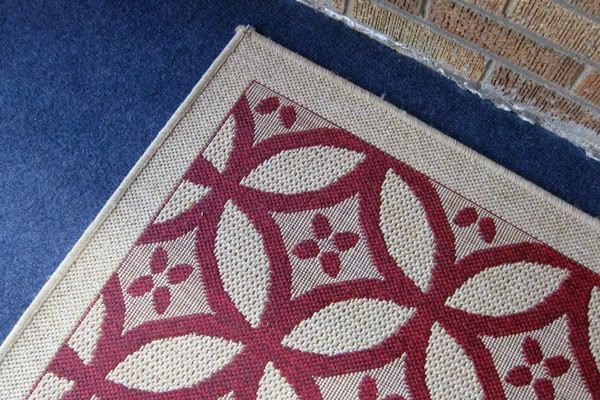 Here's a close-up of the area rug. I bought it on clearance at the end of the season last year from Target. Although I hadn't originally planned it this way, our porch developed a theme of circles. There are circles on the ceiling, circles on the rug...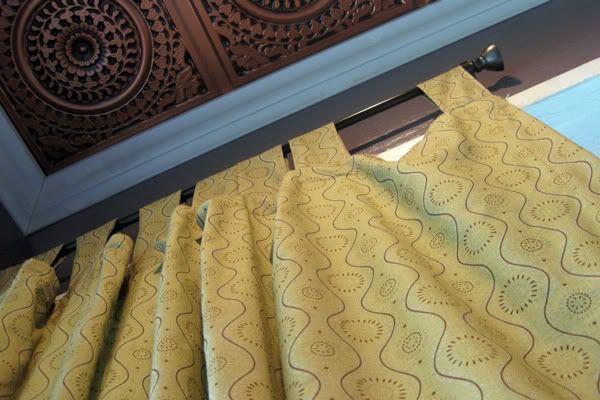 ...circles on the porch drapes! I bought short (2 foot) rods for about $10 each, and installed one at each of the three corners of the screened area. "Real" porch/outdoor curtains are expensive. I bought these 100% cotton panels at Home Depot for $15 each. They're part of the Martha Stewart collection, and I figured that I can take them down and machine wash them at the end of the season and probably be just fine. If not, they're not so expensive that they can't be replaced! Our porch doesn't get a lot of exposure to the elements because of large overhangs on two sides and its position on the southeast corner of the house.
I didn't figure the curtains to actually close, I just wanted to create a fabric column-like effect and give a teeny bit of extra privacy and coziness. It feels like a fort!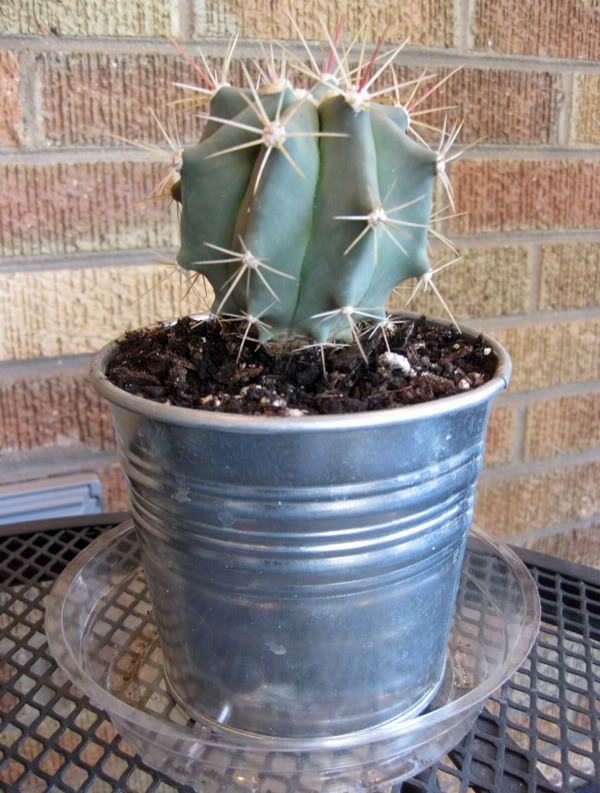 Even my cactus is a circle shape!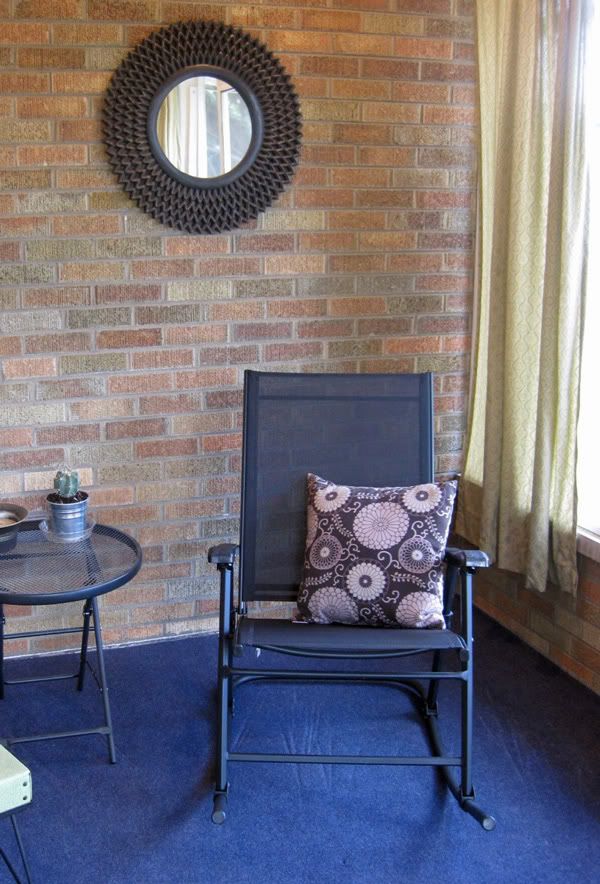 Eventually, I'd love to purchase some more substantial furniture, but these collapsible rocker chairs from Target are actually really comfy. I bought the wood-framed mirror at HomeGoods on purpose because it matched our "circle" theme. The whole porch design concept was actually inspired by the throw pillows Todd bought on super-clearance last season (Home Depot, I think?).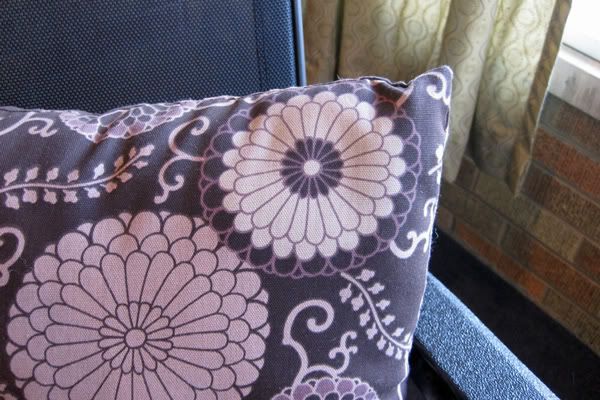 I love the color purple, so this deep-toned family of purples really appealed to my senses. It felt...sophisticated. I pulled purples especially for the wooden border along the ceiling and the back door paint colors (shoot, forgot to photograph it! Maybe next time.). The shapes of the circles obviously drove many of the other decisions, but I very consciously decided to NOT get too monochromatic overall, and I'm so happy with how all the colors complement each other in the end.
It's too bad we all live so far away - I'd love to have you over for a cold beverage and small talk on the porch!
Combat Baby - Metric
Old World Underground, Where Are You Now?