Last week, my mother-in-law took me to a card making class at a local scrapbooking store. Although I'm not the stereotypical scrapbooking "type" (what I mean by that is that I was by far the youngest one there, and no one else had visible tattoos or purple hair), I had a lot of fun hanging out with my mother-in-law and doing something creative. I love making stuff. So my personal challenge for myself was to do something more in the vein of my style, rather than some more stereotypical cutesy stuff you might find at your local scrapbooking store. I think I did ok. The conversation went something like this:
Me: Hey mom, do you think I'll be able to find some scrapbooking paper with zombies on it when we get there?
Mom (in-law): Well... maybe if we went closer to Halloween, but I doubt it Jen...
Me: Yeah, you're probably right.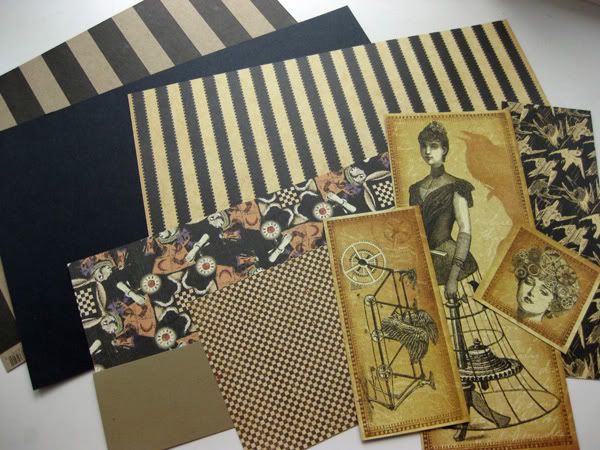 When you get to the store, you're handed a sheet of paper that lists the projects you're going to make in the class, and how many pieces/what type of paper you'll need. It's included in the price of the class, and you pretty much get to pick from whatever's at the store. Sounds cool, but you do have to hunt a little to stay away from cutesy and find the right stuff. I opted for a couple of different kinds of vertical stripes, all black paper for my solid color choices, a sheet of "steampunk" designs (has the bird print on back), and an Alice in Wonderland design with rabbits that looked kind of vintage-y.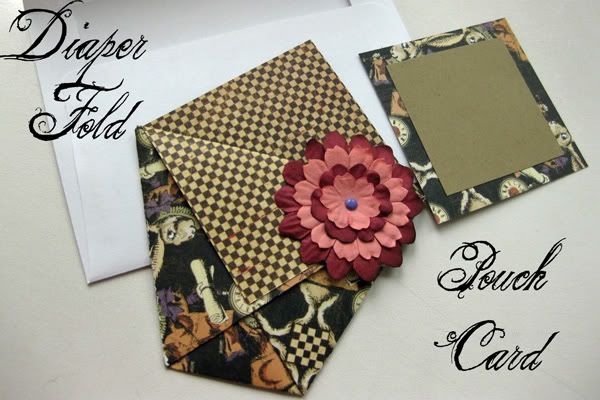 The first card we made was called a diaper fold, and it makes a little pouch to put a card or note or candy in. I made a tiny notecard to fit inside. The checkered print is the reverse side of the rabbit paper. At the end of class when we had time to decorate our cards, I dug through an "extras" bin to make the layered flower accent. It was kind of like layering flower petals when I make Hell Razor hair clips!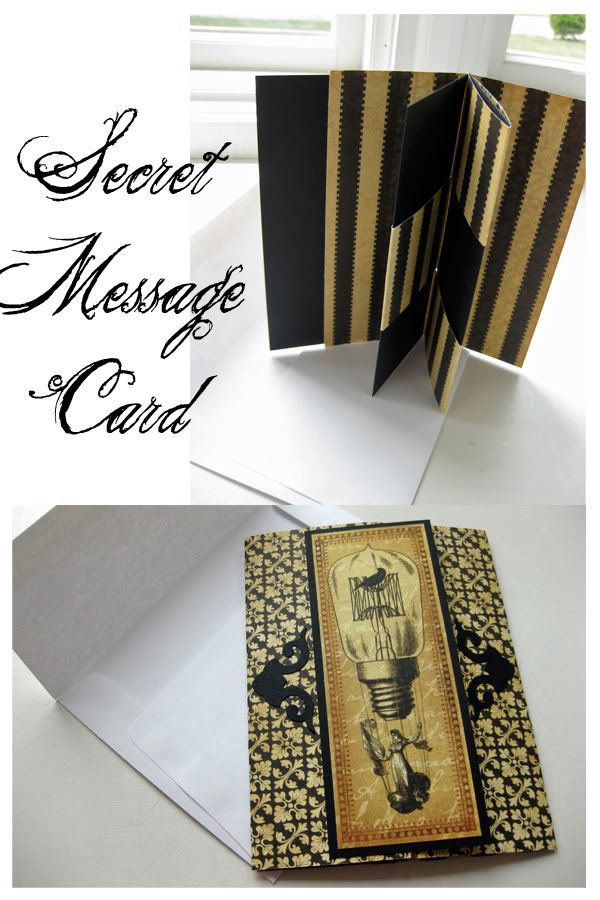 I didn't have time to properly finish this second "Magic Hidden Message Card." I used one of my striped sheets of paper, which has the damask print on the reverse side. To make the secret message flap (seen in the top photo where the card is standing), we had to weave two paper strips into the folded paper card. I used one of the steampunk designs from the other paper to make a front decoration, but I haven/t done anything with the inside yet. I was thinking of using a rubber stamp with a white ink pad on the black paper strip sections.
This card was pretty fun to make because it required a lot of scoring and folding. Plus, I really like this black stripe on brown craft paper. I once again used some of the steampunk designs to decorate the center of this card, and I found some black metal brads in the freebie bin to decorate the corners (I used these on the final card below, too).
This final card is called a single center step card. It required an assortment of slits to be cut, some scoring, and folding. I was most excited to decorate this card because I saved the random leg image from the steampunk paper especially for it. I told my mother-in-law that it was the closest thing in the store to something zombie-ish, and that I now just need the perfect occasion to send someone a leg card. On the inside, I used a cutout bird and some fancy bird patterned paper along the bottom.
Have you done anything a little out of your stereotypical "zone" this summer? How did you make it work?