I have the not-so-great habit of spending my Etsy earnings on other internet shopping sprees... but the things I find are really really cool, so I thought I'd share some of these neat-o items with you.
The first little guy is Vic the Velociraptor. He's a plastic toy dinosaur with a real succulent plant growing out of his back! It's made by
Plaid Pigeon
and can be purchased via
their Etsy shop
. He currently hangs out in our living room on a shelf, but I'm thinking he may earn a prominent spot on the mantle soon!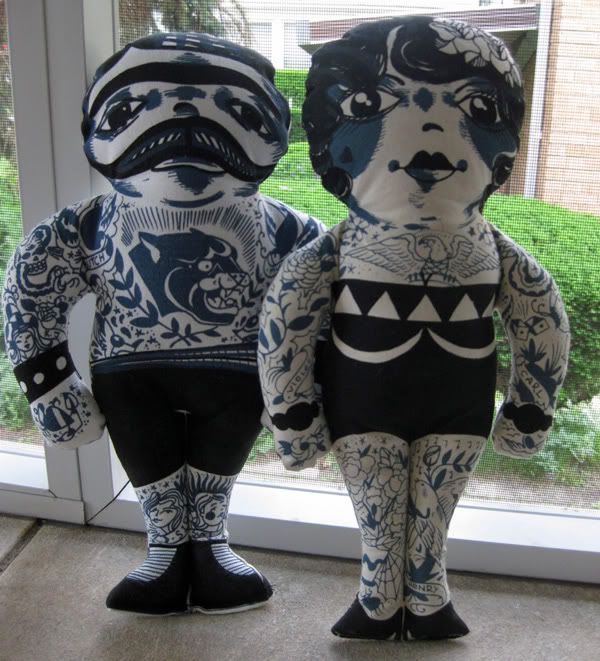 I found this sweet pair of
Tattooed Man (Mr. Percy) and Tattooed Lady (Lil Edith) dolls
on
Spitfire Girl
. They do not come as a pair, you have to buy them separately, but I found it really hard to choose just one, so I splurged and bought both. These dolls hang out on the bed in our spare room.
Since these dolls are basically canvas plush pillows without any buttons or removable parts, I was thinking that they'd also make really fun and unusual baby gifts for a friend! Below are the fun tags attached to the packaging they came in.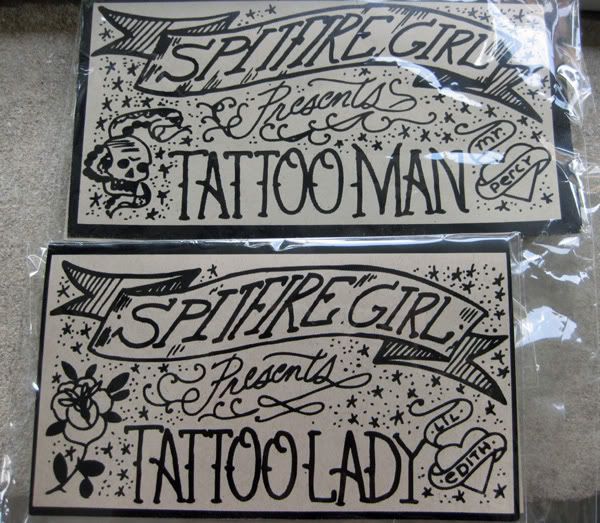 Don't forget to also do your summer shopping at
the Hell Razor store
! I'm currently working on a whole bunch of butterfly bobby pins and I have a small collection of new rosary necklaces to complete! Because it's summertime (and we're both teachers), money gets a little tight at our house this time of year... so support your favorite independent artists and buy some stuff! Thanks!