So last week I went to Michigan with my mom to visit my aunt and her family. She has a beautiful backyard garden, and I took a lot of photos so that I can look back on them for reference, ideas, and inspiration. It's beautiful! I'd like to share some (okay, a whole bunch) of the photos with you here: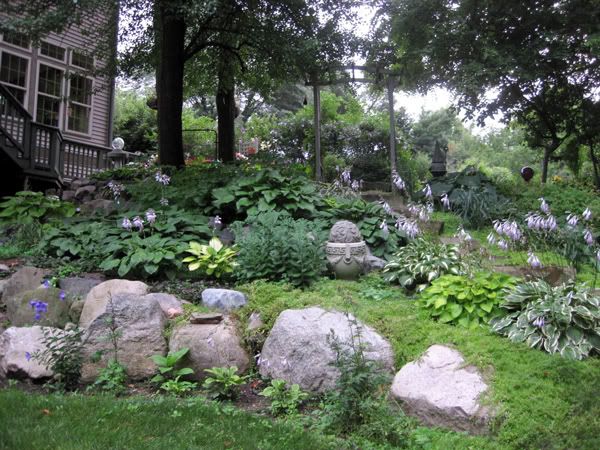 This is a wide shot of the garden from the lowest point, looking up to the highest level. The rocks are huge, and create a whole bunch of interesting nooks and crannies where plants and flowers can grow. I really like what my aunt does with greenery and ground cover, because I'm not an expert gardener when it comes to flowers. I could probably grow some green stuff though!
This wooden arbor is at the top of the yard, and is the entrance to a stepping-stone stair path down to the lower level. As you walk down, you notice lots of interesting greenery, little stone statues, and garden decorations. There's a lot to see!
Here's my POV as I walk down the stone path! The lime green leafy ground cover around the rocks was one of my favorite plants.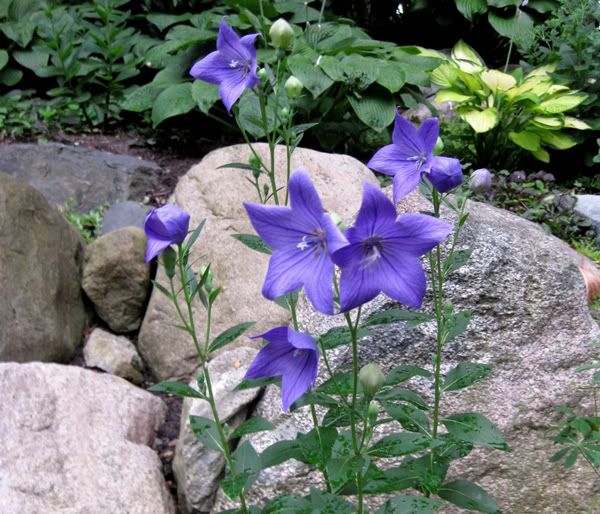 This is called a balloon flower. I love the beautiful blue-violet color!
Here's one example of the many little vignettes in the garden. This area has a tiny brick walkway made of bricks that were dug up while gardening next to the path! I also love how two wooden picket fence panels can separate and mark areas for little outdoor "rooms" in the backyard.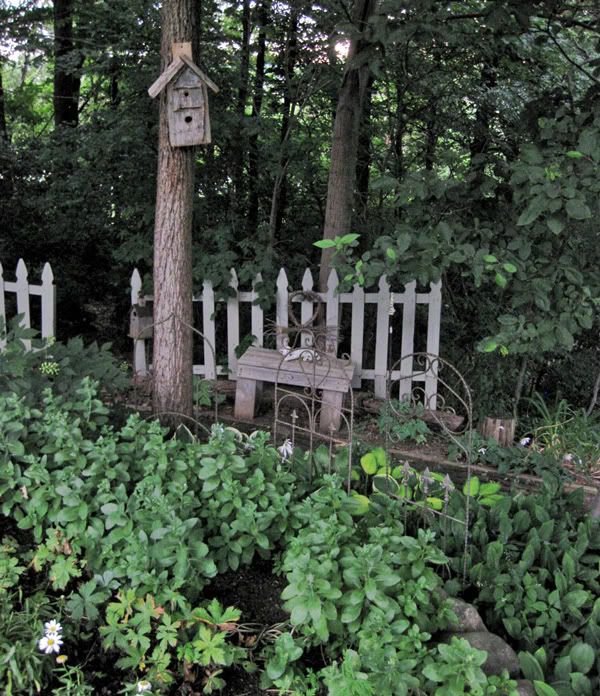 This is the same section of garden from a slightly different angle. There are three small wrought-iorn decorative trellis-like pieces stuck in the ground among the plants. I really love this trio, and would love to find some just like them for my own garden. The shape makes me think of old gothic headstones. Probably not the general idea that my aunt would be shooting for, but an aesthetic I absolutely adore.
Also, I was lucky enough to be gifted a wooden birdhouse from my aunt! She makes them (along with other garden-inspired decorations for indoors and out), and I am excited to hang mine from our tree in the backyard soon, much like she has in the photo above.
Who would've thought to put an old metal gate in their garden as a decoration? The placement between two trees makes good use of an otherwise awkward space and could also double as a trellis for climbing plants!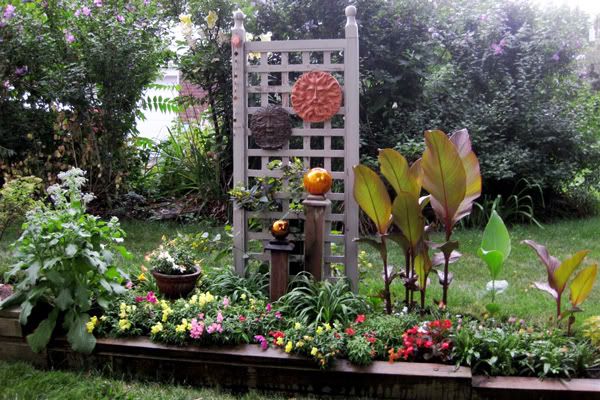 Here's yet another pretty garden vignette! This is along the side of the house, and I love the mix of flowers, greenery, and garden decor. These wooden pillars with glass globes make me think of how cool something similar might look in my own backyard...
My favorite piece in the whole garden! A gnome! I love the garden stake next to him, it makes me think it's his magic wand or staff. My aunt utilizes naturally-existing tree stumps as tiny tables to feature garden statues or other fun decorations.
Here's another clever tree-stump display. These stone faces are visible when you peek out over the back porch balcony.
Visiting my aunt's backyard garden was so inspiring for all of the plans I'd like to one day incorporate into my own garden landscape. I know I have a long way to go, but it's good to daydream!
Tired Climb - Kylesa
Spiral Shadow