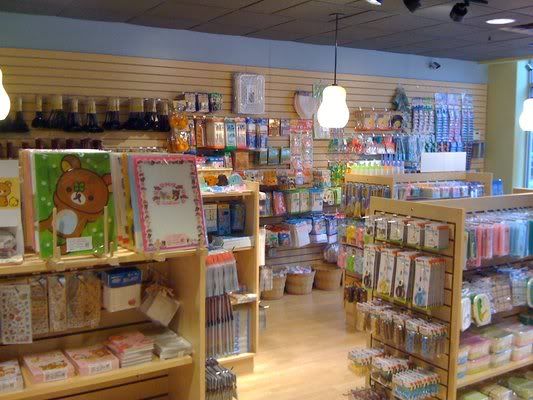 Image via Yelp!
Today we went on a really fun field trip to two of my favorite places:
Kuma's Corner
and
Rotofugi
. Since I've already written about those places before, I'm dedicating this post to the third place we went to, where I hadn't ever been to before but really loved! It's called Kawaii Japenese Outlet, and is located in the area of Chicago around UIC. I couldn't find an official website, but I did find information about the
store on Yelp
, and they also have a
Facebook page
. They're located at 1338 S. Halsted Street in Chicago, and you can call them at (312) 970-0094. They do have shorter summer hours, so call ahead to make sure they're open - it's not as late as they show on the Yelp page, just FYI.
Kawaii sells lots of household goods and cute things. They have a small stationery/office products section, an origami paper display, lots of bowls and tiny plates, tea sets, kitchen gadgets, kids items, a small grocery section with dry goods... but my favorite section of the store was all of the bento boxes and accessories for making bento, although I didn't even know what all of it was for! I wish I was more patient for that kind of thing... maybe I have a new future hobby! They had shapers for eggs and rice (I think?) and tiny salt and pepper shakers to-go, and lots of tiny boxes. I was very entertained by the shaped punches for seaweed sheets, for making your lunch more pretty!
Here's some of the cool things I snagged while there: a vegetable scrubber shaped like a carrot. I was excited about this because I like to eat cucumbers without peeling them, and this seemed like a fun way to clean them off. The carrot brush actually bends to the curve of the veggie! I also picked out some pretty pinkish-lavender chopsticks (we actually have quite a collection at home, but these ones looked super special, just for me!) and a super cute printed washcloth to make removing my makeup more fun.
I actually had to spend some time pondering WHICH super cute kitchen sponge to buy. There were many. I decided on this guy with the pink cheeks, but there were seriously about a dozen I would've taken home with me. Maybe I should've grabbed a few so that I had extra? Hmm... now I have a reason to go back!
Okay, even Todd got excited about this purchase - hard boiled-egg holders for lunches! We love to make a bunch during the school year and to take them for lunch, but they are hard to package... I usually go with a paper towel/foil wrapper for safety and peeling's sake. But not anymore... problem solved! If you couldn't figure out, the black/white one is Todd's, the pink/white is me.
My final selection at the store were these two cute pup bowls. I picked out one pink, one blue (you know, a girl bowl and a boy bowl...) and figure we can use these for rice or soup or even snacks at night! There were several tiny cute decorated bowls to choose from, and I had to debate a little before deciding on these. But these are the fun kind of decisions to make!
Do any of you have experience with bento? I'd love to learn more so that I can return and pick out a box for myself, along with some cute bento-making accessories!