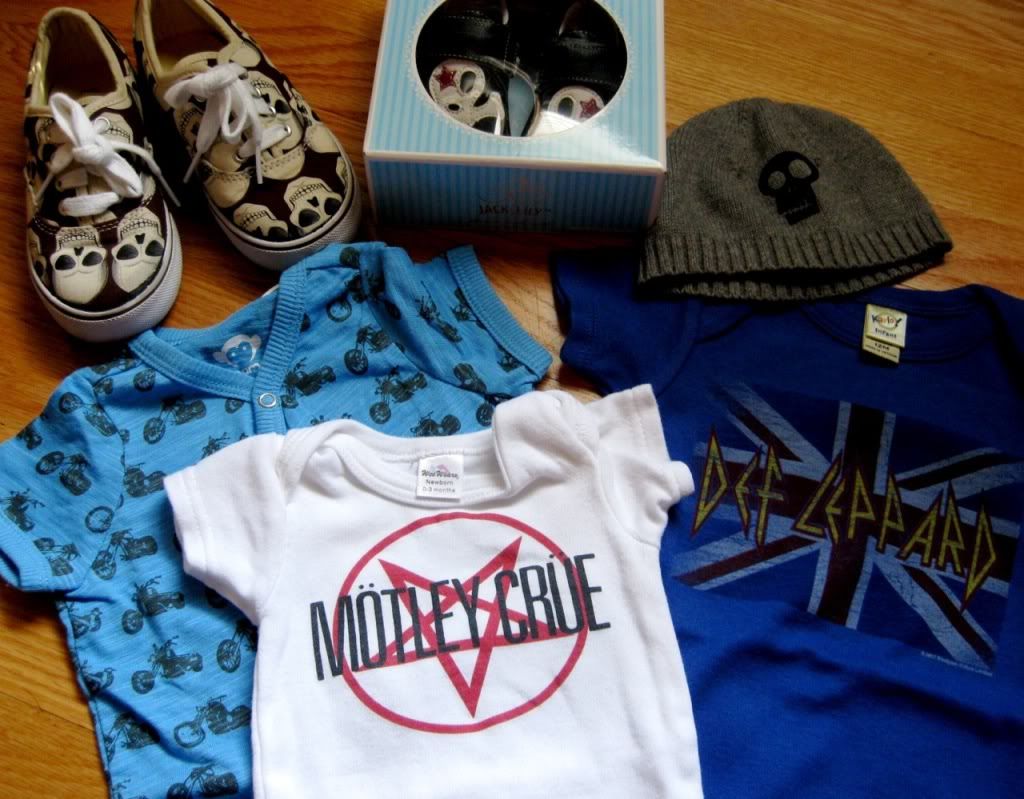 I've been kind of hinting for a while now that something is going on in my personal life (the lack of Wardrobe Wednesdays, for example...) and it's time to share the BIG NEWS!
Todd and I are expecting our first baby! I'm due on January 23rd, 2012. Right now I'm past the first trimester, and during that time things were a little shaky. I had morning sickness, I had late afternoon sickness, I had evening sickness... even being on the computer made me nauseated. So I had to take a break, but the good news is that although things aren't 100%, it is a lot better than it was!
We do not know if the baby will be a boy or a girl yet, but we do plan on finding out! We also have names picked out already, but those are a secret! I promise they'll be fun. You can see some of the many gifts we've already received from friends and family for our new addition in the photo above. Boy or girl, this baby's gonna be well-dressed!
My wish list for awesome baby onesies still includes a Motorhead, a Black Sabbath, and possibly an old-school Guns N Roses. I don't think I've ever seen a NIN onesie...
So, to celebrate the big announcement, I'm offering 15% off at the
Hell Razor Etsy shop
when you enter the code OHBABYBABY with your order! Because babies cost big bucks, and we sure could use the money!
Anything For My Baby - KISS
Dressed to Kill