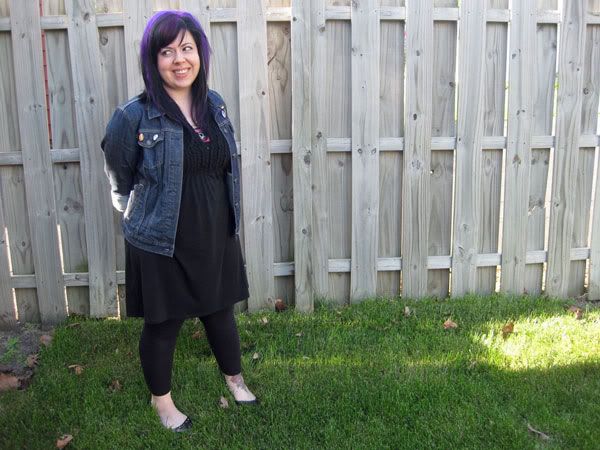 You'd think that since I only have three official "Wardrobe Wednesday" posts, I could do without some repeating, but, uh, I guess not. So you can see my lovely jean jacket again. I changed my shoes this time though!
Here's my new haircut. It's an extreme angled cut, and I'm not exactly patient with the round brush, so I let it blow-dry however the heck it wants. I tried a little bit of flatiron action this morning, but again, patience, so I gave up. I think it looks just fine. Less work I say!
I should have told Todd to take more photos form the other side so you could see my pink feather extension. You can see it a little (the white feather) in the bottom photo on this post.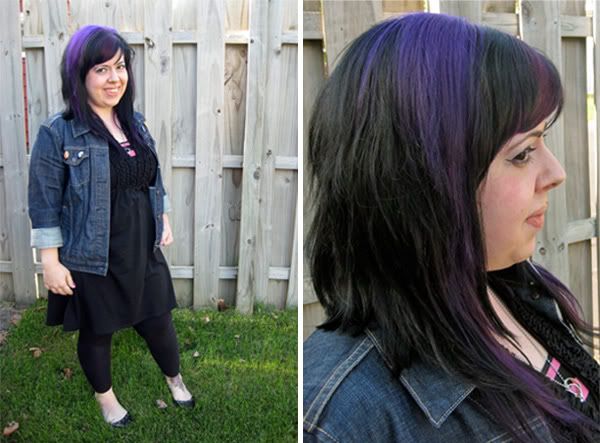 Outfit deets: leggings, Target. Black ruffly dress made out of t-shirt material... Kohls, I think? It's pretty old, and somewhat faded. But you can't tell here, so it don't matter. I have a pink & black striped tank on under the dress cuz it's low-cut. I think that's from H&M a couple summers ago. And of course my trusty GAP denim jacket with all sorts of buttons on it. I even have a yellow Hell Razor button on it, from my first batch of buttons. Right now I have super light purple buttons to give away with orders, but they look almost white. I'll probably switch it up next order.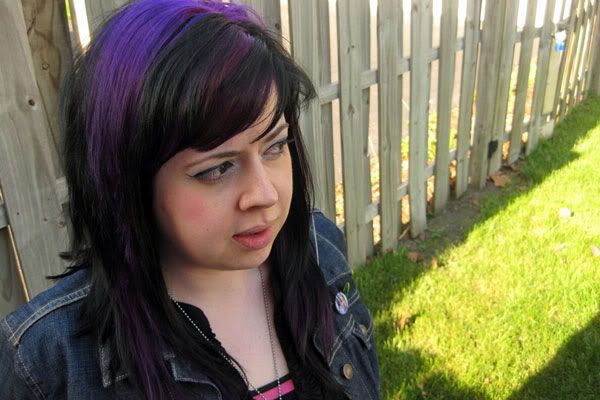 SHOES! My shoes are from Target last summer. Sorry they're wet here, but the grass I was standing in was wet and Todd thought the photos would look good in the grass against the fence.
I have to tell you a secret. These shoes are all kinds of heavy metal stud sweetness, but they are not comfortable. I wore them to work, but slipped into my emergency leopard-printed slipper shoes for the majority of the day.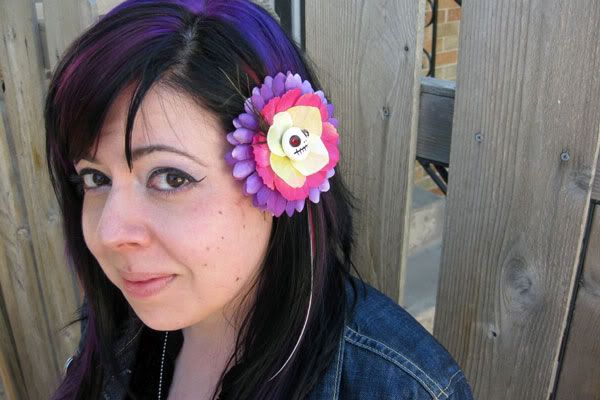 Here's the side of the haircut with the feather extension. See the white stripe, and tiny bit of pink? I'll get a close-up next time. I always like to show some kind of Hell Razor accessory to wear with your outfit, so today I am featuring the
Rainbow Peacock Skull Flower Hair Clip and Pin
. I even wore it all rebel style with the feather part sticking towards my face, but I like how it looks on this side.
Have you noticed a trend? I like to wear leggings over skirts and dresses. It's all about comfort. I do actually wear jeans quite a bit, but it never seems fancy enough for a wardrobe post. But in time... you never know.