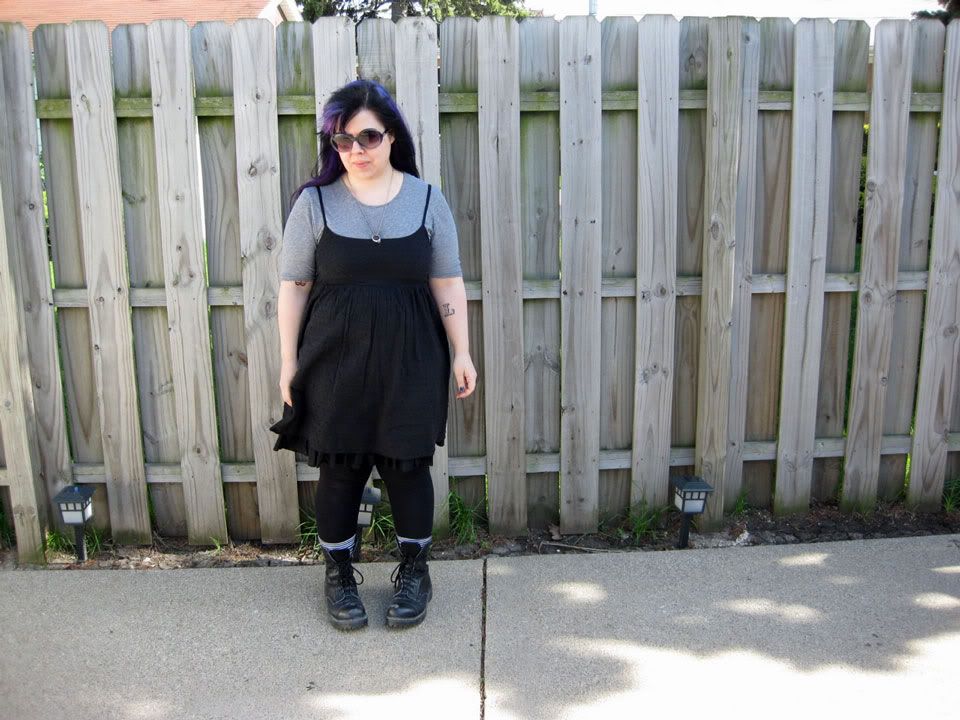 Maybe if I do this long enough, I'll get better at taking photos. I think I hypothesized that if I wore my sunglasses I might look less weird. Because you couldn't see as much of my face. Fail.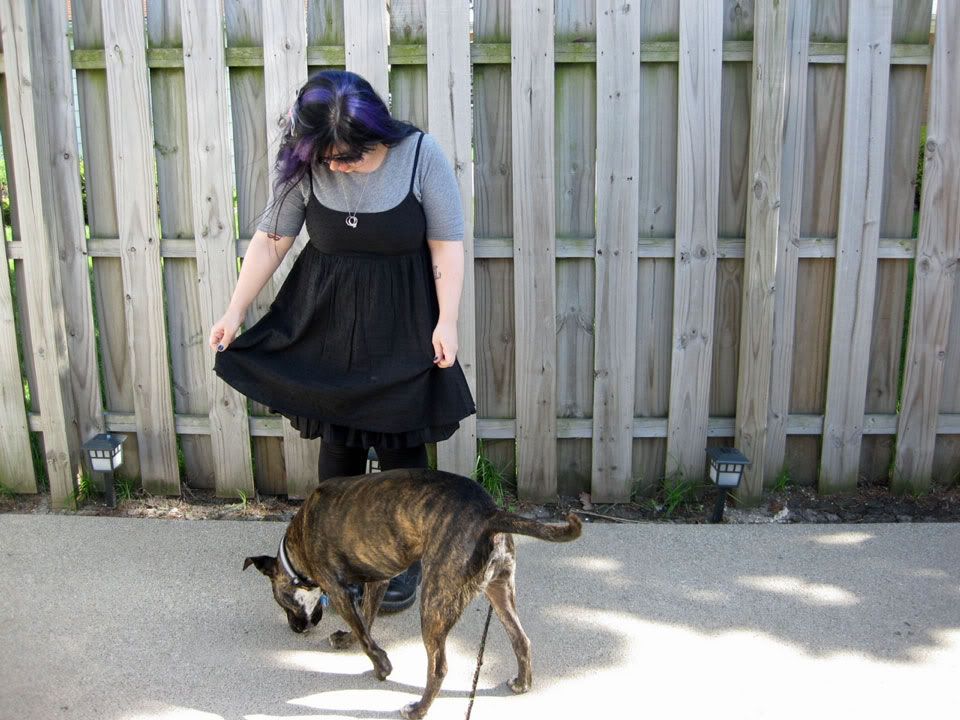 I also decided it was a nice enough day to let Motorhead roam around the yard, so he kept getting in the way, too. Eatin' dirt.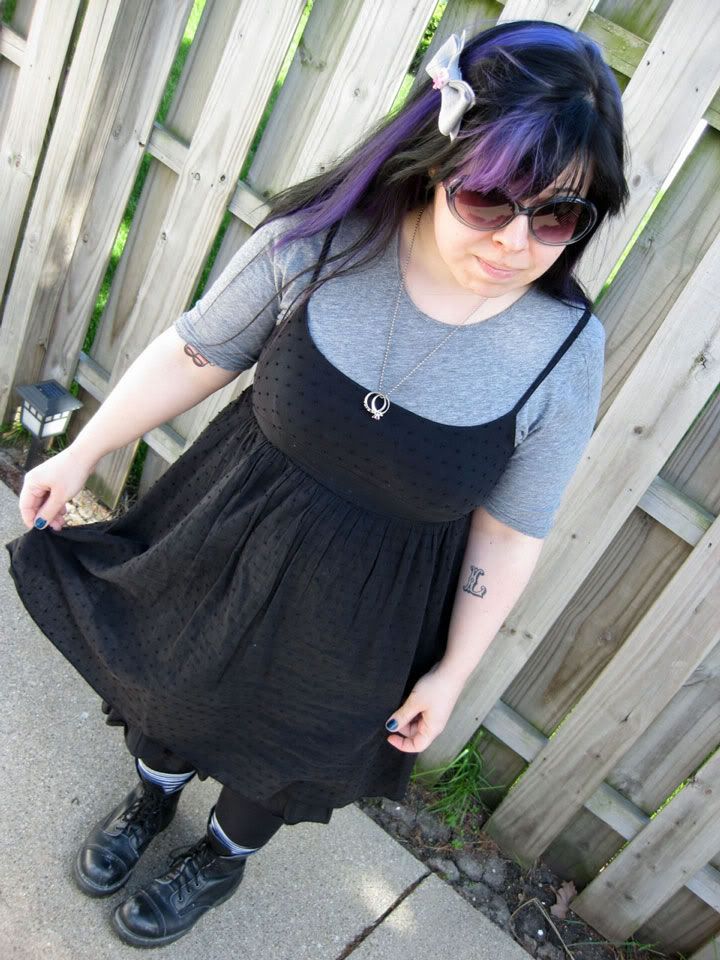 This one's not as bad, and it's from a different angle. I wear my wedding rings around my neck on work days because I'm always washing my hands and taking them off. I'm scared I'll lose them, so this works as an everyday solution. If you see me on the weekends or at an evening event, I'll be wearing them regular-style, but this is part of my work-week uniform.
Favorite
Mooshoes.com boots
, as seen in
last week's post
, too. I do own other shoes... these are just my faves right now. Plus, they have steel toes, so I can walk around giving people what-for. Which is what I usually do.
Here's the rest of the wardrobe breakdown: T-shirt, Target. Dress, Target. Leggings, Target. Stripey socks... hmm... either Torrid or Hot Topic? I can't remember. By the way, have I told you that I shop at Target a lot?
Oh, wait! My sunglasses are fancy - they're Betsey Johnson by way of Loehmann's. But then the one by me closed. Boo.
Today I'm wearing a Hell Razor felt hair bow. This one has a pink lollipop in the center. If you're interested in purchasing said bow, you can view it here on Etsy:
Gray & Pink Lollipop Hair Bow
.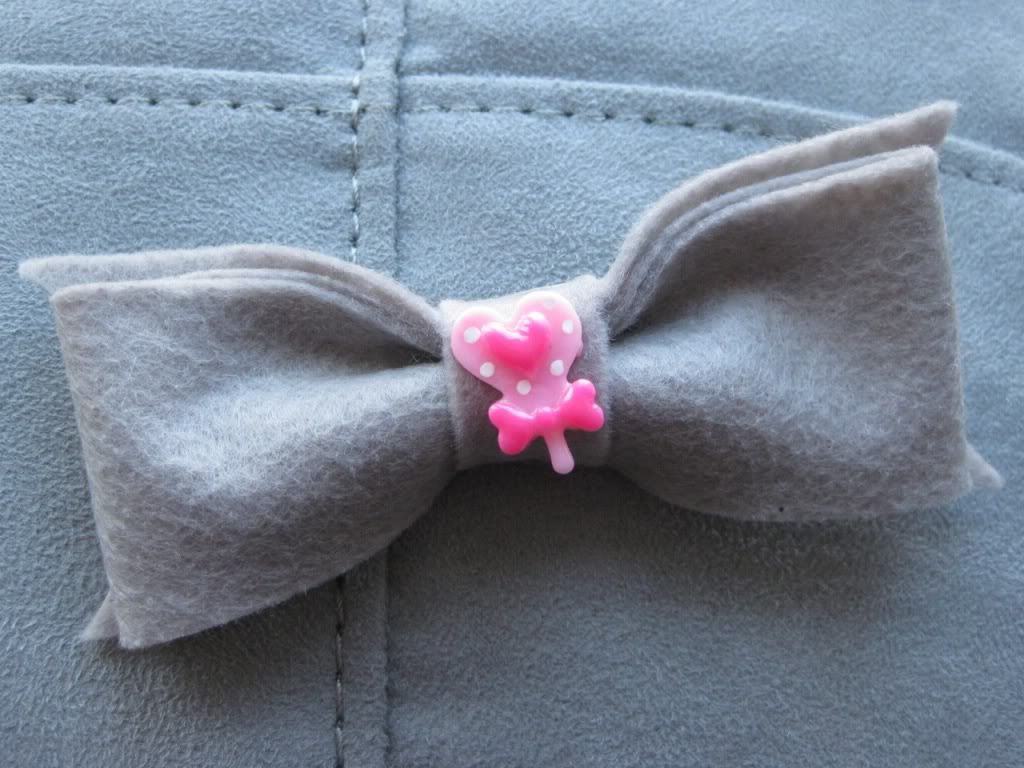 ...and there's the close up of me wearing it. I have an appointment to get my hair done
with Megan
on Saturday... I'm thinking of changing things up, because my hair is really long and I'm starting to get bored of it. I'm not sure if I want to go short, but I want to do something. Right now I've only gone so far as to think I might grow out the old bangs... I've started to part them kind of on the side.
I think mostly I'm just really really really ready for summer break, and I'm trying to find ways to shake things up so it'll feel different. This happens every year.
Got any ideas?