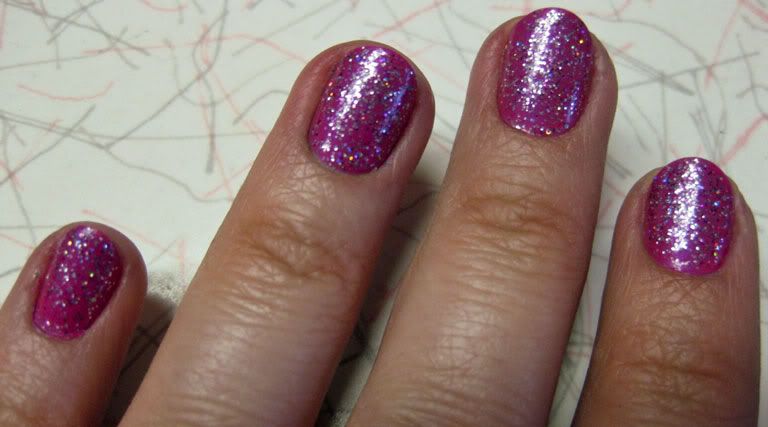 It's the last FULL week of school, so I decided to go super mega ultra happy this week on my nails in celebration: a bright fun pink shade topped with rainbow glittery sparkly confetti effect! Our last day is next Friday, June 3rd, but we will have off of school on Monday for Memorial Day, plus Thursday and Friday are slightly shortened days. So this week truly feels sooooo close to finished!
The base coat (3 coats) is La Paz-itively Hot by OPI. The top glitter coat (2 coats) is It's Bouquet With Me and is Sephora by OPI nail color. The glitter shade looks purply in the bottle, but works well over any color, not just purple, which you can see by the photo above.
Although this is the last week of school, it doesn't mean it's any more laid back or less busy. In fact, it's the opposite! Wednesday night is the all-school all-year art show, so I'll be running around like crazy. I'm going to try to schedule a post for Wardrobe Wednesday, but if I don't make it... well, you know why.
Hopefully I do, because I have a new haircut to show you! I will try to describe, but it certainly won't do it justice. I went and saw Megan at
Rock Razor Scissors
on Saturday evening and she cut a good 10 inches (ok, maybe more like 8...) off the back of my head! The front was left longer... quite a bit longer, actually. It's a really really angled long cut, and I've decided to let my bangs grow, so I'm combing them to the side instead of the regular blunt fringe across my forehead. I had my purple re-colored, so it's brighter, but not any different in any other way.
Oh yeah! I added a feather hair extension! It's pink, white, and black. We added it next to my purple stripe on the left side, so it peeks out every so often. I really love it! The cool thing is that it gets attached to your hair via a crimped "bead," so if your hair grows and you still want to keep it, the hairdresser can move it up closer to your roots again. I'm thinking I might need to add one each time I go... making a group of like three of them! Ha!
So... be on the lookout, if I can get Todd to take some photos for Wednesday I'll make sure to get some hair shots and post them.