I've finally come up with a name (duh!) for the weekly nail polish feature. My error was trying to do it on Sundays, when I don't actually get around to doing the polish until Sunday evening. The answer? Manicure Mondays! So very simple in the end, can't believe I didn't think about it sooner...
I have another fun feature starting this week as well on Wednesday! Look at me, getting all structured and stuff... ha ha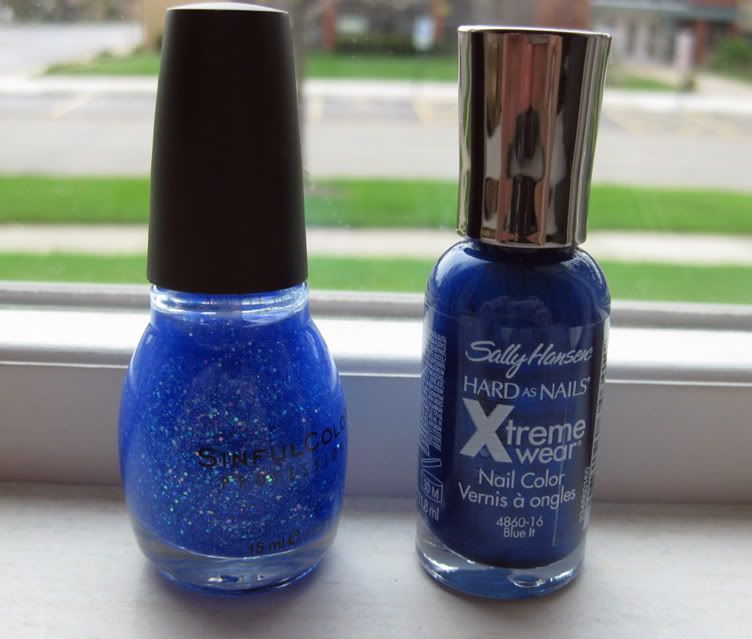 This week's polish is one coat of 4860-16 "Blue It" by Sally Hansen, followed by one coat of 831 "Hottie" by Sinful Colors. Ugh, I just realized the glitter was called "Hottie..." sorry about that. Anyway, the Sally Hansen is a color I've used before, but I haven't owned it more than a year. I noticed it's gotten very thick and prone to air bubbles. Boo. Check the bottle and it says 30 months life cycle. Um, no. Good thing I have a different metallic blue I can use, and I'll probably ditch this one. The good news is that the glitter disguises any imperfections on the base coat pretty well.
Over the weekend I had two more requests for Hell Razor stickers, which was pretty cool! The
offer for free stickers
is an open offer, so feel free to email me at any time: hell.razor (at) me.com and I'll send some your way!