Here it is, the final installment of my makeup case! I've had a lot of fun sharing my favorite makeup products with you, so I'm sure I'll have to revisit this topic when I acquire new items or other fun beauty products. Please feel free to
give me a shout
if you discover something new and amazing in the world of makeup!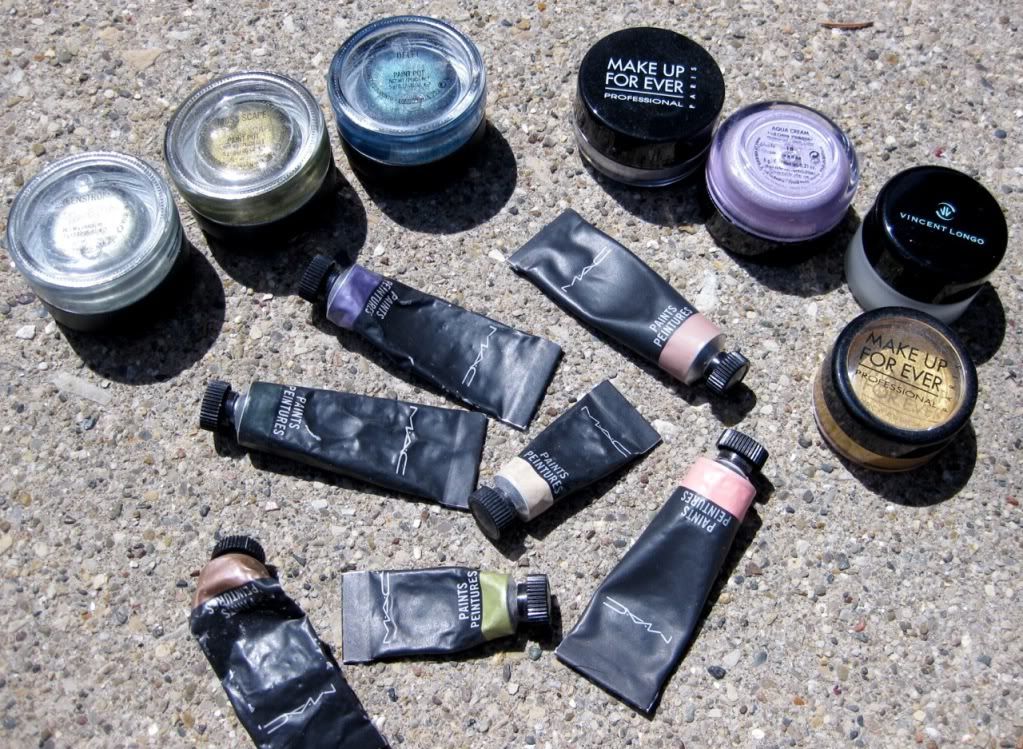 The first step of applying eyeshadow always starts with some kind of base. I love
MAC paint
, which are the tiny tubes you see above. MAC also has
paint pots
, which (as the name indicates) are tiny glass pots of their paint product, only firmer. In lieu of paint, I'll sometimes use another creamy shadow, like
Make Up For Ever Aqua Cream
, as a base before applying powder shadow as a top coat.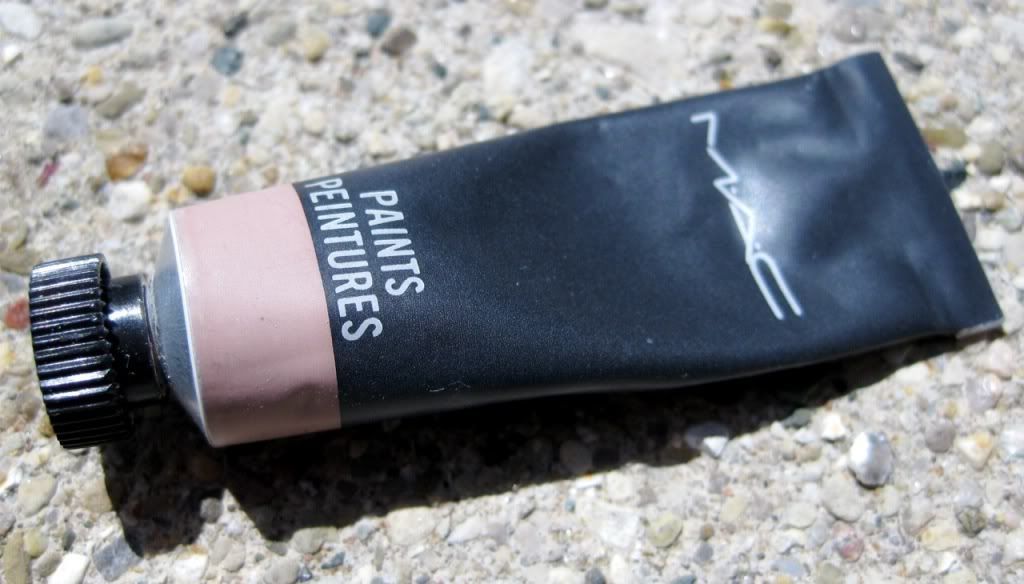 My favorite base for eyeshadow that I use about 90% of the time is MAC paint in Untitled. It is a great first layer for virtually any color you'd like to layer on top, so since I usually decide at the last minute what color shadow to use, I start off with this bad boy. Paint makes my shadow stay on longer (all day, actually!) and prevents the oils on my eyelids from making the shadow crease up.
...And now, on to powder shadow!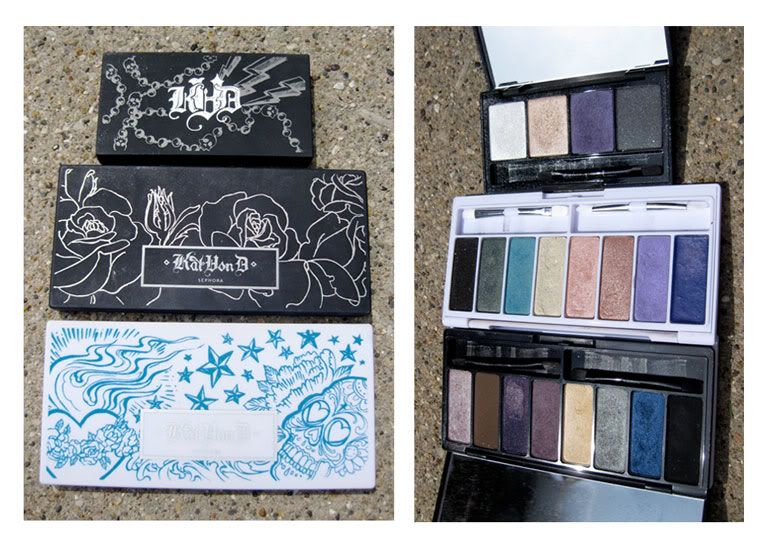 I own three of the Kat Von D eyeshadow palettes, and I really like them! The first one I ever bought was the
True Romance Collection in Beethoven
- that's the large black palette you see. The tiny one you see was a
Beauty Insider
500-point reward. I was really excited to get that one. It has a great sparkly purple. The white & blue palette is one that I can't find on Sephora anymore... it's a True Romance palette called "Memento Mori." I love the pale yellow and blue-green shades in that one.
I love Tarina Tarantino. When the line first came out, I bought
Eye Dream Hypershadow
in Sweetzer. It's my favorite green shadow. I also bought
Tokyo Hardcore
(the neon green case) to wear along with Sweetzer. My aunt bought me the purple shade, called Pave.
The big TT eyeshadow palette is one of those purchases I made simply because of the packaging. It's the Sparklicity Gold Palette (sold at Christmas-time), and honestly, except for the pinky shade, the colors are kind of bleh, especially if you know the kinds of colors I usually wear. I think I look weird in brown... my eyes look sunken in and sick.
I have a couple of Stila custom palettes. I like how you can buy whichever shades you want and make your own palette. The square 4-color palette was chosen for me by the guy behind the counter, and was one of the first makeup palettes I ever bought (hence the neutrals in it). My all-time favorite frosty white is in that palette. It's called
Moonlight
. The other palette looks brown, but actually has shades that are more gold-ish. I was on a gold kick and wanted a really vibrant sparkly gold shadow. Never did find one... anyone?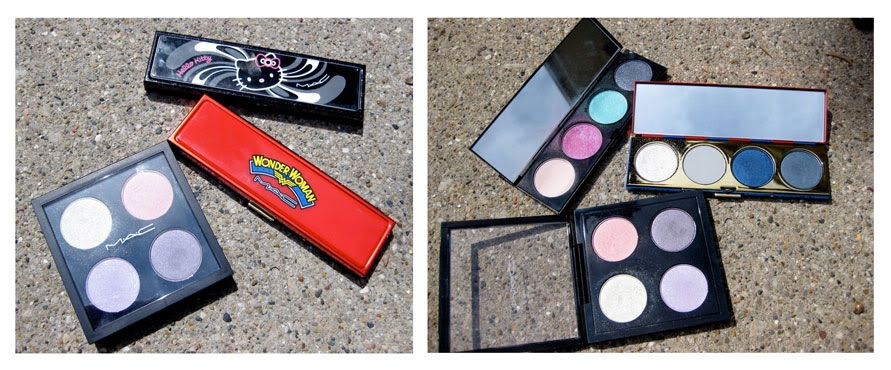 It will probably come as no surprise when I tell you that my MAC shadows are my favorite. Above, you can see three palettes I own:
Cutie
(from the Quite Cute Collection),
Lady Justice
(from the Wonder Woman Collection), and Too Dolly (from the Hello Kitty Collection). The Hello Kitty palette is my all-time favorite set. If you told me that I had to get rid of all my eyeshadow except for one thing, this'd be it. My favorite pink (Romping) and my favorite blue-green (Too Dolly) are both in it!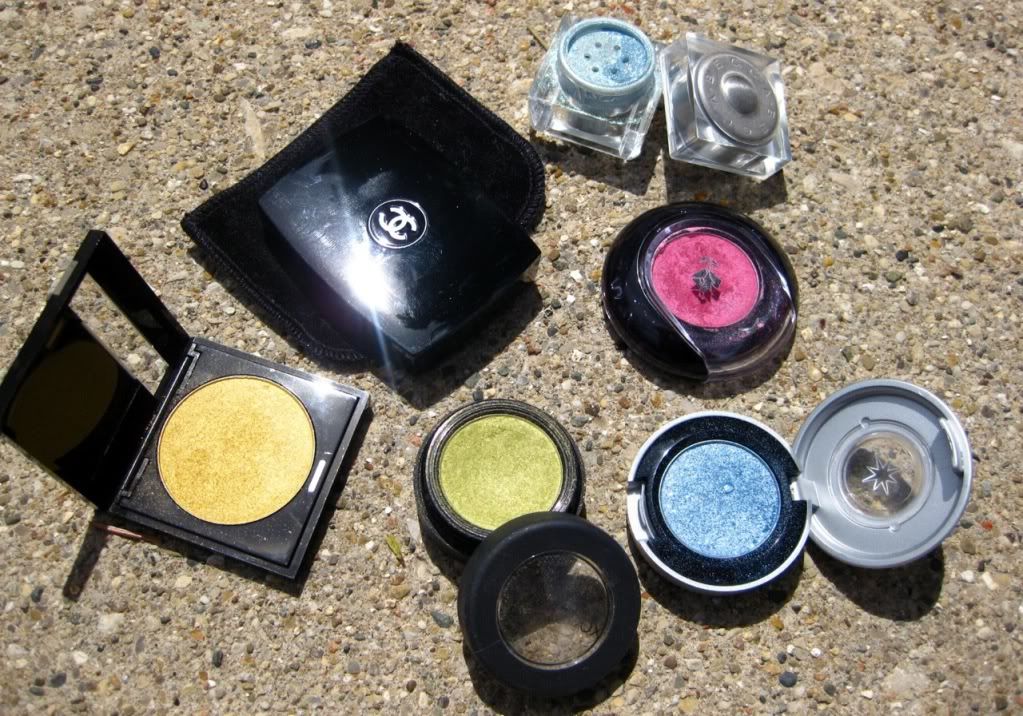 I do, on occasion, use makeup from other companies, and I love trying out new products! Above, you can see shadows from (clockwise from top left) Chanel, Becca, Lancome, Urban Decay, Smashbox, and Make Up For Ever.
Below is my giant MAC palette! It holds 15
shadows
, and you can see that I still have room for three more! Just recently (with my birthday gift card) I bought Chrome Yellow and Swish (a light pink).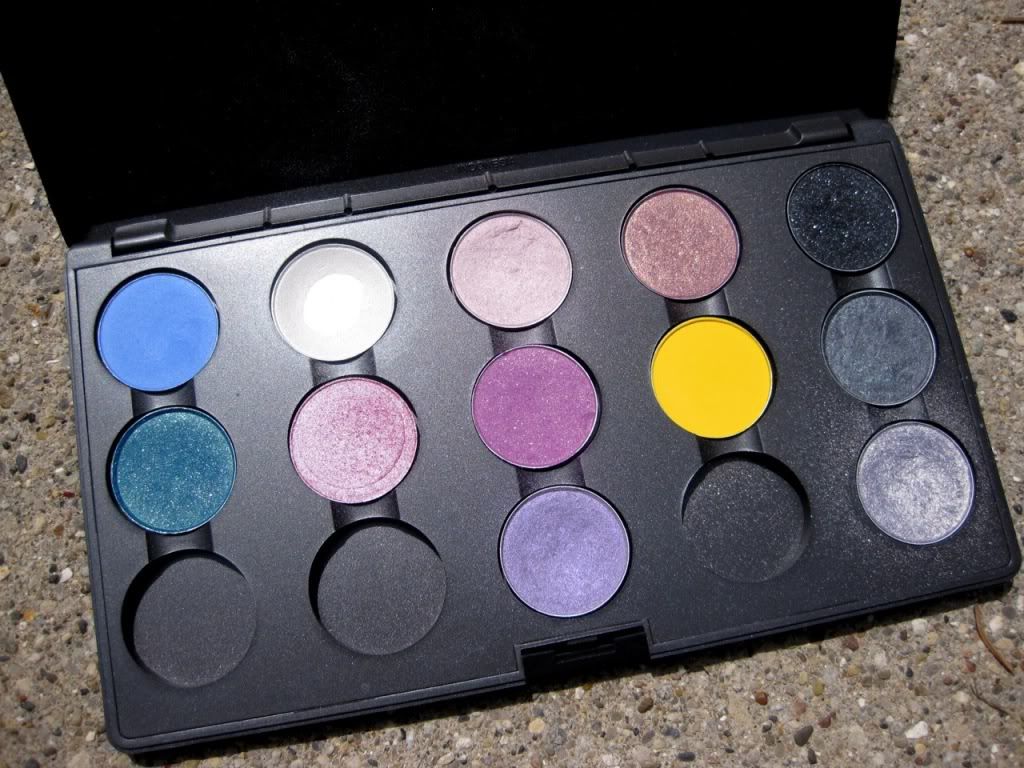 ...so, there you have it! The gigantic makeup collection that is mine. If you decide to create your own blog post about your makeup collection, be sure to send me a link, because I'd love to take a peek into your stash!
Miss an installment? Here they all are: