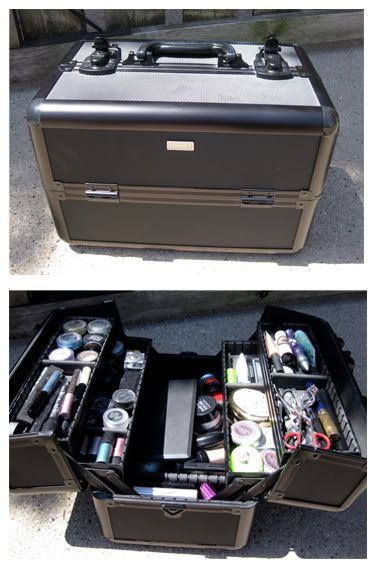 (Pardon my grainy photo above... I am still learning how to properly host/post/edit photos on the blog. I think I edited the one above on Photoshop, but saved it too small. In any case, thanks Kaelah for
this post
on making photos all the same size on your blog! I can only get better from here, right?)
Today's makeup case post is all about my foundations, primers, and blushes. Based on the photos and categories I sill have left , there'll probably be two more "Makeup Case" posts still to go, so I hope I'm not boring everyone with these!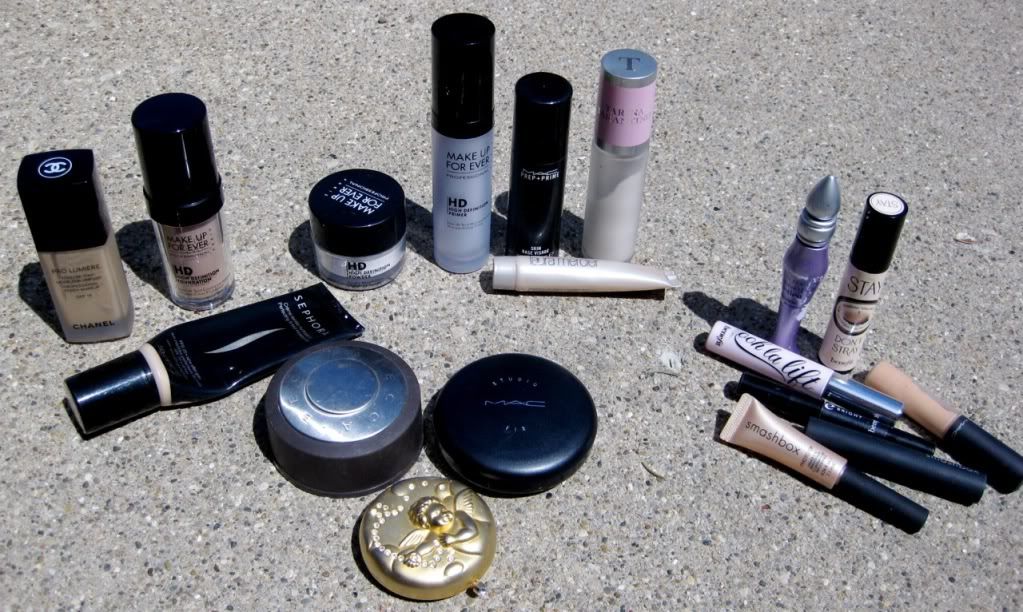 Above is my full range of foundations/primers/powders/concealers, straight from my makeup case. You can see which are more worn than others. Oddly enough, the
Urban Decay Eyeshadow
Primer Potion
gets all flaky and scratched up if you put in in your purse makeup case (see closeup below)... I learned that one the hard way. Boo.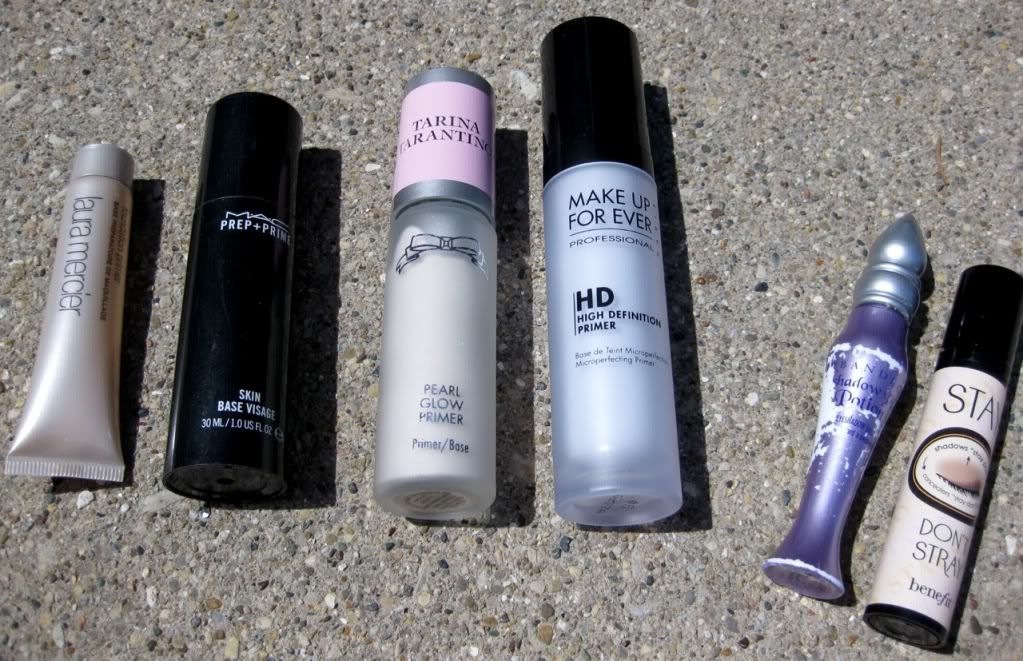 Above, my favorite foundation primers and eyeshadow primers, close up. Below, I've listed my "base coat" for makeup two different ways: the daytime/everyday routine, and the nighttime/fancy event routine. For the day look, I love
Make Up For Ever High Definition Primer
in 5 - Blue. I have pretty fair/pale skin, so this shade is supposed to be the best. I really like it. Then I use a
tinted moisturizer
, usually Sephora brand in the lightest shade. I don't like full-on foundation for everyday - it seems too heavy. I use
MAC Studio Fix powder
, which has more coverage than most pressed powders (maybe that's why I go easy on the actual foundation for everyday). I use NW 20, but I originally had to ask someone at the counter to help choose the right one for me!
Finally, my most favorite eye "primer" is
Stay, Don't Stray by Benefit
. I have a backup unopened bottle in my drawer right now for when this one runs out! That's how much I love this. You can use it under your eyes as a concealer, as well as under your eyeshadow, and it keeps shadow in place all day! It's one of my must-haves for a makeup case.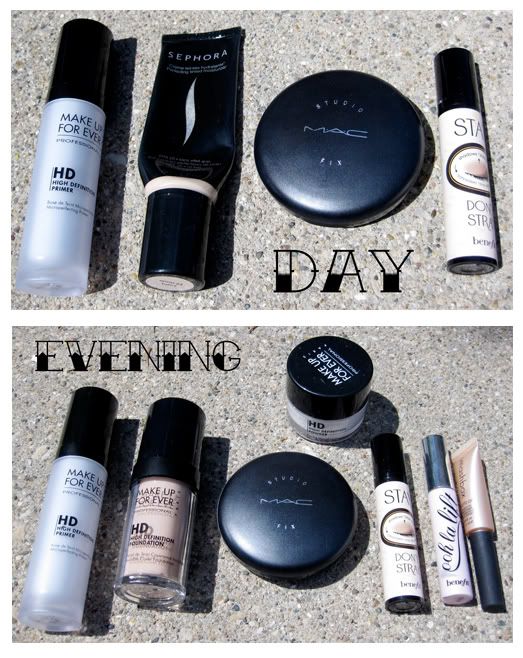 The biggest difference between day and night looks is the inclusion of foundation (instead of tinted moisturizer). I used to use Chanel foundation, but the price was really high, even for my makeup tastes! So I tried out this
Make Up For Ever
brand, since I really like the primer, and I was sold! Once again, I needed a makeup artist at Sephora to help me select the right shade, but now it's perfect (I have #115, by the way). Depending on how much time I have, I might use
Ooh La Lift by Benefit
, or
Smashbox Photo Op
for under the eyes. A nice finishing touch is to dust some
Make Up For Ever HD Microfinishing Powder
over your whole face with a big fluffy brush when you're all finished applying the full face.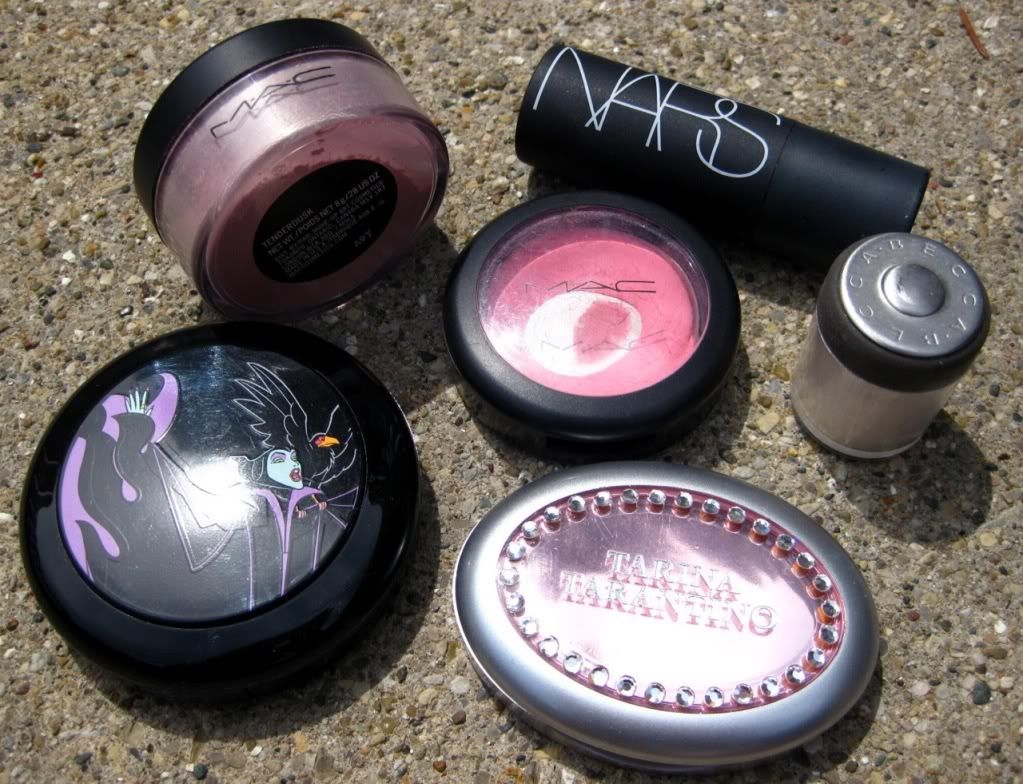 I have a lot of blush/beauty powders in my collection, although I admittedly don't know how to use them all properly. In the photo above, I have MAC and Becca brand beauty powders (ooh and a MAC Disney Villains compact, too!). They're kind of like sparkly highlighting powders, I figure. But I like sparkles and sometimes can't resist it. I also have a
NARS The Multiple in Copacabana
. It's a creamy stick you can use to highlight and illuminate areas on the face. I use it high up on my cheekbones, right above where I apply blush, when I'm doing an evening look. Is that right? I don't know, but I like how it looks! Below, you can see them all opened up.
When it comes to blush, I like PINK! I have two favorites:
Tarina Tarantino in Carved Rose
, and
MAC Sheertone blush in Pink Swoon
. You can tell that the MAC blush has been well-loved! My trusty MAC blush brush is my go-to tool for blush application.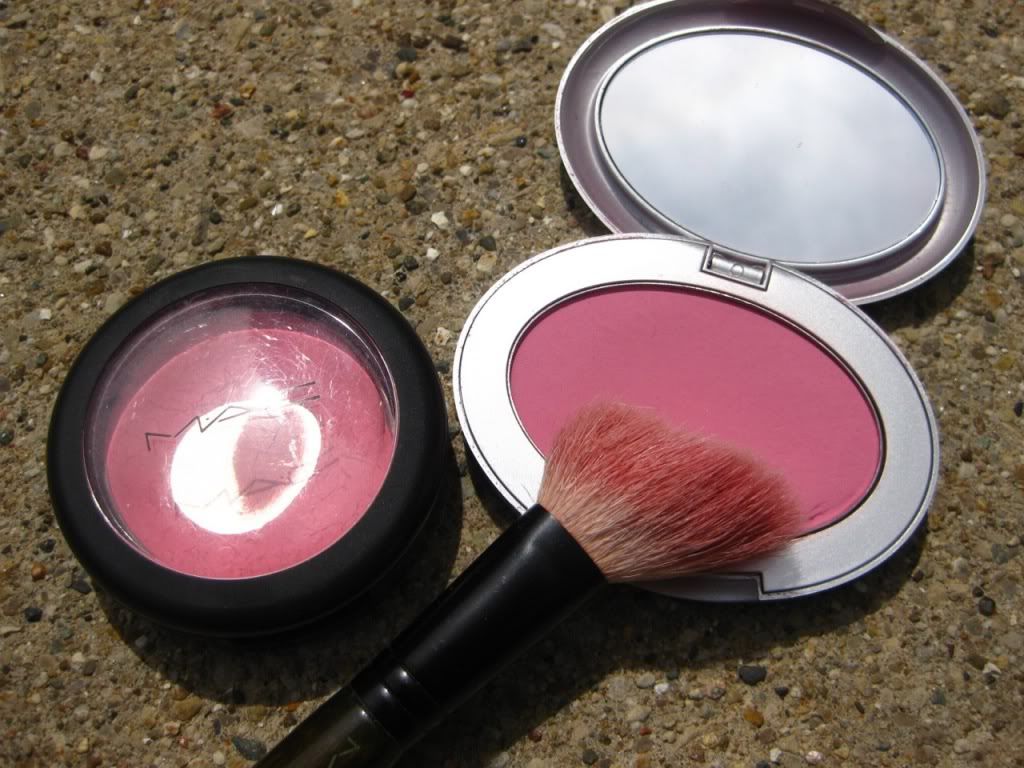 So, still to come are my favorite parts! Eyeliner and eyeshadow! So keep coming back to see it all!