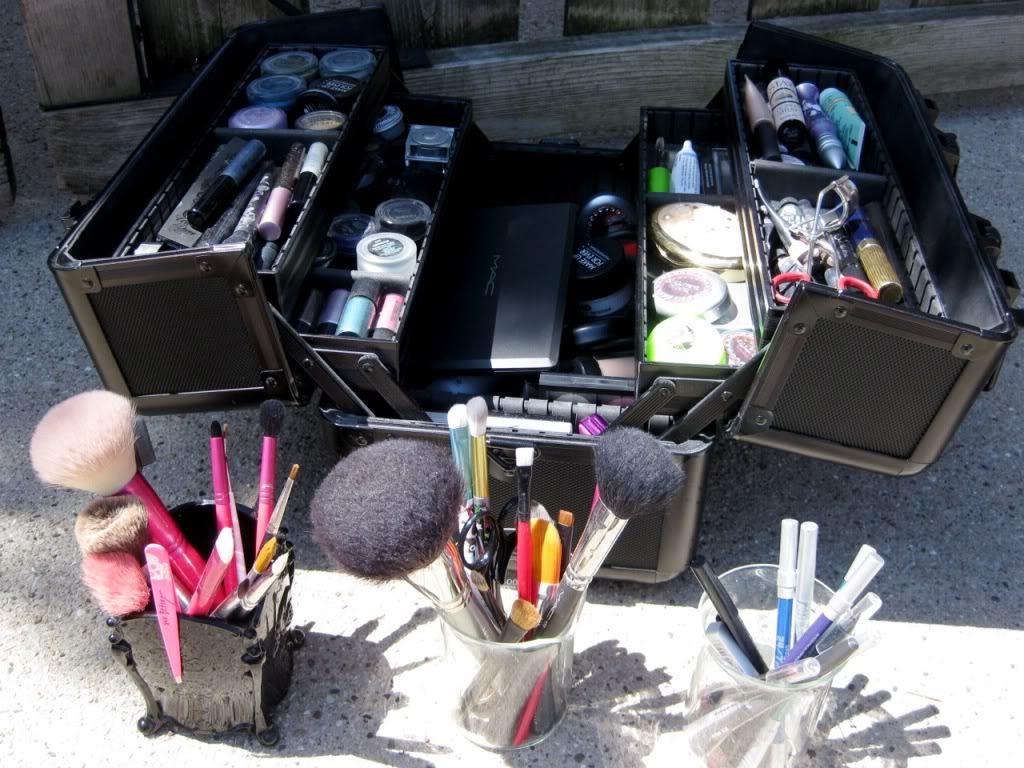 Welcome to the second installment of my makeup case. (Catch
part one here
.) This section of my makeup case is all about tools and brushes, which I think might be why I was so attracted to the idea of makeup in the first place. I've always been fascinated by art tools and drawing/painting materials, but I chalked that up to my art teacher-ness and general interest in art. (See my
art case and the tools I use here
.)
I love brushes. Paint brushes, makeup brushes, hair brushes... it's all good. In the photo below, you can see all of my brushes, laid out in all their glory. Yayy! I even bought an Anna Sui brush container all the way from China (via eBay) because I wanted something pretty to keep them in.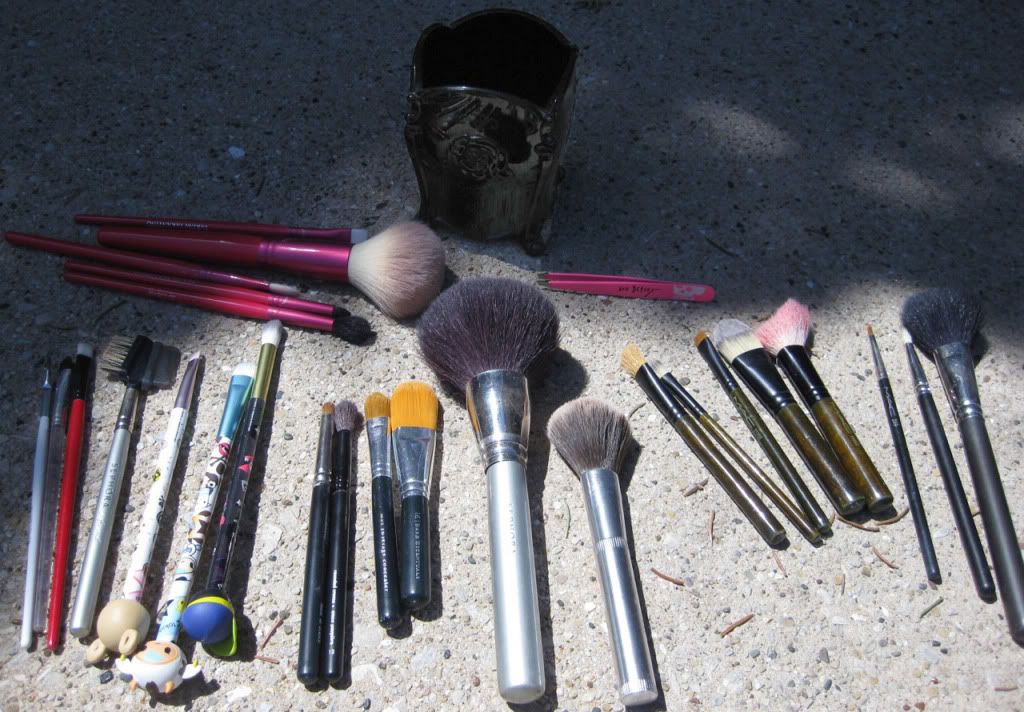 I kind of grouped them by brand in the photos below. First is my
Tokidoki set of brushes
, which were a Christmas gift. I'm a total sucker for packaging (which will become abundantly clear in the overall series of makeup posts coming), so I have to admit that these Tokidoki brushes are more for looks than functionality. They're weighted kind of weird on the back end where the heads are, making them awkward to actually use, but super cute to look at!
Oh, in this photo you can also spot my
Betsey Johnson tweezerman tweezers
. I had a hard time deciding which design to buy, but finally went with pink and skulls.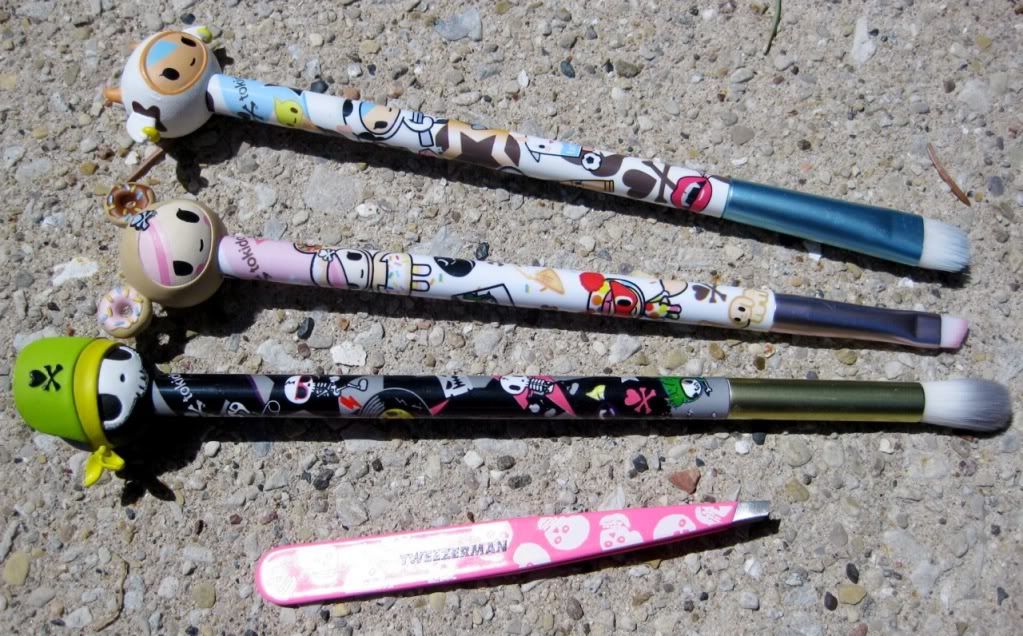 Below is a photo of my very first set of brushes (thanks Jen!). They're a MAC Christmas set. At Christmastime, MAC comes out with sets of shadows, pigments, lipsticks, glosses, and brushes. This set originally came in a fabric pouch, too, but I don't think I have that anymore... I bought this brush set because it's more economical than buying brushes separately, especially if you do not own any. The blush brush remains one of my every day brushes I can't live without!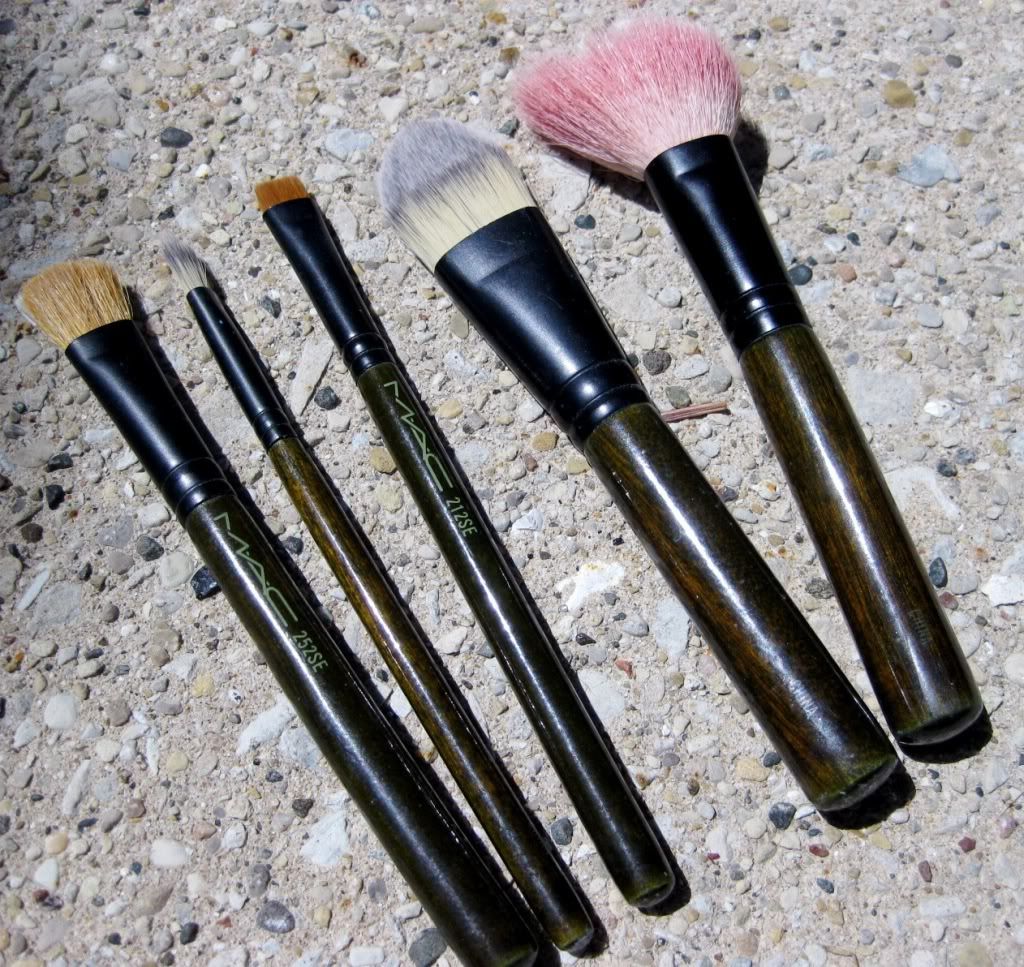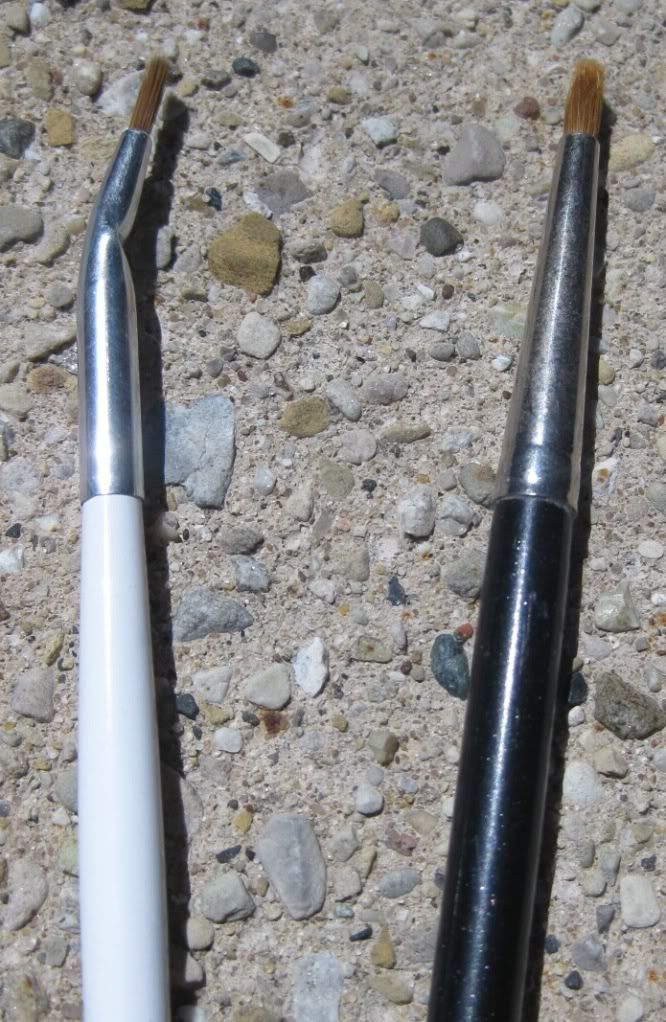 If you apply liner with a brush, you must own the two brushes above. The white one is
Sonia Kashuk for Target
, and is a bent liner brush. If memory serves correctly, I paid around $5 for it. Awesome. The black brush is in very well-loved condition, and is a MAC liner brush. Worth the money to buy separately on its own. But these are for people who use gel liners in a pot, like MAC fluidline (but eyeliner is a separate post for another day...!)
Below is a cute kabuki brush by Lola. Todd bought it for me for Sweetest Day one year as a surprise.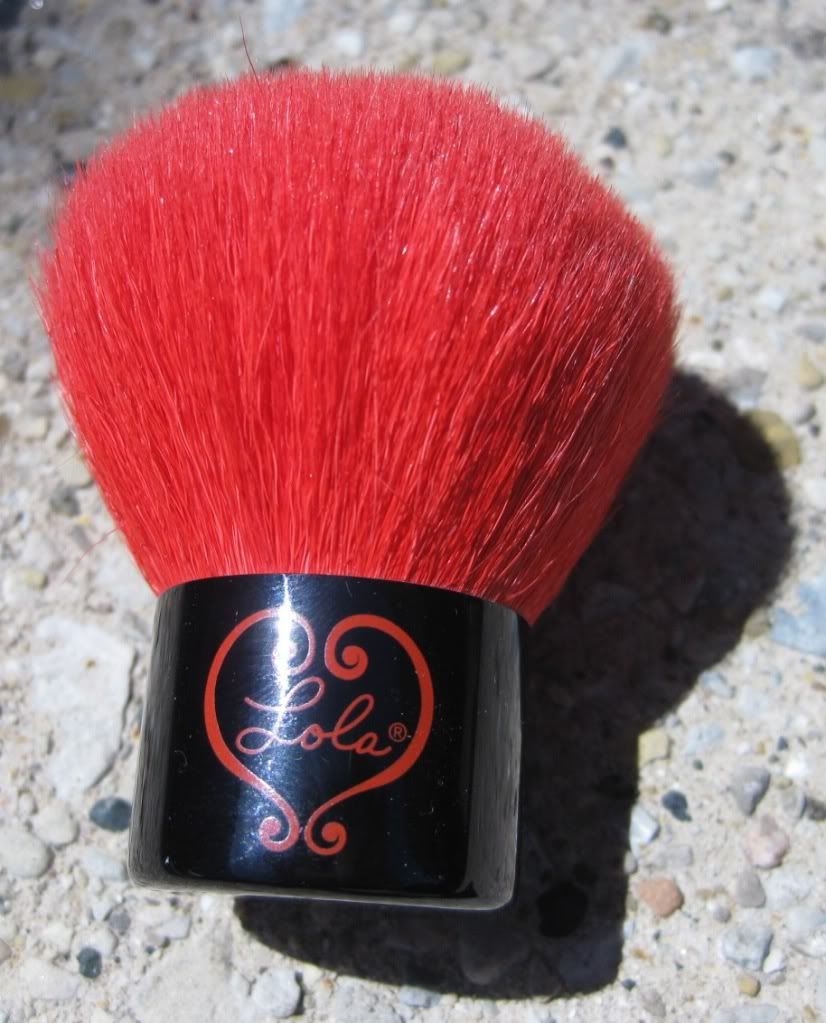 The
Tarina Tarantino for Sephora Fuchsia Revolution brush set
is another one I originally bought for looks. However, the brushes are really nice! I use the smudge brush interchangably with my Sephora smudge brush (see below) on a daily basis. The big brush is great for pressed or loose face powder. I use it for my HD powder (to be seen in a future post), and the concealer brush is another one comparable in value to my Bare Escentuals brush shown below, too.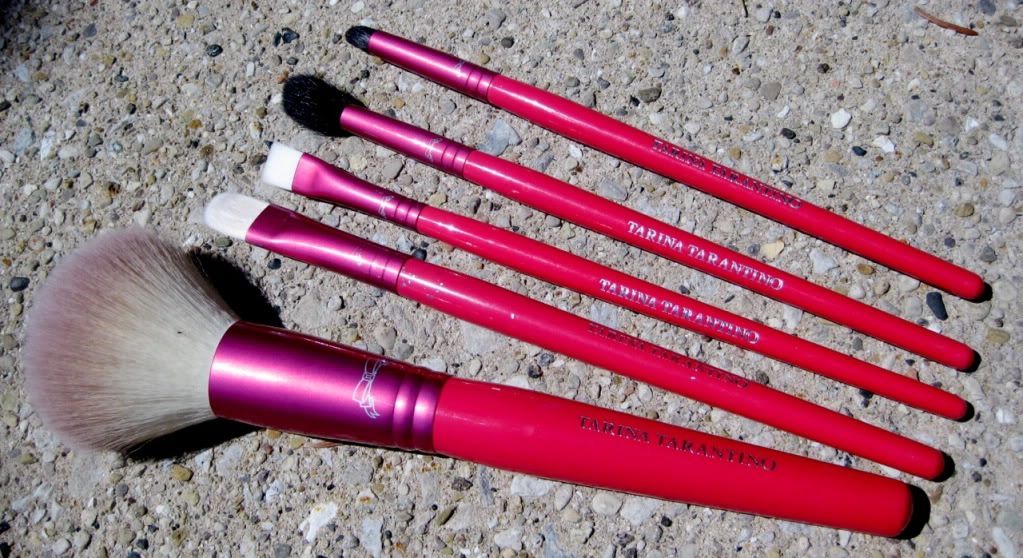 With all of these brushes, how does a girl decide which to actually use? Here, I detail my everyday essential brushes, with usage listed below.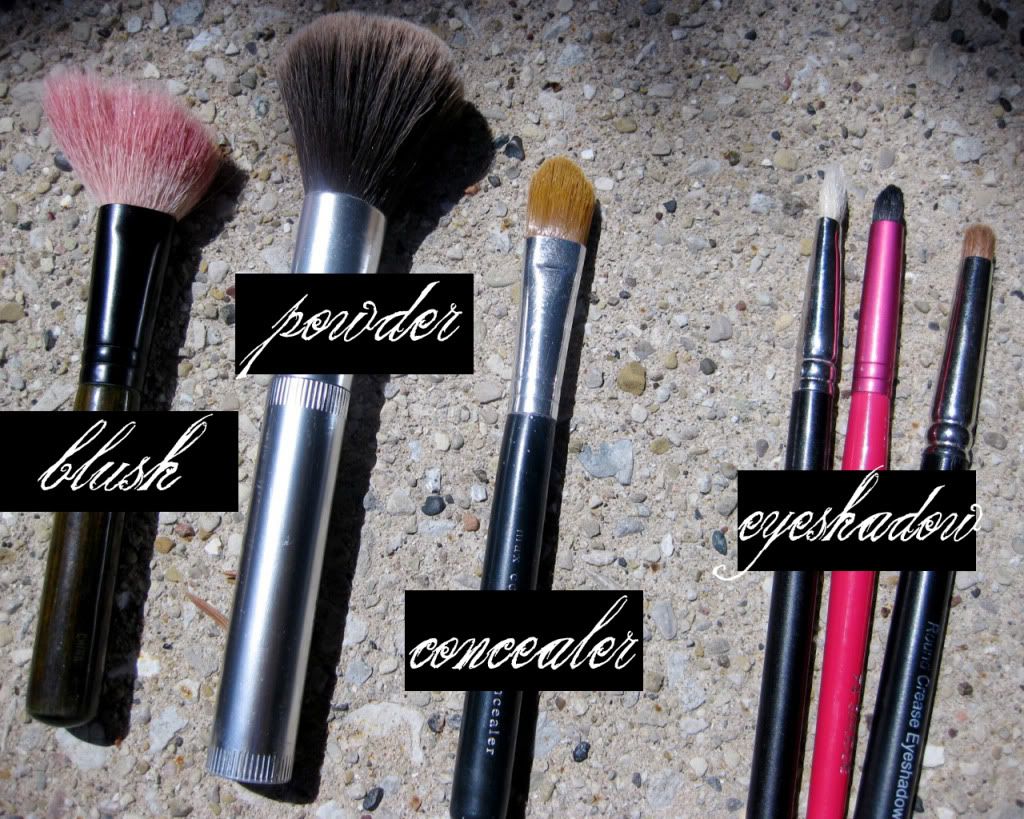 Details: MAC angled blush brush, Urban Decay synthetic bristle brush (used for pressed face powder),
Bare Escentuals concealer brush
(also used for eye primer and creme shadows), MAC shadow brush,
Tarina Tarantino for Sephora shadow brush
,
Sephora smudge shadow brush
.