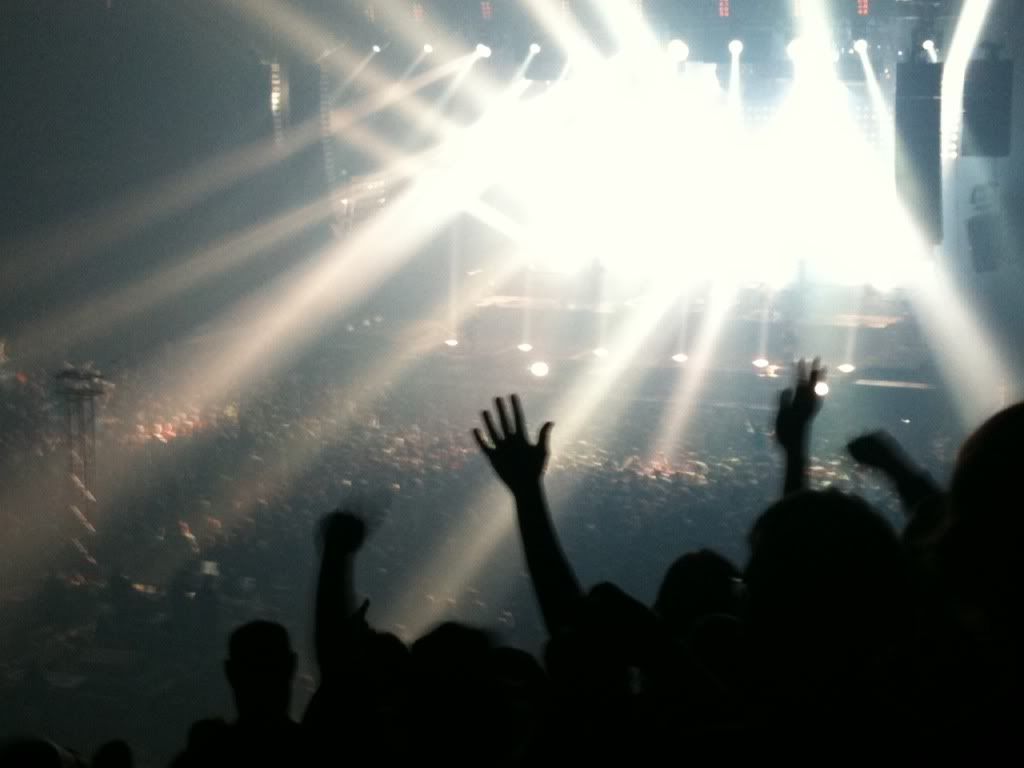 Earlier this week, I went to see Rammstein at the Allstate Arena. Our tickets were far, far, away, and at first I was worried we wouldn't be able to see much. But the stage (and the show) was HUGE and I think that in order to properly take it all in, you had to be farther back!
Something else really cool happened, too. Our seats (section 213, row O, seats 49 & 50) were right on the aisle! Score! Todd let me stand at the aisle seat, so I had one of the clearest, best views ever. I'm not quite 5'2" so that's a super big deal for me. The opening act (Combichrist) took the stage at exactly 8 pm, and by approximately 9 pm Rammstein was ready to go. They played a good 90 minute set, and we were out by 10:30.
The pyrotechnics were incredible! I was able to capture a small section during a song, which you can view below. Gotta warn you though, the sound is awful...
Besides pyrotechnics, there were a lot of other stage tricks and entertaining show elements. The music was of course, loud and chest-pounding. Short skits were sometimes acted out during the songs, usually involving Christian, the keyboard player. One involved Till, the lead singer, dumping Christian into a large rolling bathtub, and then elevating himself onto a platform above and dumping a container of fire/sparks into the tub. This, of course, resulted in a huge explosion and much applause. But then Christian climbed out of the tub, unharmed, and in a silver glittery suit. He then proceeds to walk on a treadmill between his keyboards while playing for pretty much the remainder of the show...
One of my favorite songs featured hanging baby dolls with green laser eyes that shot out into the crowd. Towards the end of the song, the baby dolls all exploded, one by one, and fell into piles on the stage. I tried to get photos of this setup, but the iPhone is only so good...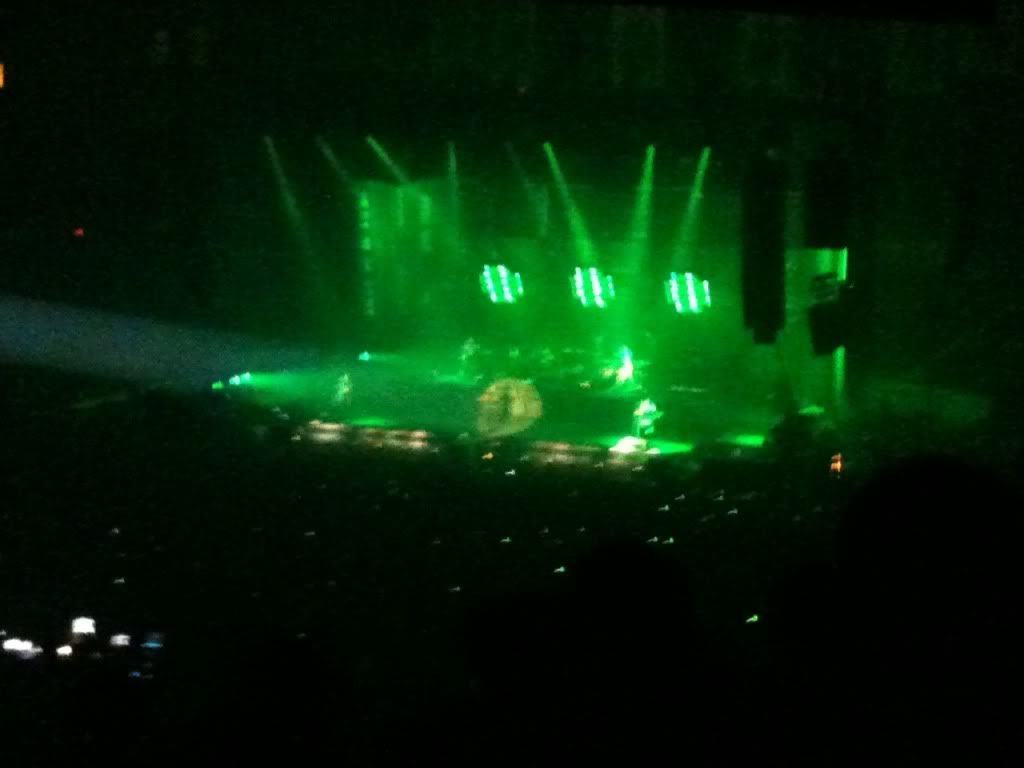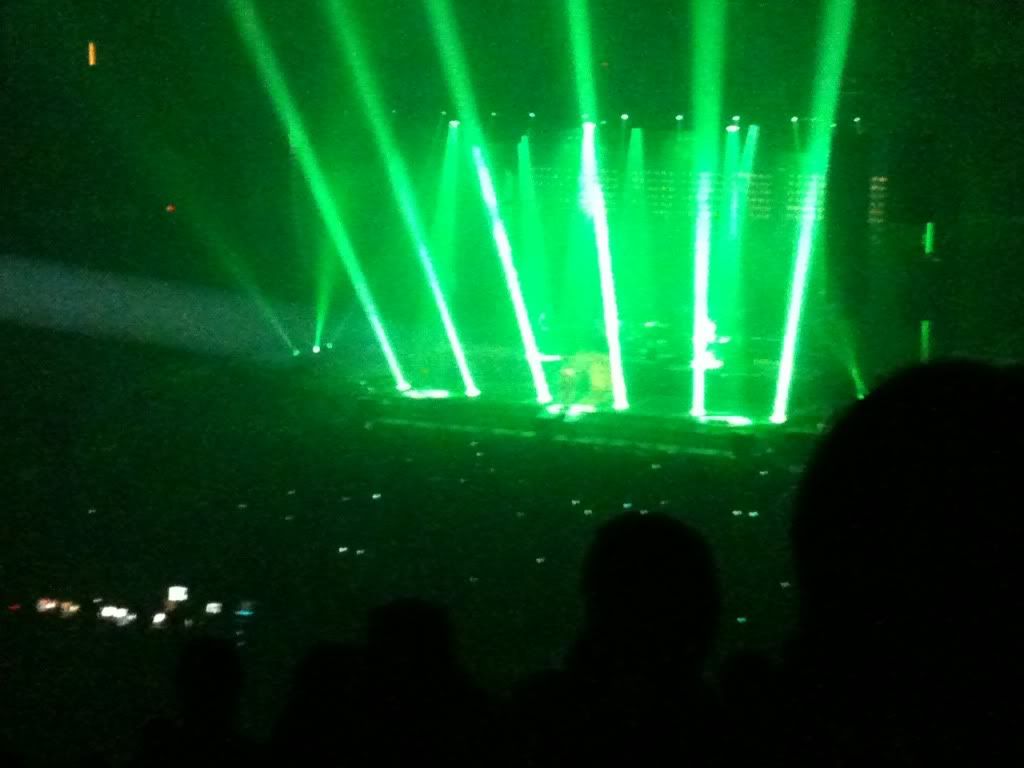 Rammstein came out for two encores, which was pretty awesome, too. During one of the songs, the keyboard player was yet again called to action, this time to ride a giant black raft out over the audience on the floor. He floated over the crowd as they passed him over their heads. He over-exaggeratedly "rowed" his raft and steered the ship back to the stage, all the time keeping his balance and not tipping over! Judging by the pushing and shoving I could see on the floor below, I wouldn't have wanted to fall into that crowd!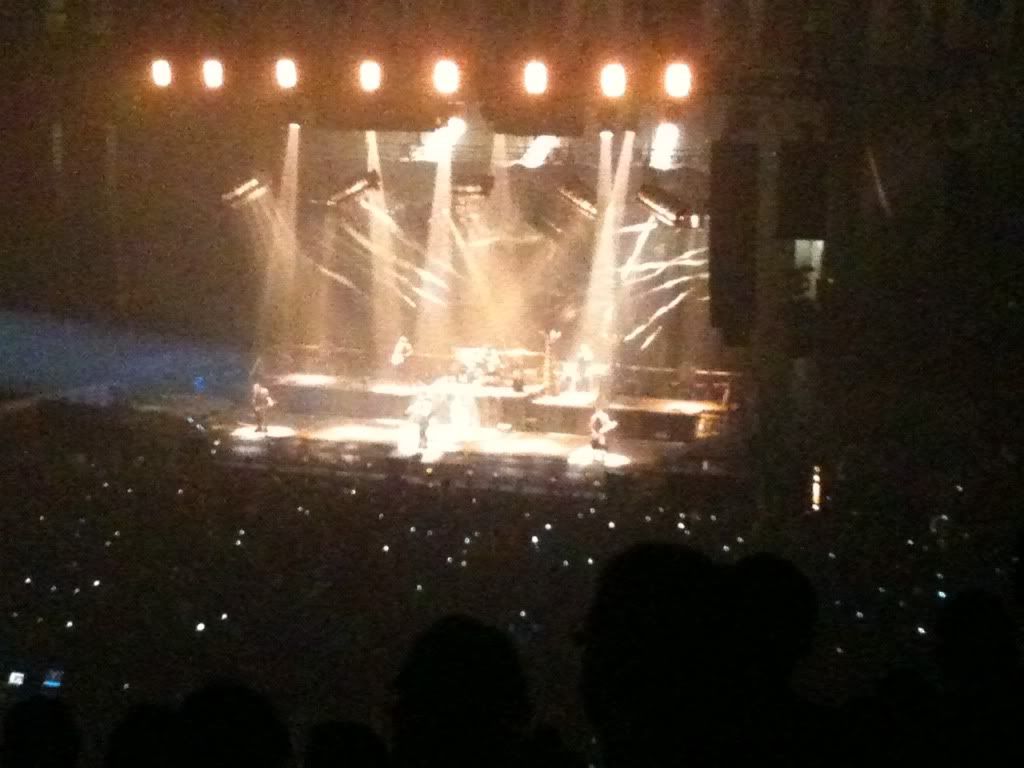 I could probably sit here and write about all the neat little vignettes and tricks I saw forever, so I'll just relay one more happening: Till came out right before the last song and had on giant angel wings that opened up. Sounds cool, right? Well, there's more. The very tips lit up on fire. Oh, then those tiny fires shot out into giant flame-thrower streams. Oh, then the rest of the wings burst in firecracker explosions...
Seriously. I feel like the whole show did this. I'd be all "oh wow, look at that," and then it would get even crazier. and then crazier.
I left the show more entertained than probably any other show I've been to. I also felt bad for anyone who attended this show and it was their first concert ever. From a visual standpoint, they'll be so disappointed in every other show they will ever see!