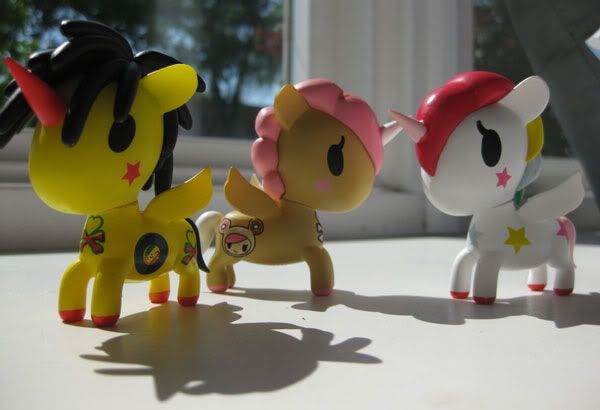 On Monday, Todd and I went on a field trip with our friends Beth and Dylan to
Rotofugi
- the happiest place on earth! Rotofugi is a designer toy store. You can buy from them online and have it shipped to you, too.
I've been wanting to make another trip there for a while, ever since I heard that they had
Tokidoki Unicornos
in stock! They're blind-box, so you don't know what you'll get. I picked out three, figuring that any good collection has at least three items in it. I ended up with Ritmo, Dolce, and Stellina.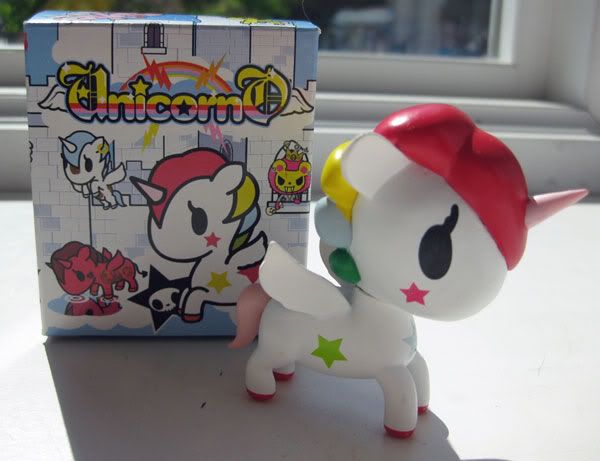 Here's a close-up of Stellina. I love these cute little guys so much! I wish I'd bought a few more! They're not too expensive either (as far as blind-box vinyl toys go) - $6.95 each. They're all going to live in the Hell Razor art studio with me!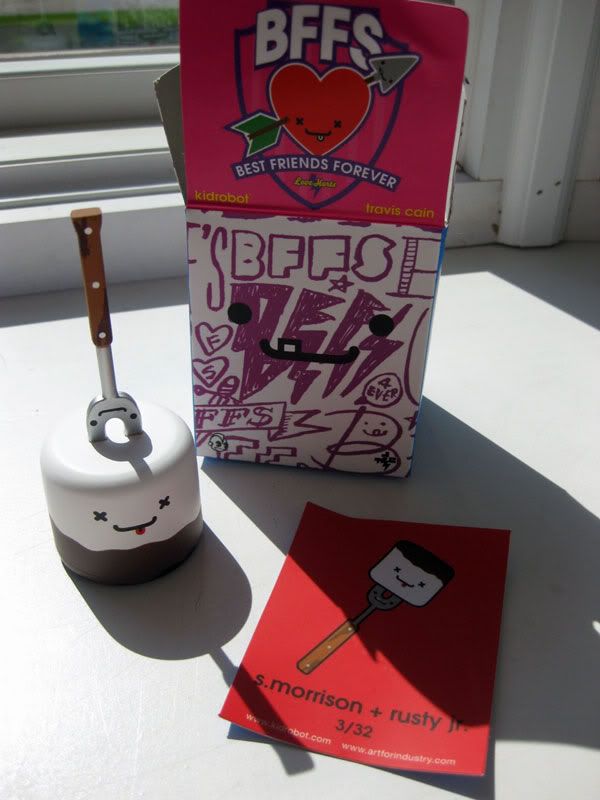 I also picked up one of these cute
BFF toys by Kidrobot
. I really wanted the heart + arrow, but the chances of that are usually slim. I ended up with this cute marshmallow + fork, named "s. morrison & rusty jr." Get it? S'morrison? Smores?! Ha!
Then, at the register, there's a whole bunch of tiny buttons, stickers, and things of that sort. I picked out a whole stash of stickers from
Tokidoki
and Gamma Go. Also before leaving, I grabbed a spiffy zipper pouch from Blue Q featuring Marshall the marshmallow. I'm thinking it would make a great pencil pouch or makeup bag, due to its larger size.
If you're in the Chicago area, I cannot recommend highly enough that you make a stop at Rotofugi! They're located at 2780 N. Lincoln Ave, and open from 11 am to 7 pm every day. You can call ahead if you're looking for something specific: 773-868-3308. And, if you're really lucky, one of the Jack Russell terriers might be in-store to say hello. (Unfortunately, not today, but I've been lucky to see them before!)
Do you live in the Chicago area? Have a favorite place to shop at? Let me know!